The Market In 5 Minutes: Do Or Die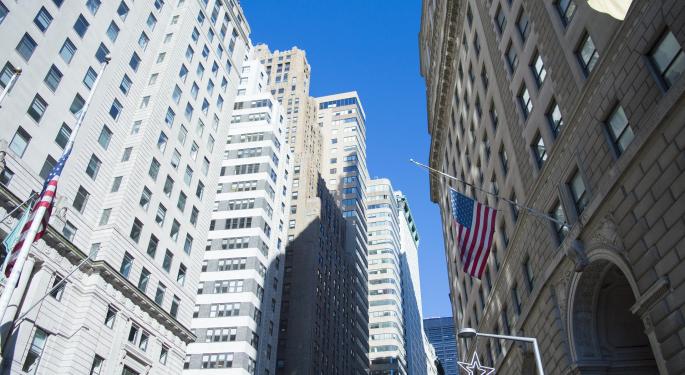 Below is a tool used by the Benzinga News Desk each trading day -- it's a look at everything happening in the market, in five minutes. Apply for daily AM access by clicking here or email minutes@benzinga.com.
Macro Focus
Global stocks were mixed after the Chinese government said the Caixin manufacturing purchasing managers index (PMI) for April fell to 49.4 from 49.7 in March. The figure fell short of the 49.9 analysts were expecting. Any reading below the 50-mark indicates contractions but some analysts were unfazed by the data release.
Oil prices fell after data from the Middle East added to concerns of a global supply overhang. Brent crude futures fell $0.37 and were trading at $45.56, while U.S. crude futures were lower by a similar $0.37 and were trading at $44.41 a barrel.
Donald Trump will try to win a primary Tuesday that Texas Sen. Ted Cruz has set up as do-or-die for his own campaign. Bernie Sanders, meanwhile, will attempt to reclaim the momentum that Hillary Clinton has firmly seized.
Super rich were first to bail during the Financial Crisis: A study says the top 0.1 percent of taxpayers unloaded at elevated rates. One possibility is they think they're better at market timing.
BZ News Desk
Some of the morning's most notable earnings:
CVS Health (NYSE: CVS) Q1 Adj. EPS $1.18 vs. $1.16 est., Sales $43.2 Billion vs. $43 Billion est.
Pfizer (NYSE: PFE) Q1 EPS $0.67 vs. $0.55 est., Revenue $13 Billion vs. $12 Billion est.
Halliburton (NYSE: HAL) Q1 EPS $0.07 vs. $0.04 est., Revenue $4.19 Billion vs. $4.17 Billion est.
Find out what's going on in today's market and bring any questions you have to Benzinga's PreMarket Prep.
Sell-Side Themes
Retail pair trade? RBC Capital initiated Wal-Mart (NYSE: WMT) at Underperform and Costco (NASDAQ: COST) at Outperform.
SunTrust sees software earnings season "off to a promising start."
Sell-Side's Most Noteworthy Calls
Dreamworks (NASDAQ: DWA) raised to Hold at Topeka Capital.
GlaxoSmithKline (NYSE: GSK) upgraded to Buy at Oddo.
United Technologies (NYSE: UTX) cut to Sector Perform at RBC.
Sarepta Therapeutics (NASDAQ: SRPT) downgraded to Underperform at Leerink.
Brocade (NASDAQ: BRCD) cut to Hold at Wunderlich.
Sanofi (NYSE: SNY) downgraded from Buy to Hold at HSBC.
Barrick Gold (NYSE: ABX) cut to Hold at Canaccord.
Kroger (NYSE: KR) initiated with $39 price target and Neutral at Suntrust.
Intrexon (NYSE: XON) rated Market Outperform at JMP Securities.
Buy-Side
David Einhorn's Green Light Capital purchased Yelp (NYSE: YELP) shares at an average price of $21.16. He highlighted expectations for Yelp to double sales and earn some $300 million of EBITDA on margin of 35 percent by 2019 if the company's current plan is executed. Here's everything else you need to know from his Q1 letter.
Steven Cohen, the billionaire investor and hedge fund manager, has somewhat discouraging words for finance professionals looking to find a high paying job at a hedge fund. Cohen, speaking at the Milken Institute Global Conference on Monday said he is "blown away by the lack of talent" of qualified individuals. He added it's "not easy to find great people."
Deal Talk
IMS Health (NYSE: IMS) and Quintiles Transnational Holdings (NYSE: Q) revealed their respective boards approved a definitive merger deal involving an all-stock merger of equals transaction. The equity market capitalization of the merged companies would be over $17.6 billion while the enterprise value was over $23 billion.
Energy Transfer Equity (NYSE: ETE) is attempting to renegotiate its acquisition deal with Williams Cos (NYSE: WMB), according to Reuters.
In The News
A U.S. serviceman was killed in Northern Iraq Tuesday by direct fire from ISIS forces that penetrated several miles across Kurdish lines. The announcement of the third U.S. death in combat against ISIS was made by Defense Secretary Ash Carter, who was in Stuttgart, Germany, to attend the change-of-command ceremony at U.S. European Command.
North Korea's rain-soaked capital was festooned with banners celebrating leader Kim Jong Un ahead of a ruling party congress, as rival South Korea expressed concern that Pyongyang could conduct a nuclear test before or during the rare event. At the congress, Kim is expected to declare isolated North Korea a nuclear weapons state and formally adopt his "Byongjin" policy to push simultaneously for economic development and nuclear capability.
The case of a California woman who was ordered to unlock an Apple (NASDAQ: AAPL) iPhone using her fingerprint is raising questions about whether compelling a person to unlock their smartphone could infringe on their right against self-incrimination. A warrant was issued in February ordering Paytsar Bkhchadzhyan to unlock an iPhone seized from a Glendale, California, residence. She later pleaded no contest to a felony count of identity theft, according to the Los Angeles Times.
Blogosphere
Ending American's slow-growth tailspins. Wall Street Journal's John Cochrane writes, "Sclerotic growth is America's overriding economic problem. From 1950 to 2000, the U.S. economy grew at an average rate of 3.5% annually. Since 2000, it has grown at half that rate—1.76%. Even in the years since the bottom of the great recession in 2009, which should have been a time of fast catch-up growth, the economy has only grown at 2%. Last week's 0.5% GDP report is merely the latest Groundhog Day repetition of dashed hopes."
Trending
S YELP MYL CHK MNK ONDK AMAG AIG ECL ABX FTR AAPL RVLT [StockTwits]
5,000-to-1 underdogs: Leicester City wins Premier League title after Tottenham draw at Chelsea. The Foxes become the first club to win the English top-flight league title for the first time, having only once before -- in 1928-29 -- finished as runners-up in their 132-year history.
Posted-In: Market in 5 minutesNews Global Top Stories Analyst Ratings Best of Benzinga
View Comments and Join the Discussion!