States Of Fear: Jim Harbaugh Intimidates The SEC And Beyond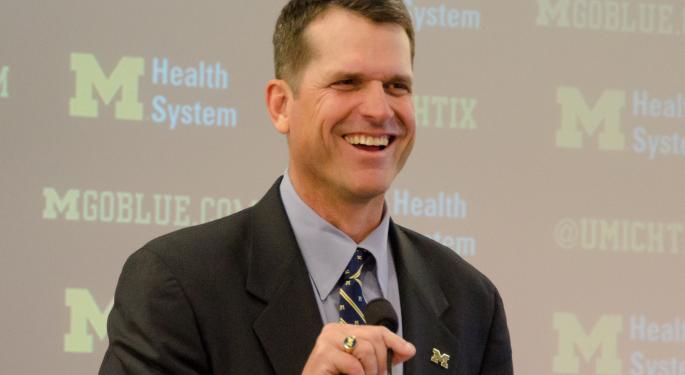 Joel Elconin is the co-host of Benzinga's #PreMarket Prep, a daily trading idea radio show. He is also a 1985 graduate of the University of Michigan and a multi-generational season-ticket holder.
Last week, the NCAA issued a ban on satellite football camps, which were initiated by Michigan's Jim Harbaugh last year and were on the verge of blossoming this year. Thus, Harbaugh was handed a rare off-field defeat as coach at Michigan. It was just another insipid rule instituted by the clueless NCAA, and is in no way in the best interests of student-athletes.
B1G Support
Even Harbaugh's foes in the Big 10 disagree with the decision. Curtis Blackwell (MSU Director of College Achievement and Performance) and the founder of Sound Mind Sound Body Football Academy of Detroit scoffed at the decision; He now has to cancel his camp in Detroit this summer.
As a result, inner-city kids from Detroit will be missing out on the opportunity to be recruited by a host of other coaches from smaller schools from around the country. More importantly, they will be missing out on the life-skills program that will carry them far beyond their playing days.
The mere hint of Michigan's resurgence is widely affecting other coaches' attitudes.
Why?
The NCAA may have been strong-armed into this short-sighted decision by the SEC and ACC, who don't want their fertile recruiting territory invaded by Harbaugh. In fact, it was speculated this week during ESPN's "Around The Horn" that the new rule was designed solely in fear of Harbaugh.
For those who beg to differ with this premise, just analyze the statement Ole Miss coach Hugh Freeze made. Freeze, who makes $5 million a year, stated, "I'm away from my family enough, and I just did not want to go."
Although Harbaugh guided Michigan to a 10-3 record and a romp over an SEC team in the Citrus Bowl, he's far from reaching his long-term goals. With two of those three losses against Michigan's biggest rival (Ohio State) and third-biggest rival (Michigan State), no Michigan fan is fully content. (Notre Dame is the school's second-biggest rival.)
Back On Top
Although the NCAA put up a small roadblock to Harbaugh's success off the field, there will be very little they can do on the field to interfere with Michigan's return to prominence.
I've had a watchful eye on Michigan football for last 40 plus years, and something tells me Harbaugh is going to change the landscape of college offenses forever. Just as Fielding Yost mesmerized defenses in the early 1900s with his hurry-up, aggressive running and passing style, Harbaugh will do the same 100 years later.
Two-QB System
At Michigan's spring game, Harbaugh gave a glimpse of what defenses are going to have to contend with in 2016 and beyond: A two-quarterback offense. In an effort to get all of his talent on the field at the same time, Harbaugh will use Shane Morris in this role, with either Wilton Speight or John O'Korn under center or in the shotgun.
Why else would the once highly-recruited Morris stay at Michigan (with two years of eligibility remaining), if Jim did not guarantee him some substantial playing time?
With Morris lined up at wide receiver, defenses will be left wondering. As a result, defenses will need to account for this, and will not be able to devote as much pressure to the quarterback in the backfield. Subsequently, that quarterback will be afforded more time to pick apart the defense.
Go ahead NCAA, try and figure out a way to ban this type of offense next year, when Nick Saban and his cronies come crying at your doorstep.
Image credit: Brad Muckenthaler, Flickr
View Comments and Join the Discussion!
Posted-In: Jim Harbaugh michigan Michigan football NCAA NCAA FootballSports Opinion General Best of Benzinga