Meet 'Forcerank,' The Crossover Between Stock-Picking And Daily Fantasy Sports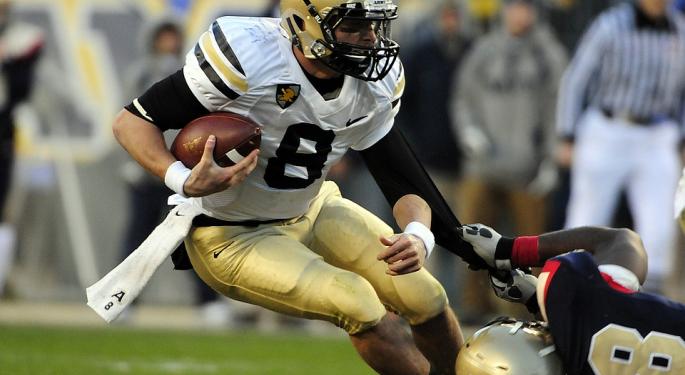 Led by co-founder Leigh Drogen and company, financial services disruptor Estimize is at it again. This time it's the launch of a skill-based contest for stock market fans who want to compete for fame and (a small) fortune.
The app-centered contest is called Forcerank. Benzinga spoke with Drogen who explained how Forcerank works and how to get in on the action.
Related: Exclusive: Estimize CEO Leigh Drogen On What's Next For The Financial Crowdsourcing Platform
Benzinga: How does Forcerank work? What's the premise?
Leigh Drogen: The premise is that the buy, sell, hold rating system that the sell side investment banks have been using for decades is bogus. What is a buy? What is a sell? What is a hold? They're basically meaningless words.
So, we came up with a system where everything is relative. Each week there are a number of different contests. Each contest features 10 different pre-selected homogenous stocks – such as apparel, enterprise technology or equity sector ETFs.
You rank the equities relative to each other in order of how you believe they will perform between Monday morning at the open and Friday afternoon at the close.
If you rank Apple first, for example, you're not saying Apple is going to do really well. You're just saying that Apple is going to do better than your number two, which could Google.
BZ: Can you enter more than one contest?
Drogen: You can enter as many contests as you like. Entry fee could be $5 or $25 or it could be $100. A limited number of people are allowed to enter each contest - say a hundred. The prize pool is made up of all the entry fees.
You are scored on the accuracy of your force rank. If you put Google at number one and at the end of the week it's the best performing stock you get 100 points. If Google is number five you get fewer points.
The competitor who has the most points at the end of the contest ends up taking a large portion of the prize pool.
BZ: Is there more than one type of game?
Drogen: We have two different types of games. There's a tiered game where the winner takes a large part of the prize pool and then about 20% of people will win something.
Then there's the 50-50 game where half the people will double their money and half the people will lose their entry.
BZ: This is completely legal, right?
Yes, it's completely legal. That's because it's not a derivative. We've consulted with the SEC and the CFTC and our lawyers have cleared it.
It's important to note that with Forcerank you are not really buying or selling anything. It's just about the ranking.
BZ: Who is it for?
Drogen: It's for anybody and everybody. I think it's the democratization of collecting this data set.
If you think you're good at picking one stock over the other, which is kind of the way people think when they invest, you could be successful at this.
BZ: What will happen to the data you collect?
We're going to need to study the data and determine the ultimate monetization path of the business.
We put a lot of time and effort into thinking about the concept and we believe theoretically that just as Estimize is more accurate 74% of the time than the Wall Street numbers, we believe that because of the crowd source methodology, Forcerank's data set should end up being very predictive of certain things as well.
BZ: Is Forcerank similar to contests like Fan Duel and Draft Kings in the sports arena?
Drogen: There are aspects of Fan Duel and Draft Kings that we do not want to be compared to in a legal way. They've done some things that are certainly bad. We have written internal rules and regulations to make sure that we are 100% above board and legal.
I think there are good comparisons to what they do in the sense that it's kind of the second screen to the market in the way Fan Duel and Draft Kings are kind of the second screen when you're watching a game.
Related: Everything In Moderation: How To Do It In One Trade
BZ: What's the relationship between Forcerank and Estimize and how will the two fit together?
Drogen: Forcerank is a wholly-owned subsidiary of Estimize. It's a separate brand, a separate mobile application. We don't have any plans right now to cross over onto the Estimize site but down the road there have to be synergies between the two of them.
I think, again, we really need to know what the Forcerank data is going to say. Then we can look at strategies that harness both of them together.
At the time of this writing, Jim Probasco had no position in any mentioned securities.
Posted-In: Estimize Forcerank Leigh DrogenSports Startups Small Business General Best of Benzinga
View Comments and Join the Discussion!