Ted Cruz's Win, Bernie's Comeback: What Will We Remember Most From The 2016 Iowa Caucus?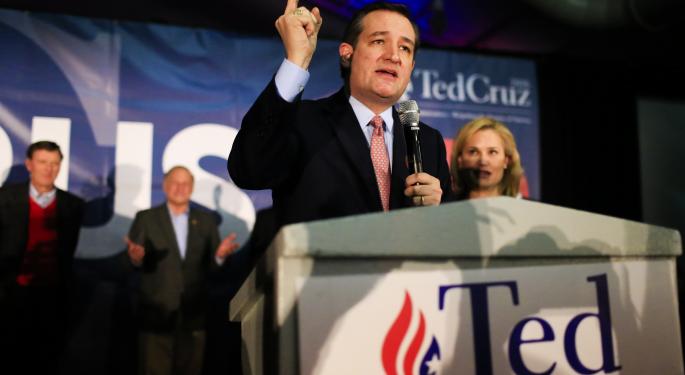 The Iowa caucus has come and gone. The 2016 Presidential election season is now officially off to the races, as the parties front runners begin to truly take shape.
Polls be damned, Ted Cruz took the victory on the Republican side with 28 percent of the vote. Donald Trump (24 percent) finished a humbling second, while Marco Rubio (23 percent) gained praise for his strong third place finish.
The Democratic side was razor thin, and only became official on Tuesday afternoon. Hillary Clinton won by just tenths of a percentage against grassroots favorite Bernie Sanders.
CNN noted, "Campaigns are fueled by victories and Clinton's muddled Iowa showing will leave her supporters, donors and campaign staffers without bragging rights, possibly dampening enthusiasm and further ceding ground to Sanders."
Related Link: Head To The Polls With This ETF In 2016
CNN also helped framed Cruz's victory.
"Faced with the Donald Trump Show, Cruz went with an old-school Iowa strategy: Visit early. Invest in retail. Organize pastors. Tend to homeschoolers. Win the two big nods. Get outside of Des Moines," the outlet said. "Despite Trump's unconventional campaign, and attacks from the billionaire that included questioning Cruz's eligibility to be president due to his being born in Canada, unaligned operatives until the last moments here remained certain that the core of Iowa caucus politics had not changed, despite Trump's unconventional campaign."
Outside of the thousands bagging on the bombastic Trump for finishing second, Sanders was the talk of the night. The Washington Post actually said he was "position[ed] to pull off one of the biggest upsets in the history of the caucuses."
So What Does It All Mean?
The Iowa caucuses are the "first major electoral event of the nominating process for president. Since 1972, the Iowa caucuses have had a 43 percent success rate at predicting which Democratic candidate for president and a 50 percent success rate at predicting which Republican candidate for president will go on to win the nomination of their political party at that party's national convention."
President Barack Obama won Iowa in 2008 and 2012 for the Democrats, however, the eventual Republican candidate did not have the same success. Mike Huckabee (2008) and Rick Santorum (2012) took those races, but eventually ceded the nomination to John McCain and Mitt Romney, respectively.
Do You Care?
And what you will remember from the 2016 Iowa caucus? If a Benzinga Twitter poll is any indication, not much.
Thirty-three percent of voters said they will remember "Nothing" from the event, while 29 percent said Bernie Sanders' near come-from-behind victory was most impressive.
For this #Election2016, what do you think we'll remember most about the #IowaCaucus? $SPY

— Benzinga.com (@Benzinga) February 2, 2016
Posted-In: Bernie Sanders Donald Trump Election 2016 Hillary ClintonNews Politics Events General Best of Benzinga
View Comments and Join the Discussion!