Meet Putin's Response To ESPN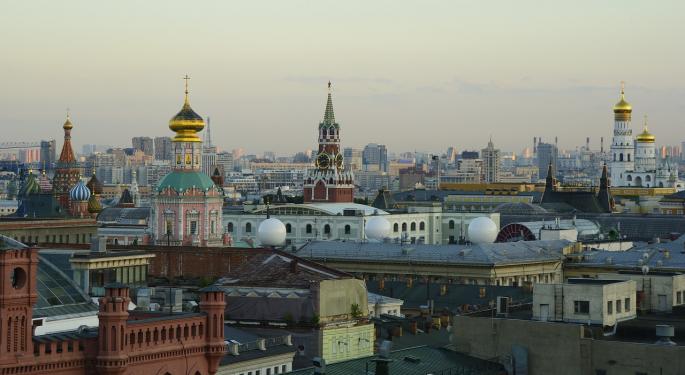 TV sports are not especially popular in Russia, but this could be about to change.
This week, the country's government launched a new 24-hour sports network called Match TV.
The free of charge federal sports network aims at becoming the ESPN of Russia.
Around the world, people think about Walt Disney Co (NYSE: DIS)'s ESPN when they think about TV sports. However, in Russia, they don't seem to think a lot about TV sports in general and local sports in particular. But this could change soon.
As of this week, Russians now have access to a new, 24-hour sports network, complete with the best of federal and international sports. Dubbed Match TV and created by Kremlin Decree Number 365, the channel aims to display "spectacular competition" and popularizing "a healthy way of life," President Vladimir Putin said.
But Match TV has a long way to go before actually becoming Russia's ESPN. First off, it needs to entice Russians to watch TV sports, which is not currently a popular activity in the country. Consequently, the sports-industrial complex, which has been highly developed in the United States, is in its infancy in Russia.
Related Link: Dan Nathan Sees Unusual Options Activity In Market Vector Russia ETF Trust
Match TV's general producer Tina Kandelaki explained, "The American viewer has a variety of choice […] We haven't had that kind of choice, but in that sense, we're really lucky, because we're starting with a blank page, which is always more interesting."
A Look Into Match TV
Match TV is owned by the media unit of the state-owned energy company Gazprom. A Wall Street Journal article explained, "To help endow Match TV with the slick production values of American network sports, the company recruited American sports producer Charles Coplin, a 52-year-old former executive for the NFL, NHL and ABC Sports."
The article continued, "The objective here, which has been embraced by my colleagues at Match TV, is to start creating and producing a product that's a whole new dialogue with sports fans in Russia—that glamorizes it, explains it, informs it and creates passion," Coplin recently stated in an interview. "I'm most excited to see Match TV become an integrated part of the daily culture in a way ESPN is in the United States," he added.
While the official budget for the channel was not disclosed, analysts are assuming it will be ample. "The company has devoted 6.5 billion rubles ($103 million) to rights for the coming year and already has high-profile deals with the Champions League, Bundesliga and English Premier League. It has permissions to air certain NFL games, including the Super Bowl, and is looking into acquiring NHL and NBA rights," the Wall Street Journal article assured.
Disclosure: Javier Hasse holds no positions in any of the securities mentioned above.
Image Credit: Public Domain
Posted-In: ESPN Gazprom Match TVNews Topics Markets Trading Ideas General Best of Benzinga
View Comments and Join the Discussion!