6 Retailers Trying To Make Black Friday Work For Them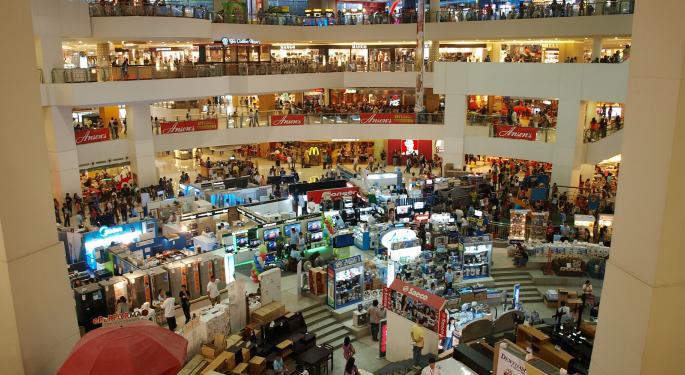 The Friday after Thanksgiving has long been the gateway to the holiday shopping season for Americans, but since its beginnings, the deals and shopping hours have become exponentially more fanatical.
What began with stores opening for business a few hours earlier than normal became sales starting on Thanksgiving Day. Soon, the one-day holiday had quickly morphed into a Thursday-Tuesday event. While many analysts predicted the addition of Cyber Monday would eventually spell the end for brick and mortar Black Friday sales, data leading up to this year's event shows that consumers are still looking to head out to the shops.
A study by Amex showed that 45 percent of consumers are planning to brave the crowds on Black Friday and another 47 percent are going to participate in Cyber Monday. The figures also suggested that the shopping weekend was attracting bigger spenders, with 56 percent of affluent shoppers saying they'd head out to the stores versus just 46 percent in 2014. The average shopper is expected to spend $584 on Black Friday, up from $501 the previous year.
For that reason, most brick and mortar stores are offering dedicated shoppers a reason to get out of bed in the wee hours of the morning in an effort to draw in crowds and get a bigger slice of the Black Friday pie. Here's a look at six stores that are looking to take full advantage of the exposure Black Friday sales will offer them.
Related Link: Thanksgiving Could Be Busiest For Air Travel Since The Recession
1. Wal-Mart Stores, Inc. (NYSE: WMT)
It would be impossible to discuss the holiday shopping season without including Wal-Mart.
The discount retailer has long been one of the first stops on Black Friday shoppers' lists, as the firm usually offers deep discounts on big ticket items like TVs and video games.
This year, the retailer is hoping to come back from recent turbulence with a new approach to the holiday shopping season; Wal-Mart execs believe this will help regain lost market share from online retailers like Amazon.
Instead of cramming all of its discounts into one weekend, Walmart has promised to release 10 new online specials every day beginning on November 6, and the store will price match competitors' deals as well. In an effort to boost online traffic, Wal-Mart is also offering a Mobile Check-In feature that allows customers to swiftly pick up online orders upon arriving in the store.
2. Amazon.com, Inc. (NASDAQ: AMZN)
E-commerce giant Amazon has become every retailer's worst nightmare, as the company offers a huge range of products at often unbeatable prices. The site has emerged as last-minute and bargain shoppers' destination of choice during the holiday season because it allows them to avoid the crowds and get exactly what they want.
As per usual, Amazon is getting in on the Black Friday madness in a big way with new online deals released every day throughout November and December. Prime shoppers will gain access to the site's "Lightning Deals" 30 minutes before the rest of the public, and many of the products offered will be eligible for free shipping.
Amazon says extending its sales beyond Black Friday and Cyber Monday has been successful in the past, but that it will offer added savings on both days as well. Many believe Amazon's emphasis on Prime benefits during the shopping weekend could increase the number of subscribers who pay $99 per year to gain access to the membership's benefits.
3. Best Buy Co Inc (NYSE: BBY)
Consumer electronics retailer Best Buy is trying out a new approach to the chaos that comes with Black Friday. Much like its competitors Wal-Mart and Amazon, Best Buy is spreading its discounts over the course of the season in order to give shoppers more than one opportunity to snap up low-priced items.
However, the company is trying to maintain the hype that surrounds flash-sales by creating mini-Black Friday sales that take place at certain locations for only a few hours. Not only is Best Buy offering free shipping to online shoppers through January 2, but the firm also held a November 7 shopping event at 400 of its stores. The sale lasted for just four hours and boasted deep discounts on sought-after items.
The company is planning to offer further discounts on Black Friday as well.
4. Target Corporation (NYSE: TGT)
Target has followed suit with competitors and waved its $25 minimum requirement for free shipping on online orders throughout the holiday season.
The firm, which has long been a Black Friday staple, is extending its hours to include afternoon shopping on Thanksgiving as well as early morning sales on Black Friday. In an effort to boost online orders, Target is pushing its curbside pickup service, which allows shoppers to place orders online and pick them up without leaving their cars, in several locations throughout the United States.
Much like Wal-Mart, Target is also matching competitor prices between November 1 and December 24, though the number of accepted retailers is much smaller. The firm is expected to push its $1-$5 discount bins located at the front of its stores by filling them with discounted stocking stuffers and gift wrap that Black Friday shoppers can pick up when they head in for bigger-ticket items.
5. REI
Camping and sporting goods retailer REI is also planning to gain exposure this year on Black Friday, but not in a way that consumers expected.
The company announced earlier this month that it would keep its doors shut on both Thanksgiving and Black Friday to give its employees a chance to enjoy the holidays and encourage shoppers to get outside.
The firm has called its lack of participation in Black Friday #optoutside, a movement that has exploded across social media. REI is the first major retailer to announce such an initiative, and so far the decision is paying off. Frustration with sales beginning earlier and earlier and cutting into family time during the holiday season has been growing among the American public, and REI's move struck a chord with those who believe the shopping season has gotten out of control.
While the firm won't be bringing in the big bucks during the fanatical shopping weekend, many analysts believe that closing its doors will pay off in the long term. Not only does it send a powerful message about the store's brand image, but closing on Black Friday could encourage those who despise the holiday to shop there, especially since REI is still planning to offer holiday shopping season discounts ahead of Christmas.
6. Macy's, Inc. (NYSE: M)
Although a few competitors have chosen to follow REI's lead and close their doors on Thanksgiving, Macy's department stores across the country announced that they will be open beginning at 6 p.m. on Thanksgiving Day.
The company has been offering Thanksgiving day specials since 2013, despite complaints from workers unions and disgruntled Americans who say stores shouldn't persuade people to leave their families during the holidays.
However, for Macy's, Thanksgiving Day shopping has traditionally brought in big bucks and the firm isn't about to change its plans just yet. As the store offers everything from clothing to kitchen appliances, its store traffic is often driven by shoppers looking for a good deal. Much like other major retailers, Macy's is offering free shipping and extended sale prices throughout the holiday season, but the store will also have limited time offers available on Black Friday and Thanksgiving as well.
Image Credit: Public Domain
View Comments and Join the Discussion!
Posted-In: AMEX Black FridayRetail Sales Topics Events Top Stories Markets General Best of Benzinga