One Fed Member Doesn't Think We Should Raise Rates Until 2017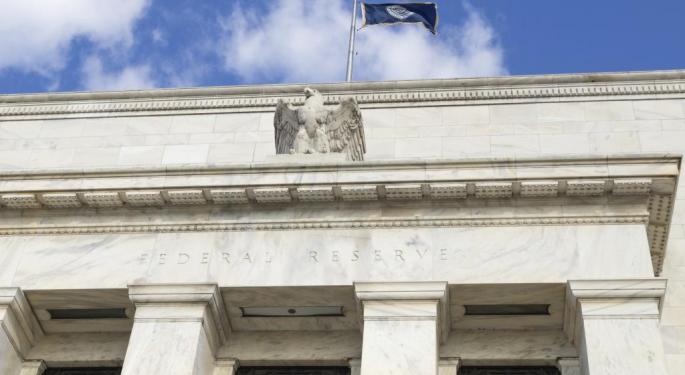 The much-anticipated FOMC meeting is over, and the Federal Reserve has decided to keep interest rated untouched.
The Fed cited a few reasons behind the decision, including the sluggishness in the global economy and the low inflation in the US.
Interestingly, one Fed member believes interest rates should remain in negative territory until 2017.
According to a press release issued after the meeting, "Recent global economic and financial developments may restrain economic activity somewhat and are likely to put further downward pressure on inflation in the near term."
The Fed mentioned the further improvement seen in the housing sector and labor market, noting that, "labor market indicators show that underutilization of labor resources has diminished since early this year."
Immediately following the announcement, all of the main market indexes rose, while Treasury bonds fell.
One Fed Banker Who Thinks Rates Should Be Negative
A look at the "Economic projections of Federal Reserve Board members and Federal Reserve Bank presidents under their individual assessments of projected appropriate monetary policy" released on Thursday reveals that one of the Fed members believes interest rates should remain in negative territory over 2015 and 2016.
In a chart titled "Appropriate pace of policy firming," one of the officials lowered his or her forecast, when compared to the June projection. Below are both charts.
June
Source: Federal Reserve
September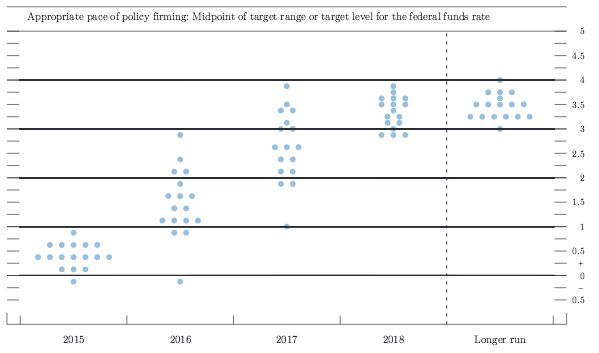 Source: Federal Reserve
Posted-In: Federal Reserve FOMC Treasury YellenNews Federal Reserve Best of Benzinga
View Comments and Join the Discussion!