Twitter Roundup: Did Taylor Swift Beat Apple By Herself?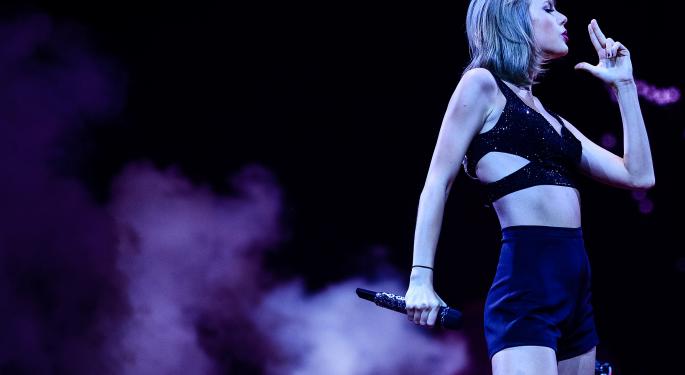 Taylor Swift is in the spotlight this week.
After famously cold-shouldering Spotify due to its ridiculously low royalty payments, the artist wrote an open letter to Apple Inc. (NASDAQ: AAPL), criticizing its new music streaming service. Swift alleges that the company's decision to offer a three-month free trial period should not impact on artists' royalties, as it would in the first place.
Apple seems to have changed its mind following the pop star's open message. Late Sunday, senior vice president of Internet Software and Services, Eddy Cue, posted a series of Tweets saying that Apple now intends to pay royalties during the free trial period as well.
Related Link: Apple To Taylor Swift: Shake It Off, We'll Pay The Royalties
It seems quite impressive that a 25 year-old could strong-arm the world's biggest company. Or did she?
Let's take a look at what people on Twitter Inc (NYSE: TWTR) are saying about this:
"Respect" is a word that's been circulating:
So much love and respect for @taylorswift13 for getting Apple to reverse their policy. She stood up for every musician out there.

— Chrissy Costanza (@ChrissyCostanza) June 23, 2015
from a couple of small indie kids, to the woman who reasoned with Apple. Thank you. @taylorswift13 #ThankYouTaylor #respect

— Kohavi (@Kohavi_Music) June 23, 2015
Special thanks @taylorswift13 for standing up for artists/songwriters everywhere & taking on Apple.This is the change we need! Much respect

— Coby Greer Music (@CobyGreerMusic) June 22, 2015
Many are convinced and proud of Swift's victory:
Taylor Swift vs Apple proves that if you're a millionaire with millions of fans, you too can Stick it to the Man. What an uplifting story.

— Gore Vidal Sassoon (@JimmyJazz1968) June 23, 2015
Everything has changed: @taylorswift13 calls on Apple to reconsider royalties, Apple complies. http://t.co/JRilNwpbWI pic.twitter.com/lqDvSWxtup

— Scott Kleinberg (@scottkleinberg) June 22, 2015
i don't understand how Apple thought not paying would be OK in the first place... thanks @taylorswift13 https://t.co/fgoGmnVuc5

— Nick Petricca (@petricholas) June 22, 2015
Others are more skeptical:
Cant help feeling that Taylor Swift's open letter to apple abt its streaming service is an orchestrated publicity stunt.

— Altimet (@altimet) June 23, 2015
We all know Taylor Swift didn't singlehandedly force Apple to change its mind, right?

— Jay Yarow (@jyarow) June 23, 2015
Bottom line, Apple has changed its mind following Swift's letter, and social media went crazy about it -- although correlation does not always imply causation.
Posted-In: Apple Music Eddy Cue Spotify Taylor SwiftCrowdsourcing Tech General Best of Benzinga
View Comments and Join the Discussion!