Stratasys: 'Numbers Weren't There' For MakerBot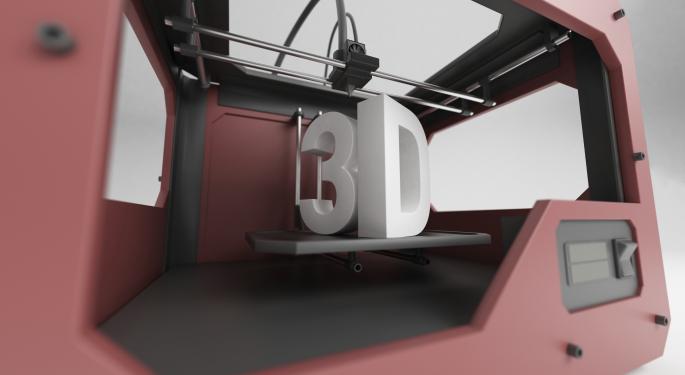 The 3D printing concern Stratasys, Ltd. (NASDAQ: SSYS)'s consumer and desktop, unit which recently fired 20 percent of its staff, will refocus its business on professional and education markets, according to its chief executive.
The market for consumer 3D printing was "smaller than we thought," MakerBot CEO Jonathan Jaglom said in an interview with tech news site Motherboard.
Jaglom was named to head the unit in February and is son of Stratasys Chairman Elchanon Jaglom.
Stratasys shares are down about 43 percent during the past three months, partly on a recent first quarter profit warning.
Related Link: Jefferies' Key Takeaways From 3D Printing Summit
The company said last week its first quarter net loss widened to $4.24 a share, from $0.08 a year earlier, mostly on a $197 million impairment charge to reorganize its MakerBot unit.
First quarter net sales grew more than 14 percent to $172.7 million.
Slow Adoption
But product sales fell by 2 percent because of lower MakerBot revenue and also "slow adoption of high-end systems," as well as foreign currency fluctuations.
The company doesn't break out sales figures for MakerBot, which it acquired in 2013 for $403 million.
The layoffs of 100 of its 500-person staff and shuttering of MakerBot's three retail stores are "part of the continued scaling of MakerBot," according to a news release last month.
"It had to be done for financial justifications," Jaglom told Motherboard. "The numbers were just not there."
The company continues to sell its Replicator 3D printers at 500 retail partners including Staples and Home Depot.
But MakerBot also halted its 3D Printed Products, which printed products for companies on demand, and its 3D Design Services division, and moved many remaining employees in those divisions to customer service, according to Motherboard.
Peers
Unlike Stratasys, ExOne Co. (NASDAQ: XONE) sells 3D printers solely to commercial customers and doesn't participate in the consumer market targeted by MakerBot.
3D Systems Corporation (NYSE: DDD)'s consumer revenue was $43.8 million, or 6.7 percent of total revenue, versus $34.8 million or 6.8 percent of 2013 revenue.
Posted-In: 3D Printing Jonathan Jaglom MakerbotNews Tech Best of Benzinga
View Comments and Join the Discussion!