Benzinga's M&A Chatter for Thursday December 11, 2014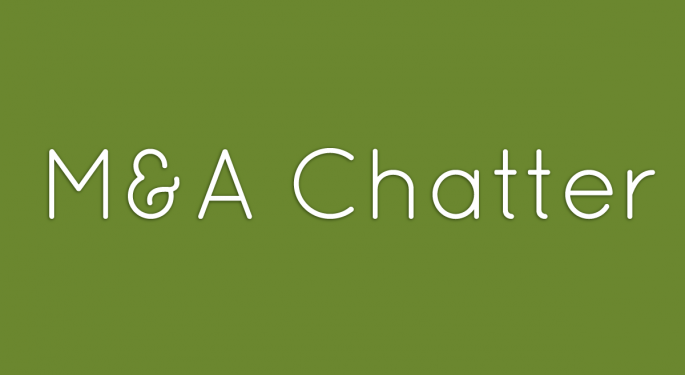 The following are the M&A deals, rumors and chatter circulating on Wall Street for Thursday December 11, 2014
Starboard Value Wants to Merge Staples, Office Depot
The Investor Stake:
Shares of Staples, Inc. (NASDAQ: SPLS) rose more than 8% Thursday, while shares of Office Depot, Inc. (NYSE: ODP) rose 12%, as activist investor Starboard Value increased its stake in Office Depot and announced a stake in Staple. Starboard confirmed Thursday that it had taken a 6% stake in Staples and raised its stake in Office Depot to 9.9%.
The actions were rumored late Wednesday, in a report from the Wall Street Journal. The publication hinted that Starboard possibly had a merger of the two office supply chains on its agenda. The same rumor was repeated today by CNBC and by Bloomberg. There was heavy call activity in Staples in the week leading up to today's announcement.
Spokespersons for Staples, Office Depot and Starboard Value did not respond to requests for comment.
Staple shares gained $1.29 Thursday, to close at $16.10; Office Depot shares gained $0.82 to close at $7.54.
Sysco Said Ready to Complete $8.2B Merger with US Foods
The Rumor:
Shares of Sysco Corporation (NYSE: SYY) spiked higher Thursday, on report from the NY Post that it is ready to complete its merger deal with US Foods, valued at $8.2 billion. According to sources, Sysco is selling assets worth $5 billion to Performance Food Group, in order to obtain regulatory approval. Sysco originally agreed to sell $2 billion worth of assets.
A Spokesperson for Sysco declined comment.
Sysco shares closed Thursday at $40.13, a gain of $0.72.
Hearing Unconfirmed Market Chatter of 20% Pepsi Stake in SodaStream
The Rumor:
SodaStream International Ltd. (NASDAQ: SODA) shares rose Thursday on unconfirmed market chatter that Pepsico, Inc. (NYSE: PEP) has taken a 20% stake in the maker of home beverage machines. The investment is said to be valued at $30 per share, according to sources. SodaStream has previously been the subject of frequent chatter involving Pepsi, The Coca-Cola Company (NYSE: KO) and private equity.
A SodaStream spokesperson declined comment on the rumor. Pepsico did not respond to a request for comment.
SodaStream shares gained 3% Thursday, closing at $20.74.
Posted-In: M&A News Rumors Hedge Funds Insider Trades Movers General
View Comments and Join the Discussion!