Has The War On Gas Begun? Oklahoma Stations Battle For $2.00 Supremacy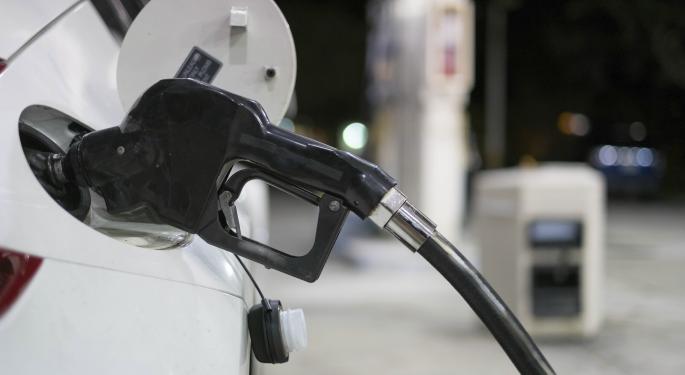 Month-old gas station OnCue in Oklahoma made national news Wednesday, as it became the war on gas frontiersman.
Crossing the $2.00 per gallon level was the initial breaking of the lines in the high-priced gas garrison. Bloomberg reported Wednesday evening that another station, Broadway Food Mart, had lowered its levels to $1.95, yet OnCue gas station has garnered the most publicity.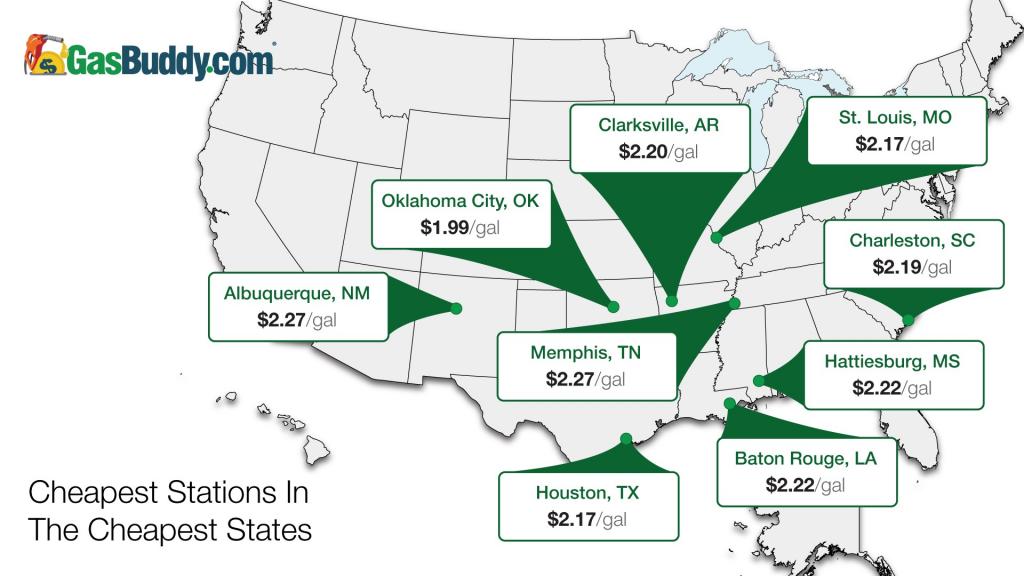 December 3's newsworthy gas station prices across the South, where most of the cheapest states reside. Source: GasBuddy (gasbuddy.com)
War On Gas
News outlets have already been calling this phenomenon a "gas war."
"The gas war is reminiscent of the 1960s and 1970s when stations routinely vied to offer the cheapest gas, knowing their big price signs out front were sure to bring in customers," USA Today reported.
According to AAA, the national gas price is at $2.73 per gallon for December 4, which is the lowest average seen in over four years.
As the average slips comfortably lower, the $1.99 per gallon price offered by OnCue rejuvenated the gasoline buzz.
"It's the first time in four years that a U.S. station has offered gas for less than $2 per gallon," reported CNBC.
USA Today added, "With gasoline prices crashing, stations are scrambling to stay ahead of each other when it comes to price cuts. It's a boon to consumers who have long griped about sky-high gas prices."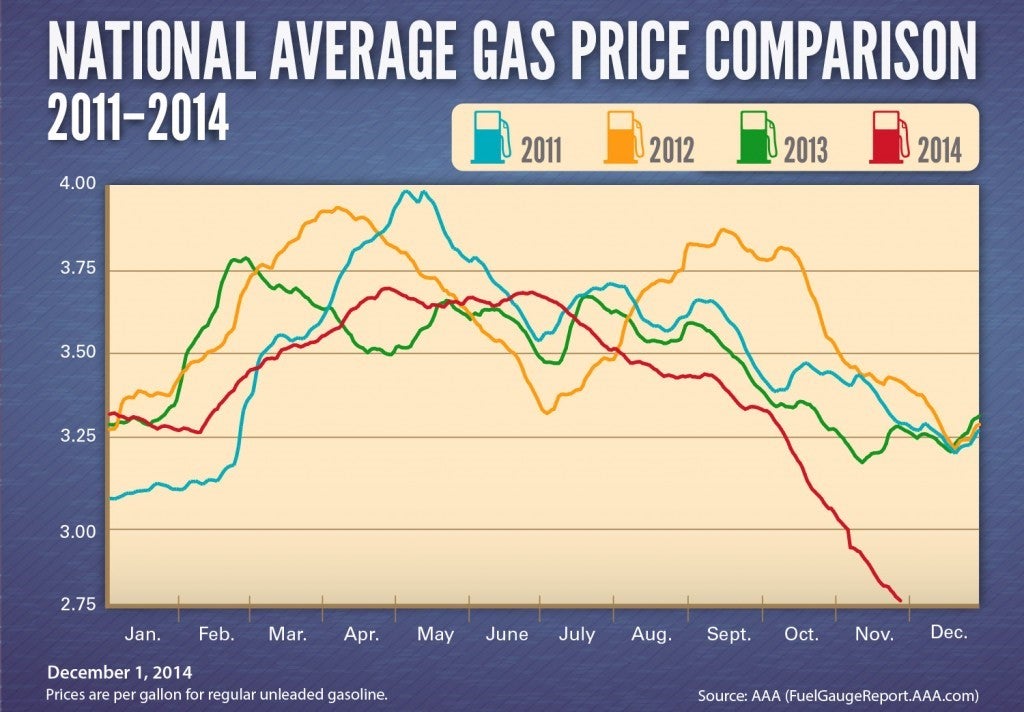 Source AAA (FuelGageReport.AAA.com)
Why?
1. Crude Oil Levels
AAA stated, "Gas prices have dropped to the lowest levels in four years due to significantly lower crude oil costs. Domestic crude oil prices (WTI) have dropped more than $40 per barrel since June with prices last week reaching levels not seen since September 2009."
CNBC continued, commenting that AAA spokesman Avery Ash reported the "country could see prices drop to the lowest levels since the Great Recession if the cost of crude oil continues to set multiyear lows. However, crude oil prices would have to drop an additional $25-$30 a barrel for the national average price of gasoline to fall below $2."
2. Domestic Oil Production
Also, according to AAA, "Domestic oil production has increased by more than 70 percent since 2008 and the United States may soon become the world's largest oil producer. This increase in production has helped to outstrip global demand, especially as economic concerns mount in both Asia and Europe."
Related Link: Why Drivers Should Give Thanks For Low Gas Prices
Will It Last?
Gasbuddy predicts possible average levels of $2.50-$2.60 by Christmas.
Additionally, these states could see <$2.00: Texas, South Carolina and Missouri, three of the states with the lowest average gas prices.
Gasbuddy clarifies that these will not be statewide averages, but "a handful of stations across the United States may see these prices."
Posted-In: AAA Crude Oil economics gas prices GasBuddyNews Travel General Best of Benzinga
View Comments and Join the Discussion!