Why The Shopping Mall May Rise From The Dead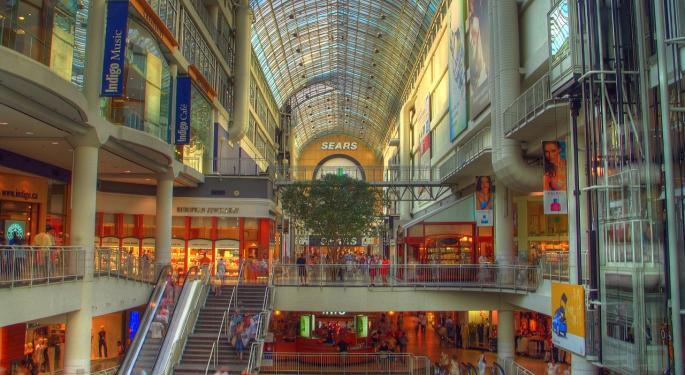 The regional shopping mall is dead and buried, say some retail pundits.
However, Simon Property Group Inc (NYSE: SPG), the largest owner of Class-A malls, appears to vehemently disagree.
On November 19, shares in mall landlord Macerich Co (NYSE: MAC) spiked up 9.5 percent after disclosing that 3.6 percent of its shares were now in the hands of Simon, its biggest competitor.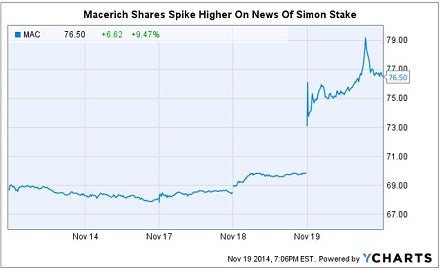 According to the Simon Property Group press release, "Simon may request that Macerich waive its excess share provision, which restricts share ownership of greater than 5 percent, in light of the waiver recently granted to another investor in connection with its acquisition of a 10.9 percent share position in Macerich."
Related Link: Shopping Mall Management In The US Industry
The Timely Investor
Macerich had previously announced on November 17 that it acquired the 49 percent joint-venture interest in five "super-regional malls" held by Ontario Teachers' Pension Plan Board:
"Total consideration was $1.89 billion (USD) including the assumption of $673 million of property level debt[...] $1.22 billion of Macerich common stock at a fixed price of $71 per share, representing a 10.9 percent common ownership stake in the Company."
Based upon the November 19, closing price of $76.50, the Ontario Teachers' new Macerich stake increased in value by 7.75 percent.
What Did Macerich Buy?
Macerich essentially doubled down its ownership of five malls located in zip codes with extremely strong demographics. Additionally, it appears that Macerich will be able to increase its bottom line by refinancing opportunities coming up in the near-term.



Macerich acquired known winners, properties that it is intimately familiar with, having owned and managed them.
With sluggish-to-stagnant development of new Class-A regional mall properties during the past decade, the choices for expansion by acquisition are limited.
What Did Simon Buy?
Simon Properties just invested in the whole Macerich portfolio.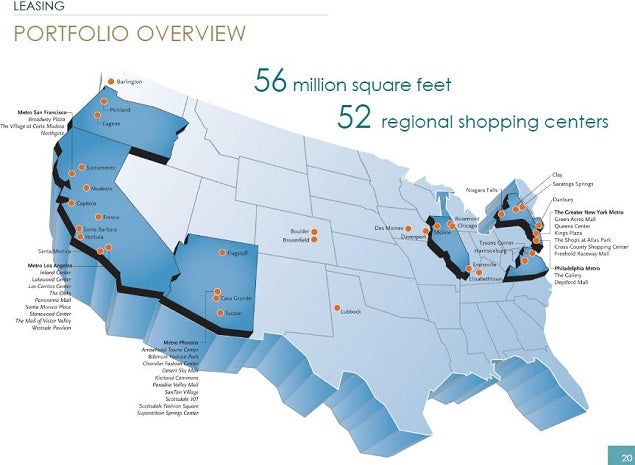 More than 85 percent of the Macerich portfolio NOI is derived from so-called super-zip codes. These are densely populated, high barrier-to-entry markets with higher than average income per household.
Mall Retailers Embrace Omnichannel Approach
Retail is, has been and always will be evolving. The major players are aware that they have to adapt to consumer preferences or join the long list of has-beens -- retailers who used to lease space at top mall locations.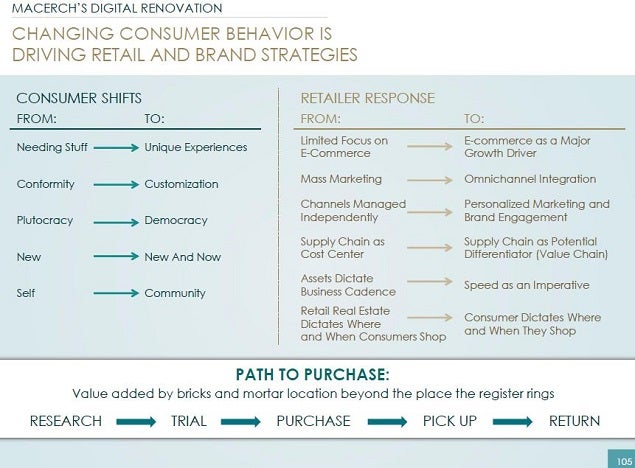 Bricks and mortar retailers have not ceded their prized customer to Amazon.com, Inc. (NASDAQ: AMZN) or other pure-play Internet retailer.
Simon Properties could have chosen to buyback its own shares with the money it spent to invest in Macerich. Simon has now positioned itself to evaluate Macerich as a potential acquisition in the future.
Image Credit: Christopher Woo, Flickr
Posted-In: reits shopping mallNews REIT Retail Sales General Real Estate Best of Benzinga
View Comments and Join the Discussion!