Who Really Wins Big When Yahoo Buys BrightRoll?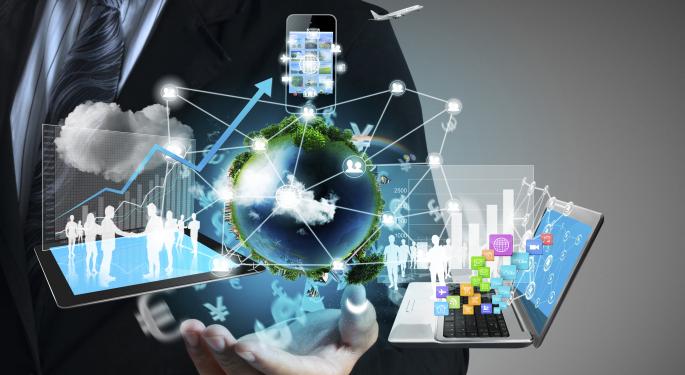 Nowhere is the axiom "time is money" more true than in real-time bidding (RTB) for a shot at buying the targeted digital video ads seen on the Internet.
BrightRoll operates the world's largest independent video advertising platform, powering digital video advertising for the world's largest brands, including 90 percent of the top 50 U.S. advertisers and 17 of the top 20 advertising technology companies.
However, it appears BrightRoll's independent days are coming to an end. Yahoo! Inc. (NASDAQ: YHOO) CEO Marissa Mayer recently reached into her piggy bank and plunked down $640 million to purchase BrightRoll.
A November 12 Bloomberg report stated revenue from online video ads may surge 56 percent this year in the U.S. to $5.96 billion, according to researcher EMarketer Inc. Yahoo will have just 2.4 percent of the worldwide market for all digital ads this year, lagging behind Google (NASDAQ: GOOG) (NASDAQ: GOOGL) and Facebook.
"Video, along with mobile, social, and native, is driving a surge in digital advertising," Mayer said in the statement. "BrightRoll is a terrific, strategic and financially compelling fit for our video advertising business."
Related Link: Yahoo! Acquires BrightRoll, Hopes To 'Enhance' Earnings
Advertisers are willing to pay more money for digital video ads than for ubiquitous banner ads that Yahoo helped to pioneer. BrightRoll is expected to be profitable in 2014 on revenues of just over $100 million. The current $700 million U.S. market is expected to grow to $3.84 billion by 2016, according to EMarketer.
An Automated Marketplace
Programmatic advertising matches online video publishers with online video advertisers. Back in August 2013, AOL, Inc. plunked down $405 million to purchase global video advertiser Adap.tv.
In a joint press release, then Adap.tv CEO Amir Ashkenazi said, "We believe that most TV advertising will soon be traded programmatically on platforms like ours. The combination of AOL and Adap.tv accelerates our vision of efficient and effective TV and video advertising."
Dissident Yahoo shareholders have recently been advocating a merger with AOL.
'Need For Speed'- Equinix
Analyzing all that data for millions of transactions must be done at "warp speed." That is where global interconnection and data center operator Equinix Inc (NASDAQ: EQIX) becomes part of the solution.
In a perfect RTB world, fair market value is set and ads are sold in less than 100 milliseconds, according to Google DoubleClick developer specs. This isn't much time when considering all the behind-the-scenes workflows and third-party data about prospective audiences that buyers must analyze before deciding if and how much to bid.

The BrightRoll Exchange (BRX) and VideoRTB+ is currently available exclusively at Equinix IBX data centers located in Silicon Valley and Washington, D.C. The Yahoo purchase would likely accelerate deployment worldwide utilizing Equinix's global platform.
Related Link: How These 3 Data Center Providers Stand Apart"
Equinix Ad-IX Ecosystem
More than 145 ad networks, ad agencies, demand-side platforms, supply-side platforms and data aggregators now participate in Equinix's Ad-IX ecosystem for these business benefits:
Connect directly to the largest number of online advertising industry partners available anywhere: buy-side, sell-side, intermediaries and data providers.
Exchange data and conduct transactions at speeds not available over the Internet and public clouds.
World-class security and availability with proven 99.999 percent uptime.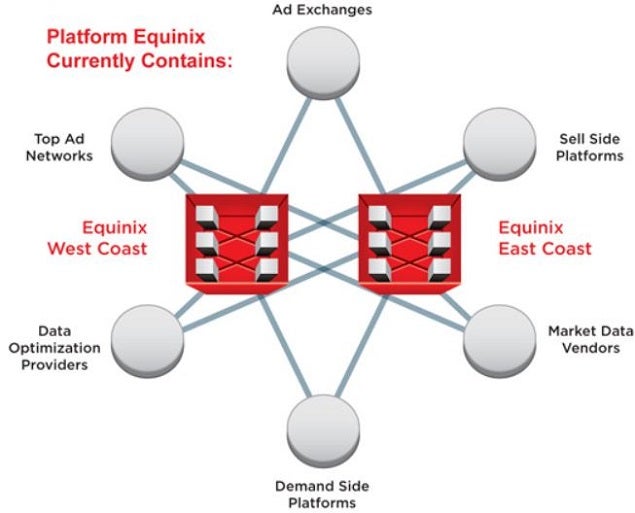 The Network Effect
Equinix recently announced direct access to the Google Cloud Platform via the Equinix Cloud Exchange in 15 markets worldwide, including: Amsterdam, Atlanta, Chicago, Dallas, Frankfurt, Hong Kong, London, Los Angeles, New York, Paris, Seattle, Silicon Valley, Singapore, Tokyo and Washington, D.C.
Google's YouTube platform is the market leader in programmatic advertising revenues, commanding 19 percent of worldwide revenues, according to EMarketer.
However, the real winner in the real-time bidding wars for online video advertising appears to be Equinix. Equinix shares have been trading near 52-week highs since announcing its third quarter earnings and confirming conversion to REIT status is on track for January 1, 2015.
Posted-In: Adap.tv BrightRoll Doubleclick REITM\u0026A Tech General Best of Benzinga
View Comments and Join the Discussion!