Benzinga's M&A Chatter for Monday October 27, 2014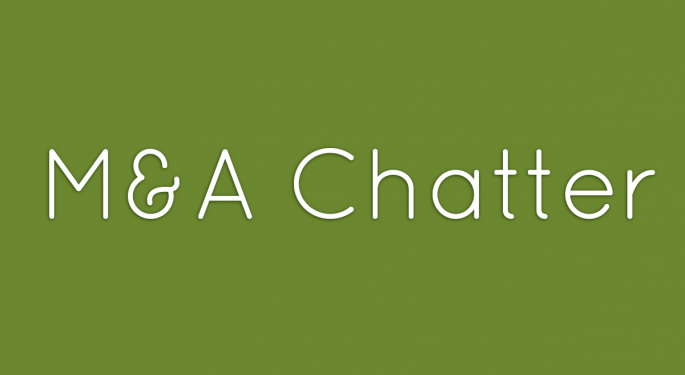 The following are the M&A deals, rumors and chatter circulating on Wall Street for Monday October 27, 2014:
Cutrale/Safra to Acquire Chiquita for $14.50/Share in Cash
The Deal:
Chiquita Brands International Inc. (NYSE: CQB) and the Cutrale-Safra group announced Monday, an agreement, under which Cutrale-Safra will acquire all outstanding common shares of Chiquita for $14.50 per share in cash. The agreement has been unanimously approved by the Chiquita Board of Directors, and is expected to close by the end of 2014 or early 2015.
Chiquita announced Friday it had terminated a merger agreement Fyffes plc (OTC: FYFFF), following a shareholder vote.
Chiquita Brands closed Monday at $14.36, a gain of $0.20.
Wright Medical Group and Tornier Agree to Merge
The Deal:
Wright Medical Group, Inc. (NASDAQ: WMGI) and Tornier N.V. (NASDAQ: TRNX) announced Monday, that they have agreeed to merge in an all stock transaction with a combined equity value of approximately $3.3 billion. Under
the terms of the agreement, each outstanding share of Wright common stock will be exchanged for 1.0309 ordinary shares of Tornier. Wright shareholders will own approximately 52% of the shares of the combined company on a fully diluted basis and Tornier shareholders will own approximately 48%.
The transaction has been unanimously approved by the boards of directors of both Wright and Tornier and is expected to close in H1 of 2015.
Wright Medical Group closed Monday at $31.64, and gained almost 4% after-hours. Tornier closed at $24.05 and gained 25% after-hours.
Valeant Letter Says Prepared to Improve Offer for Allergan
The Letter:
Valeant Pharmaceuticals International, Inc. (NYSE: VRX) announced Monday, that it has delivered a letter to the Board of Directors of Allergan, Inc. (NYSE: AGN). In the letter, Valeant stated that it is prepared to improve its offer and provide value to shareholders of at least $200 a share. Valeant said the Allergan share price would be nowhere near where it is absent their offer (closed at $184.23 on Friday). Allergan's shares were trading at $110 at the beginning of the year, and $117 before Valeant made their offer.
Allergan rejected a bid in June from Valeant, consisting of $72 in cash and 0.83 Valeant shares for each Allergan share. Allergan has scheduled a special shareholders meeting for December 18.
Allergan shares lost 1% Monday, to close at $182.33, while Valeant gained 1%, to close at $130.56.
Posted-In: News Hedge Funds Movers & Shakers M&A Movers General
View Comments and Join the Discussion!