6 Of The Most Successful Fast-Food Campaigns Of All Time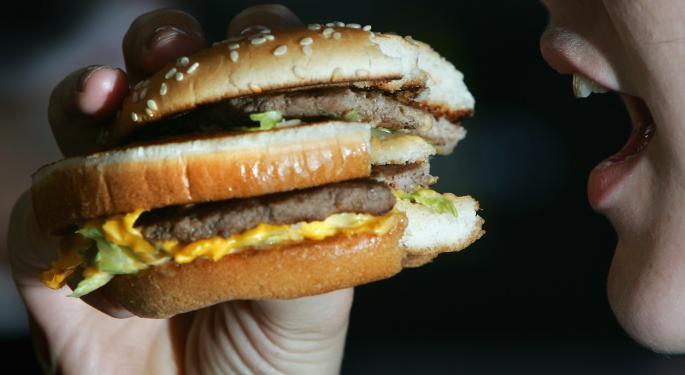 Most people know fast-food restaurants by their slogans – past and present.
For McDonald's (NYSE: MCD), it's likely, "I'm lovin' it." KFC, which used to be called Kentucky Fried Chicken, immediately brings to mind, "Finger lickin' good." For Burger King (NYSE: BKW), it's "Have it your way."
What about the actual food? What food item is so closely associated with a fast-food chain that it immediately comes to mind when thinking about that chain?
Related Link: McDonald's Introduces Faster Food In 60 Seconds Or Less
Here are six fast-food chains along with iconic foods associated with those chains, all the result of well-planned and executed marketing campaigns.
Slogans aside, and despite the fact french fries outsell all other food items at the golden arches, the Big Mac is likely the first food item that comes to mind when the name McDonald's is uttered.
The reason for many is this simple but effective 1975 commercial featuring a rap-style rhyme that went "viral" long before "viral" was even a thing.
Wendy's (NASDAQ: WEN) Chili
Chili was not the first food item on the Wendy's menu when founder, Dave Thomas, opened his first restaurant in Columbus, Ohio in 1969. When the menu was expanded several years later, the brand's meaty chili quickly became a customer favorite.
One of Wendy's most successful campaigns for its chili took place in 2001 with this clever commercial.
Burger King introduced the Original Chicken Sandwich in 1979 for much the same reason Wendy's added chili: to differentiate itself from the competition. Other specialty sandwiches introduced at the same time have since been discontinued, leaving the Classic Crispy Chicken Sandwich the sole survivor.
Chicken has proven to a be a winner for Burger King with the chain introducing its latest chicken incarnation, the Spicy Chicken Sandwich this past January.
Yum! (NYSE: YUM) Taco Bell's Doritos Locos Taco
Some of the first people to taste test what later became Taco Bell's wildly popular Doritos Locos Taco hated them, according to Fast Company. Following two years of testing and retesting in 2011, a prototype was ready and the rest, as they say, was history.
With roughly one million Doritos Locos Tacos sold each and every day, the partnership between Yum and PepsoCo's Frito-Lay was easily the most successful campaign in the history of Taco Bell.
Domino's Pizza's (NYSE: DPZ) Pepperoni Passion
Domino's most successful campaign was a total reinvention of itself and its signature product: pizza. The company in 2010 launched an ad campaign in which it admitted something most fast food restaurants would hesitate to admit –- that its food wasn't very good.
The gamble paid off, and the chain saw sales skyrocket. All because of a campaign that started with a simple admission.
Related Link: 5 Famous Fast Food Resurrections
KFC's Original Recipe Fried Chicken
Although the name has changed, the menu has changed and the commercials have changed, one of the most popular menu items at KFC restaurants worldwide remains the chain's Original Recipe Fried Chicken.
It all started with a "secret recipe" from a sixth-grade dropout named Harlan Sanders who was named a "Kentucky Colonel" in 1935 by then governor, Ruby Laffoon, in recognition of Sanders' contribution to Kentucky cuisine.
At the time of this writing, Jim Probasco had no position in any mentioned securities.
View Comments and Join the Discussion!
Posted-In: Big Mac Burger King Dave Thomas Domino's Doritos frito-layRestaurants General Best of Benzinga