What Russian Bans Could Mean For Corporate Profits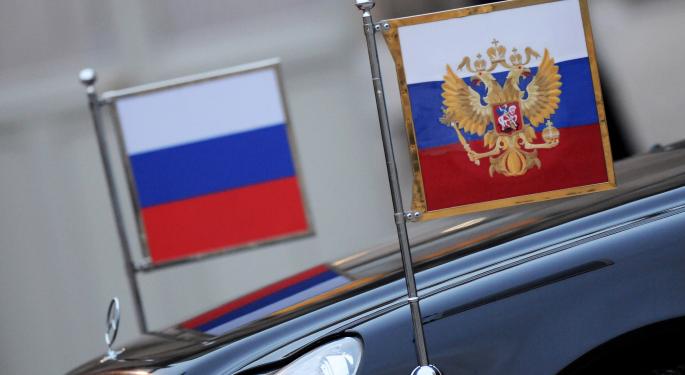 Russia's retaliatory ban on imports of food and beverages would likely have limited impact on companies like McDonald's (NYSE: MCD) and Unilever (NYSE: UN), according to Reuters.
Other corporations such as Adidas and BP (NYSE: BP) indicated that a weakened ruble and deteriorating Russian economy could have a negative impact on them.
Manufacturing Not Impacted
Russia's one-year ban on fruit, vegetables, meat, fish, milk and dairy imports from the U.S., Europe, Australia, Canada and Norway would have little measurable manufacturing effect on companies like PepsiCo (NYSE: PEP) and Danone, which have built local plants in Russia and source many products locally.
Related: Markets Up As Russia Seeks To End Military Activity Near Ukraine
Consumer Spending Reduced
However, with Russian consumers seeing higher prices in their local markets, suppressed spending could affect any company doing business in the country.
Euromonitor food analyst, Lianne van den Bos, told Reuters that Russian imports of banned products account for less than 10 percent of production.
The biggest impact, van den Bos said, would come from domestic price increases because of increased pressure on local producers of banned foods and food products.
The Wall Street Journal quoted Bob Stallman, president of the American Farm Bureau Federation, as saying, "It is unfortunate that the biggest losers in this will be Russian consumers, who will pay more for their food now as well as in the long run."
Impact On Corporations
Although McDonald's gets 85 percent of its ingredients from domestic suppliers in Russia, the company has other battles with that country. RT reported Wednesday that Russia is taking McDonald's to court over charges the company violated Russia's sanitary norms.
Meat companies like Tyson (NYSE: TSN), thanks to earlier bans, have not depended on Russia for a significant percentage of business in recent years.
Although Tyson shares dropped two percent following announcement of the Russian food ban, the National Chicken Council released a statement saying in part, " … we do not expect that a Russian ban on U.S. poultry imports will have a great impact on our industry."
Coke Is "It"
Meanwhile, Russia added soft drink maker, Coca-Cola (NYSE: KO), to its enemies list, proposing a soft drink tax in retaliation for the fact the company withdrew four TV commercials from Russian television in a move Communist party lawyer Vadim Solovyov called "a clearly unfriendly step toward Russia."
At the time of this writing, Jim Probasco had no position in any mentioned securities.
Posted-In: Adidas bp Coca-cola Danone McDonald's National Chicken CouncilMarkets Media Best of Benzinga
View Comments and Join the Discussion!