Comparison Of Price Matching Policies At 5 Major Retailers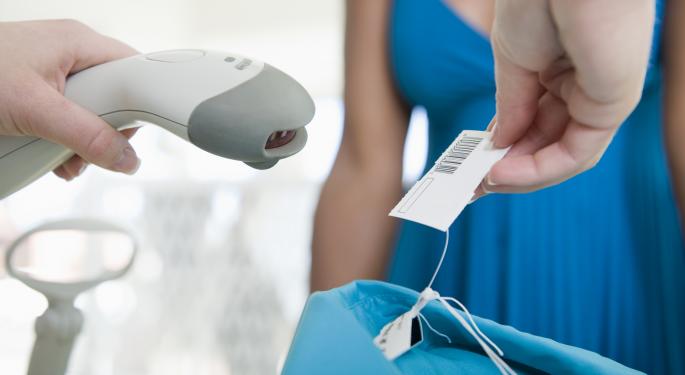 Best Buy (NYSE: BBY) CEO Hubert Joly, in a recent interview with Re/Code, noted the importance of the company's new price matching policy saying simply, "We've taken price off the table."
If only price matching were that simple.
After accounting for exclusions, special conditions and various other limitations, price matching means different things to different retailers.
Here are the basic price matching policies, followed by a synopsis of each retailer's list of exclusions, for Best Buy, Target (NYSE: TGT), Wal-Mart (NYSE: WMT), J.C. Penney (NYSE: JCP) and Amazon.com (NASDAQ: AMZN).
Best Buy will price match local retailers, including their online outlets, if the customer provides proof of the price such as an ad or webpage.
The company also matches prices of Amazon.com, Bhphotovideo.com, Crutchfield.com, Dell.com, HP.com, Newegg.com and TigerDirect.com
In addition, Best Buy stores honor BestBuy.com prices and vice versa.
Finally, Best Buy will match prices lowered in-house during the return/exchange period, if asked.
Target price matches prices at local retailers within seven days with presentation of an ad or other proof of the competitor's price.
Prices at Target or CityTarget stores will also be matched. That guarantee also includes the seven-day grace period.
Website prices matched include Target.com, Amazon.com, Walmart.com, BestBuy.com, Toys R Us.com and BabiesRUs.com. The seven-day period applies to websites.
Related Link: 6 Major Retailers Starting Back-To-School Campaigns
Wal-Mart will price match prices at local retailers with no ad required. If the price is specified, the company honors buy one, get one free (BOGO) offers.
Wal-Mart even matches preferred shopping card prices from stores like Kroger's, so long as the price is specified in the ad. In a departure from many price-matching policies, Wal-Mart honors competitor prices on fresh produce and meats if the price and unit are specified.
J.C. Penney price matches local retailers, but, like most retailers, requires proof in the form of an original hard copy ad. However, the company said a photocopy of an ad or proof on a mobile device may be accepted, but the store manager reserves the right to verify.
One very interesting aspect of J.C. Penney's price matching policy is the fact that there is no time limit for returns. So, even though the company will not match its own online prices, if the customer discovers at a later date that the online price is lower, he or she can return the item to the store (provided it is in good condition) and buy online.
Amazon.com Although known for its low prices, Amazon barely participates in price matching. Amazon will price match televisions from qualifying retailers and it will match cellphones, including service, from qualifying websites.
Beyond that, Amazon said it does not price match.
Related Link: CNBC's Survey On Retail Survivors In 25 Years
It Gets Complicated
Exclusions and restrictions make comparison and sometimes even clarity difficult.
For example, Best Buy price matching does not apply to contract mobile phones sold online, third-party sellers or multiple purchases of an identical item.
Also excluded are clearance, refurbished or items in open packages. Service and finance contracts cannot be price matched; neither can "bundles," or free offers.
As might be expected, pricing errors, expired ads, mail-in offers, credit card and gift card offers are also off the table.
Finally, Best Buy excludes price matching from Thanksgiving Day through the Monday after Thanksgiving.
Target's price matching exclusions include multiple purchases of an identical item, contract mobile phone plans and devices, and third party sellers.
The company also excludes third party sellers, clearance, closeout, refurbished, and open packages.
Bundles, service, and finance plans as well as free offers are excluded too.
Other exclusions include mail-in, gift card offers, and promotions for movies or game reservation cards. The company also excludes pricing from membership clubs and store loyalty programs.
As far as in-house exclusions are concerned, Target does not price match Target Portrait Studio, Optical, or Clinic offers.
Wal-Mart follows a similar exclusion policy with regard to price matching, including clearance, closeout and open packages.
In addition, Wal-Mart does not price match Internet pricing.
J.C. Penney excludes Sephora, Salon, Optical, Portrait or Custom Decorating from price matching.
It does not price match Internet/mobile pricing, free, special, bundled, clearance or closeout items.
The lengthy exclusions list for JCP also includes private label, membership or loyalty programs, military PX pricing and credit card promotions.
Amazon's limited price matching does not apply to prices older than 14 days.
At the time of this writing, Jim Probasco had no position in any mentioned securities.
Posted-In: Amazon best buy HP.com Hubert Joly J.C. PenneyTopics Personal Finance General Best of Benzinga
View Comments and Join the Discussion!