Blackberry Attempts To Rebound From IBM/Apple Deal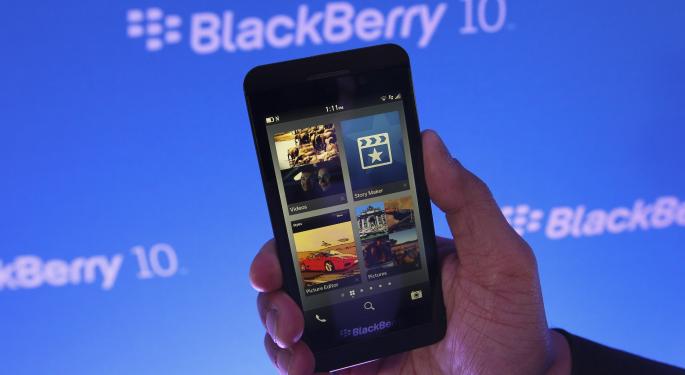 Last week, IBM (NYSE: IBM) and Apple (NASDAQ: AAPL) announced a deal to have IBM sell iPhone and iPads.
That news created tremors, industry-wide.
Investors are fearful the deal will further enhance Apple's dominance in cellular phone and tablet market. Perhaps the issue that was hardest hit after the announcement was shares of Blackberry (NASDAQ: BBRY).
Bad Timing?
For BBRY shareholders, the announcement could not have come at a worst time. After breaking out from a long-term base formed at the $7.20 level, it rallied to $11.65 on July 12. After flirting with that level over the next few trading sessions, BBRY had already begun to weaken and closed at $11.30 on July 15.
On the heels of shocking announcement, sellers immediately shaved $0.50 off its closing price in after-hours trading. The carnage continued in the regular session as the issue opened another $0.36 at $10.66, briefly rallying to $10.98, and completely collapsing and ending the session just off its low for the day at $9.97.
Related: A Pair Trader's Nightmare: Coca-Cola Vs. PepsiCo
Those who did not sell on the 16th decided to join in on the 17th, and took BBRY all the down $9.69. However, since that low was reached, BBRY has been hanging in there. In fact, it revisted that level in Thursday's trading, reaching $9.70 and rebounding sharply is trading just off its current high for the day ($10.29) at $10.24.
The question that remains now is whether this is just a technical bounce from its oversold status or a resumption of the current uptrend that has been in place since mid-April.
Analysts Weigh In
If relying on Wall Street analysts for the company, the answer would be "no". The Street's high price target belongs RBC (coincidentally the Royal Bank of Canada) at $12.00. A level it came with earshot of before the IBM/AAPL deal was announced.
However, the overall average price target comes in at $8.67, nearly one and half points lower than its current price. Evercore Partners was the last firm heard from regarding the issue on June 23, when it upgraded the issue from Underweight to Equal-Weight and raised its price target from $6.00 to $10.00. Therefore, at its current price the company is fully valued by its standards.
Keep in mind, if the company were to lose one of its huge contracts to one its competitors, such as the United States government, the issue will be deluged with another round of sellers. With the company not due to announce earnings until late September, BBRY bulls will be hard-pressed to find a catalyst to elevate the issue.
From a technical perspective, the issue has been dead money since cascading down from its all-time high from June 2008 ($148.13) for the last two years. Since bottoming at $5.44 in December 2013, the rally has stalled at $11.65, which matches its high from September 2013.
Customer Loyalty
Also, with such a steep decline with minor rebounds there is a lot of overhead supply in this issue that will be unveiled when and if BBRY rallies.
On the other hand, if an investor still has faith in the company to rebound, a breach of its recent low at $9.69 may be a signal to exit the issue. On a decline, the next major support level stands at the two lows from late June at the $9.00 level.
With AAPL attempting to further infiltrate the cellular phone market with its deal with IBM, BBRY remains stagnant in developing new products and is relying on customer loyalty for its survival.
As new phones come on to the market, BBRY's may lose more market share to other providers as well. Relying on loyalty from the consumer, as well as the United States government, certainly does not seem to be the recipe for an extended recovery in the issue.
Posted-In: celluar technologyNews Movers & Shakers Events Intraday Update Analyst Ratings Tech General Best of Benzinga
View Comments and Join the Discussion!