Benzinga's Weekend M&A Chatter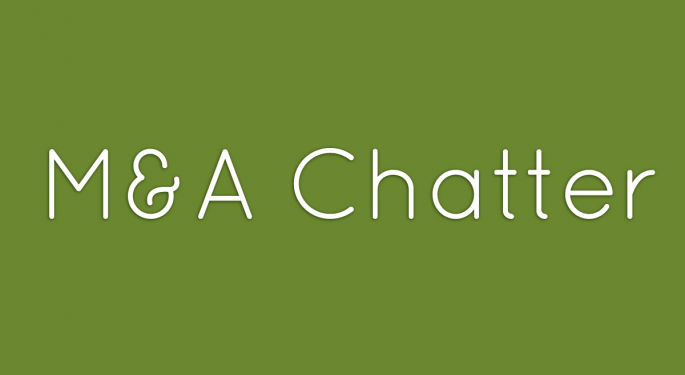 The following are the M&A deals, rumors and chatter circulating on Wall Street for Friday June 27 through Sunday June 29, 2014:
Tencent Acquires Approximately 20% Stake in 58.com for $736M
The Deal:
58.com (NYSE: WUBA) and Tencent Holdings (OTC: TCEHY) announced Friday that Tencent has agreed to invest $736 million in exchange for approximately 19.9% equity interest in 58.com. Under the agreement, Tencent is purchasing 36.805M Class A and B ordinary shares at $20 per share, or $40 per ADS. 58.com will use part of the proceeds from this transaction to buyback 27,603 million shares from existing pre-IPO shareholders.
58.com closed Friday at $54.90, a gain of 5%.
Rackspace Shares Fall on Reported Lack of Takeover Interest
The Rumor:
Shares of Rackspace (NYSE: RAX) fell sharply Friday, on a report from Deal Reporter that there has been a lack of interest from potential buyers for the web hosting company, due to cash flow issues. Rackspace has been the subject of frequent takeover chatter, with IBM (NYSE: IBM) being often mentioned as a potential suitor.
Rackspace closed Friday at $33.63, a loss of more than 7%.
Pershing Square Settles Poison Pill Litigation
The Settlement:
Bill Ackman's Pershing Square Capital Management announced Friday, it has reached a settlement with Allergan (NYSE: AGN), resolving the previously announced poison pill litigation before the Delaware Court of Chancery.
The settlement provides that Pershing Square's solicitation and receipt of revocable proxies to call a special meeting of shareholders of Allergan will not trigger the poison pill, and paves the way for Pershing Square to begin actively soliciting proxies to call the special meeting.
Allergan has rejected Valent Pharmaceutical's takeover bids, the current offer being $53 billion in cash and Valeant shares. The rejections have prompted Ackman and Valeant to present the offer directly to Allergan shareholders.
Allergan closed Friday at $173.95, a gain of 2%, while Valeant closed at $128.85, a gain of almost 2%.
View Comments and Join the Discussion!
Posted-In: M&A News Rumors Hedge Funds Movers & Shakers Management Insider Trades General