Russia Threatens To Cut Off Gas To Ukraine, Preparing For 'Historic' Energy Deal With China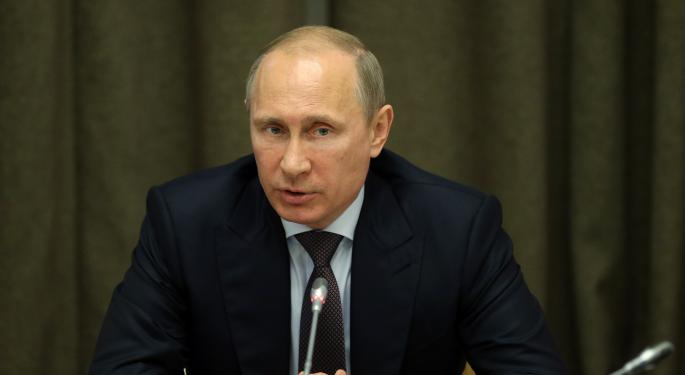 Russia's state-controlled energy giant Gazprom is playing economic hardball with Ukraine, as the political crisis between Moscow and Kiev deepens. At the same time, Russian President Vladimir Putin is scheduled to travel to Beijing next week – where he is expected to sign a historic deal to deliver Russian gas to China.
Gazprom on Tuesday called on Ukraine to make a $1.66 billion pre-payment for next month's gas deliveries, or face a cut-off of supplies. At a meeting transcribed on the Gazprom website, company CEO Alexey Miller told Russian Prime Minister Dmitry Medvedev that, if the bill isn't paid by June 2, the gas will stop flowing the following morning.
Related: Additional Fees Help Fuel Airline Profits In 2013
Miller also said Ukraine owed Russia a total of $3.508 billion for gas, but still hadn't paid off their debt for March and April deliveries.
"Here's what I think: enough coddling," Medvedev reportedly said during the meeting. "Please notify the Ukrainian party and switch to prepayments starting from tomorrow."
About one-third of Western Europe's gas supplies flow from Russia, via Ukraine. A Gazprom spokesman told Reuters that, as of Tuesday, gas deliveries to Europe through Ukraine remained stable. But industry analysts remain nervous.
"Though Gazprom has many times threatened to introduce pre-payment to Ukraine, this latest announcement will likely further amplify the risk of possible trouble with stable gas transit to Europe," Moscow-based Alfa Bank reported in a note published Tuesday.
President Putin, meanwhile, appears to be dealing with sanctions from Western Europe and the United States over the Ukraine crisis by looking eastward. During his trip to Beijing next week, Putin is expected to sign a 30-year agreement to supply China with 38 billion cubic meters of gas annually, starting in 2018.
According to Russia's state-run RT.com, China remains Russia's largest trading partner outside of the European Union – with trade between the two countries expected to reach $100 billion by next year, and $200 billion by 2020.
Posted-In: Alfa Bank ChinaEurozone Commodities Politics Events Global Economics Best of Benzinga
View Comments and Join the Discussion!