Sen. Ron Johnson And Roger Altman Debate Turmoil In The Ukraine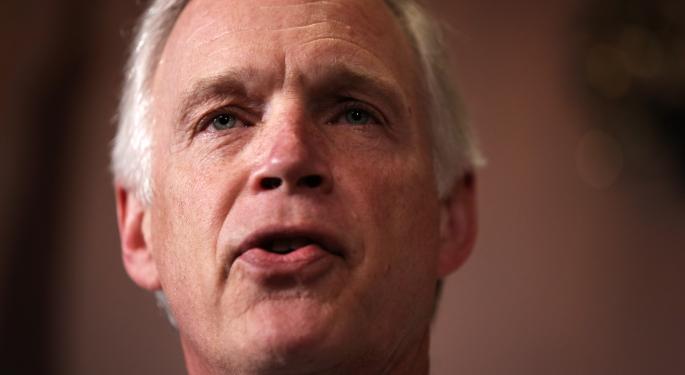 Roger Altman, former Deputy Treasury Secretary and founder and chairman of Evercore Partners (NYSE: EVR) recently appeared as a co-host on Bloomberg Television with anchor Betty Liu where he analyzed the current turmoil in the Ukraine.
Wisconsin Sen. Ron Johnson, who serves on the Senate Budget Committee and its Homeland Security and Government Affairs Committee (among others) joined in via tele-feed from Washington D.C. to serve up counterpoints.
"First of all Putin's move into Eastern Ukraine, particularly Crimea, is a move out of weakness, not a move out of strength," said Altman. "Because look back three months ago. Russia had reached agreement with the then Ukrainian leadership on a $15 billion rescue package, were Ukraine would reverse its previous commitment to the EU, align with Russia and in effect reconfirm Russia's protectorate so to speak."
"That's where we were three months ago. Then of course the Ukrainian leadership is overthrown in effect. Democracy in one form or another breaks out or a form of Democracy breaks out and Russia is way back on its heels and its previous agreement with Ukraine is blown up."
Altman's second point was that Putin has made it clear that he doesn't want to move into the Western part of the country because he understands that would intensify Western response, mainly from the U.S., which he noted was second in the list.
Related: What Do The Charts Tell Us About The Crisis In Ukraine?
"So number three is the question of what sanctions, what costs, to use President Obama's term, Putin is going to have to pay for this. And I don't think it's clear right now. Because we're seeing various forms of equivocation from Europe. We've seen Germany indicate that it's not in favor of some tough sanctions…Because of the economic and financial ties between Germany and Russia," said Altman.
"So the question now which I think will take a while to play out is what are the costs which Russia will pay? And I don't think it's clear. And I don't think it's clear that they'll be that high."
Altman doesn't believe that Putin will withdraw now from the Crimean region, in part because Crimea has one warm weather naval base, which "from Russia's point of view it's a strategic asset of the highest importance."
Johnson rejected the idea that Russia's move was "an act of weakness" and said the United States needs to act.
"I think we should act in measured fashion. I don't want to escalate, I want to de-escalate, but Vladimir Putin has to pay a price for what he did in Crimea. We've got to take some action. Hopefully we can force him to withdraw from Crimea. We certainly don't want him to advance any further," said Johnson. "What cost will Russia pay. It isn't clear to me what that will be. And whether we can actually impose large costs on Russia. We have the tools if we wanted to use them," said Altman.
"After all, we could freeze Russian assets in Western banks or even just American banks and other steps which would have a very, very punitive effect. But I don't think the United States wants to act alone."
The U.S. and Europe are putting together an aid package worth up to $15 billion, but there's uncertainty around whether or not it will pass Congress.
Johnson supported the package: "Well this is no time to be pennywise and pound foolish. What the administration has to do is make the case of why it's important that Russia does not continue to proceed and gain greater influence in Ukraine. Part of the reason that they were gaining influence," continued Johnson, "was because America, the European Union was kind of asleep at the switch. Just kind of assuming that Ukraine was going to join the Eastern Association."
Johnson believes that "the opportunity to snatch victory out of the jaws of defeat," is still viable as long as the U.S. and Europe remain on the same page.
A full transcript of the interview is available here.
 Jason Cunningham had no position with the mentioned entities while writing this article. Visit Jason on Twitter at @JasonCunningham and @Benzinga.
Posted-In: Betty Liu Bloomberg TelevisionNews Politics Global Hot Media General Best of Benzinga
View Comments and Join the Discussion!