Top 10 Jobs For 2014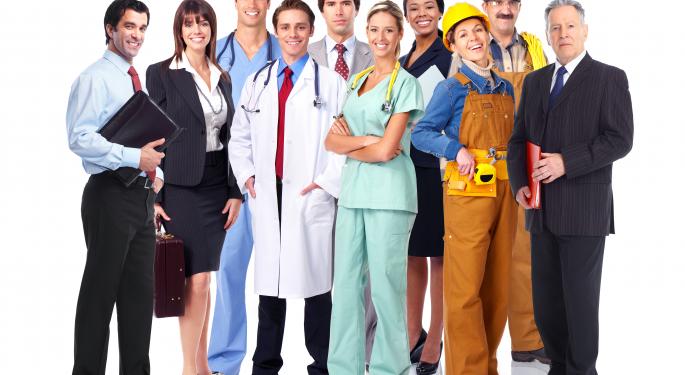 If you are unsure of what you want to be when you grow up -- and assuming that you'll be grown up later this year -- you might want to be a software developer (programmer).
According to US News, it's the Number One job for 2014. Here's a list of the top ten:
1. Software Developer
Software developers make, on average, more than $90,000 per year. The work is meaningful, interesting and affects people's lives. You can probably get a job in just about any area of the country and the profession does not require a huge amount of postgraduate education (which can be expensive) to get started.
In addition, according to the Bureau of Labor Statistics, there will be almost 140,000 new software development jobs before 2022. That's more than 15,500 per year.
If programming isn't your thing, perhaps another of these "top 10" job suits you better.
2. Computer Systems Analyst
The Bureau of Labor Statistics says computer systems analysts "study an organization's current computer systems and procedures and design information systems solutions to help the organization operate more efficiently and effectively."
A keen understanding of computer hardware, software and networks is essential. Having those skills and that knowledge however pays well. Median salary in 2012 approached $80,000. The top 10 percent earned more than $122,000 in that year. And the BLS predicted more than 24 percent employment growth in this area by 2022.
3. Dentist
Maybe computers and software are simply not your area of expertise or interest. In that case, what's your take on teeth?
The number three job in 2014 is dentist and, although extensive training and licensing is required, the median salary of more than $149,000 is at least in the six-figure "ballpark" of physicians.
Dentists diagnose and treat teeth and gums and help people maintain good oral health. The profession is expected to add more than 23,000 new jobs through 2022, according to the BLS.
4. Nurse Practitioner
Also part of the medical profession, nurse practitioners are, first, registered nurses. Beyond the bachelor's degree requirement for nursing certification, a nurse practitioner has to have a graduate degree -- that allows you to work independently of physicians when treating patients for certain ailments and conditions.
The BLS predicts 37,100 new nurse practitioner positions will open between 2012 and 2022. Median salary in 2012 was more than $91,000.
5. Pharmacist
Pharmacists, the number 5 job for 2014, deal directly with public by dispensing both medicine and advice to patents in hospitals -- or as employees of drug stores and drugstore chains.
The median salary of $116,000 requires a minimum six years of college and battery of examinations to achieve appropriate licensing to practice as Doctor of Pharmacy.
The job outlook is average with expected growth of 14 percent through 2022, according to the Bureau of Labor Statistics.
Related: Fortune Magazine's Best Places To Work
6. Registered Nurse
Continuing the health care theme, registered nurse comes in at number six on the 2014 US News list. It has long been conventional wisdom that nurses are always in demand. That has not changed.
The median salary of $65,000+, and expected 19.4 percent growth rate, are impressive -- but what really stands out is the extremely low unemployment rate of just 2.6 percent.
Becoming a registered nurse requires an associate degree, a bachelor's degree, or a diploma from an approved nursing program according to the BLS.
7. Physical Therapist
If you see yourself helping others with strength or mobility following injury or illness, you might be interested in becoming a physical therapist. The number seven job for 2014 commands an impressive median salary of almost $80,000 per year and, U.S, News said, has an unemployment rate of 0.2 percent.
Employment for physical therapists is expected to grow in impressive 36 percent between 2012 and 2022, according to the BLS. A Doctor of Physical Therapy degree is required. That degree typically takes three years to complete and is in addition to a bachelor's degree and residency, if selected.
8. Physician/Surgeon
From both a salary and responsibility perspective, physicians sit atop the health care pyramid. Following extensive training that takes a minimum of eight years plus residency, physicians may choose to open their own practice or work in a hospital or other setting.
Median salary is more than $187,000. The BLS said 123,300 new jobs for doctors would open up between 2012 and 2022. Unemployment is virtually non-existent and, given an aging baby boomer population, is not likely to increase any time soon.
9. Web Developer
The number nine job for 2014 represents a total departure from the several health care-related positions that populate the list. The median salary of $62,500 is reasonable and for anyone who enjoys creating sleek-looking html code, versus taking temperatures, web developer might be an attractive option.
Witha faster-than-average job growth of 20 percent expected through 2022, and a minimum educational requirement of a two-year associate degree, the return-on-investment makes this job one worth considering for anyone who doesn't have several years to invest in education.
10. Dental Hygienist
The number 10 job for 2014 represents a return to health care. Dental hygienists work with dentists and provide services such as cleaning teeth and helping patients with developing good oral hygiene.
An annual salary of almost $71,000 can be lessened slightly if you end up working only part-time; a position in which many hygienists find themselves. Expected employment growth of more than 33 percent makes this a desirable field.
Although an associate degree is the minimum requirement, many hygienists pursue a bachelor's or even master's degree, in an attempt to gain better and higher-paying job skills.
All the Rest
If nothing in the top 10 jobs for 2014 interests you, don't despair. There's plenty more where that came from in the rest of the US News Top 100 Jobs for 2014. That includes everything from number 11, Information Security Analyst, to number 63, Financial Analyst, to number 97, Mental Health Counselor, ending at 100 Painter (walls and houses, not works of art).
Finally, it's important to remember that choosing the best job involves much more than salary or growth potential, and the US News ratings take a number of those things into account.
View Comments and Join the Discussion!
Posted-In: associate degree bachelor degreeNews Topics Events Media Personal Finance General Best of Benzinga