WWE Network Breaks New Ground on Video Streaming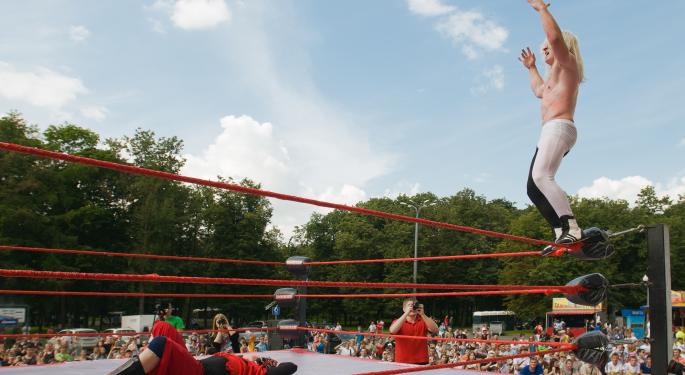 The sport of staged theatrics and painful athletics is helping change the way consumers will watch sports and entertainment.
On Wednesday, Vince McMahon announced the arrival of WWE Network, the first ever 24/7 streaming network.
Speaking at the Consumer Electronics Show in Las Vegas, the conference confirmed long-standing rumors and setbacks for the network, which will launch on February 24 at 9 a.m. EST.
The announcement also coincided with some encouraging ratings news for WWE's (NYSE: WWE) flagship show, Monday Night Raw. "We applaud WWE for this bold, timely and strategic move to fully optimize the power and potential of live entertainment," said Bob Bowman, President and CEO, MLB Advanced Media. WWE worked with the MLB partner, who have "mastered online streaming" since 2002.
"We are proud to work with WWE to help provide its millions of loyal fans with unencumbered access to distinctive and engaging live content across the devices they use most," he added.
McMahon's on-screen character has almost always been portrayed as an "evil billionaire." The company had a profit of just under $100 million for 2013.
Related: Is World Wrestling Entertainment About to Get Pinned?
The network will cost $9.99 per month, with a six-month commitment. Subscribers can watch all WWE pay-per-views, which itself is worth about $600 for the 12-14 specials each year. In the mode of others networks, such as ESPN and NBC, the network will also run pre- and post-game shows for its cable programs, Raw and Friday Night Smackdown.
WWE's network and cable programming is broadcast across the NBC Universal banner. The move has already irked DirecTV, a big distributor for WWE's pay-per-views. The Los Angeles Times has reported how traditional pay-TV distributors have counted on these specials as a solid revenue source, which typically divide the consumer's purchase 50-50 between themselves.
"Clearly we need to quickly re-evaluate the economics and viability of their business with us, as it now appears the WWE feels they do not need their PPV distributors," DirecTV said in a statement, according to the LA Times.
They add the audience for its events "has been steadily declining, and this new low-cost competitive offering will only accelerate this trend."
McMahon and WWE took a contrary stance, mentioning how they want to give fans a choice. "I think it'd be foolish for them not to want to carry the pay-per-view anymore," McMahon said. "It's found money for them."
Related: Stephanie McMahon Sells Over 800K Shares, WWE Ratings Continue To Struggle
Seth Mates, a former WWE creative team writer, has used Twitter to express his feeling on the current product and provide insight into the company during his time there in the early-2000s.
— Seth Mates (@SethMates) January 10, 2014
WWE has a bevy of planned, original programming for the network. According to its press release, the company will have over 1,500 hours of on-demand programming available at launch, making die-hard fans very eager for the February launch date.
WWE has taken over nearly all of the North American wrestling promotions (usually referred to as "territories") over the years, leaving them with an unprecedented video library. Much like the MLBtv streaming service, the move could further how sports leagues integrate their digital and television packages.
WWE has tried to stay ahead of the fray, incorporating social networks like Tout and Twitter into their daily programming, as well as heavily-promoting its mobile app as a second-screen for programming.
Shares of WWE were down about -1.44 percent Friday morning, after closing Thursday at $16.67.
View Comments and Join the Discussion!
Posted-In: Bob BowmanNews Movers & Shakers Events Tech Media Press Releases General Best of Benzinga