The Most Widely Searched Business and Investing Hashtags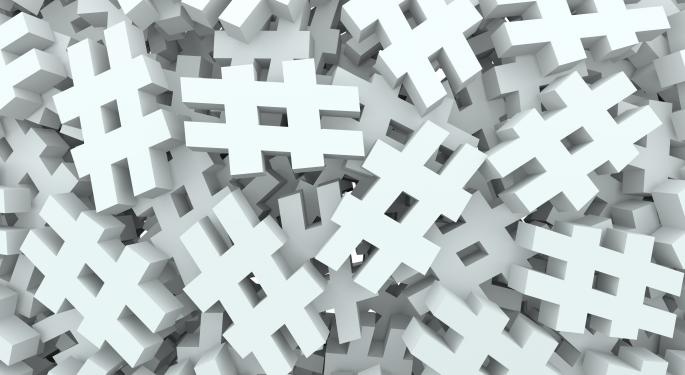 In honor of Thursday's big announcement that Twitter filed for an IPO, its time to go to the next level with how you use it for investment research.
While sites like Facebook (NASDAQ: FB) have jumped on the hashtag bandwagon recently, nobody does them as well as the originator, Twitter. Don't know much about how they work? A hashtag is nothing more than a search term assigned by the author of the tweet.
Related: What You Need to Know About the Twitter IPO
If you were tweeting about how Twitter is worth an estimated $10 billion to $14 billion, you might use the hashtag #twitteripo. When somebody types "twitteripo" into the Twitter search box, your tweet will display.
We'll let other tech bloggers give you advice on how to create a better tweet. Instead, lets approach the hashtag from the other end—as a reader. How can you find the latest information that may impact your portfolio? You can do it by using two types of hashtags: The "#" and the "$".
First, the "#". This is the best known hashtag that you use to find keywords. Some of the most popular hashtags in the Twittersphere related to business and finance include:
#401k
#budget
#bonds
#economy
#financialadvice
#GDP
#IPO
#moneymanagement
#NASDAQ
#NYSE
#stocks
#warrenbuffett
(And because so many people can't spell his name correctly, #warrennbuffet is quite popular as well)
The next thing to know about hashtags is that many come and go faster than Wall Street rumors. What was popular when Boeing (NYSE: BA)'s Dreamliner was breaking down more than NASDAQ (NASDAQ: NDAQ)'s computers? #dreamlinerfire and #787fire, of course! When news breaks, searching for hashtags like these will yield the latest information about the event.
But what about the "$"? This isn't the garden-variety hashtag but if you do any stock research, the "$" is about to become your new best friend. To search for all news related to a certain stock, place the "$" in front of the ticker symbol and prepare to be blown away by all of the new information you'll learn. Want to know what Apple (NASDAQ: AAPL) is up to? Head to Twitter, search for $AAPL, and grab a comfortable seat because you're about to be inundated with all things Apple.
What are the most widely searched stocks? Of course, Apple, Tesla (NASDAQ: TSLA), and Facebook receive an outsized amount of traffic but for a list of which stocks are trending in social media, go to stocktwits.com and look at the top of the page. If they're being searched in high volume, there must be a reason and that's worth investigating.
Disclosure: At the time of this writing, Tim Parker was long Apple.
View Comments and Join the Discussion!
Posted-In: Apple Boeing Facebook hashtag NASDAQ TeslaTech Personal Finance Best of Benzinga