Benzinga's M&A Chatter for Tuesday August 20, 2013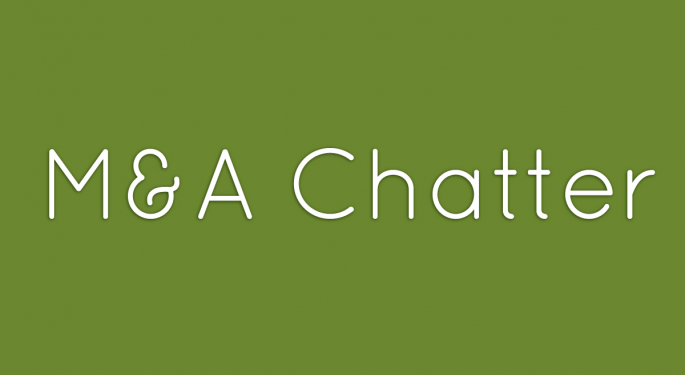 The following are the M&A deals, rumors and chatter circulating on Wall Street for Tuesday August 20, 2013:
Hearing Renewed Chatter of PE Interest in Blackberry
The Rumor:
Share of Blackberry (NASDAQ: BBRY) rose late Tuesday on twitter chatter that KKR (NYSE: KKR), Carlyle Group (NASDAQ: CG) and Bain Capital were among a group of companies looking to take the phone maker private. Blackberry's Board of Directors announced on August 12, the formation of a special committee to consider strategic alternatives, including a possible sale.
Spokespersons for Blackberry and KKR declined comment on the rumor.
Blackberry closed at $10.54 Tuesday, a gain of 2% on lower than average volume.
3D Systems Acquires CRDM
The Deal:
3D Systems (NYSE: DDD) announced Tuesday that it has acquired CRDM, Ltd., a leading UK provider of rapid prototyping and rapid tooling services. Terms were not disclosed.
3D Systems closed at $47.41 Tuesday, a gain of more than 1%.
Leonard Riggio Suspends Efforts to Pursue Barnes & Noble's Retail Business
The 13D Fliling:
Leonard Riggio reported in a 13D filing Tuesday that he has advised the Board of Directors of Barnes & Noble that he has "suspended his efforts to make an offer for the Company's retail business." Riggio said the company's "priority should be to serve the more than 10 million customers who own NOOK devices, to concentrate on building our Retail business, and to accelerate the sale of NOOK products in our stores, and in the marketplace."
Barnes and Noble reported wider than expected losses on Tuesday.
Barnes and Noble closed at $14.61 Tuesday, a loss of 12%.
Carl Icahn's Tropicana Entertainment to Acquire St Louis Hotel & Casino from Pinnacle
The Deal:
Tropicana Entertainment, a majority-owned subsidiary of Icahn Enterprises (NASDAQ: IEP), announced Tuesday that it has entered an agreement with Pinnacle Entertainment (NYSE: PNK) to acquire Lumiere Place Casino, HoteLumiere, and the Four Seasons Hotel St. Louis.
Carl C. Icahn, Chairman of Tropicana Entertainment, said: "We are happy that Tropicana, which Icahn Enterprises purchased out of bankruptcy only three years ago, is now profitable and will have expanded to nine casino properties. We hope to continue to make judicious acquisitions in the future."
Pinnacle Entertainment closed at $22.86 Tuesday, a gain of almost 1%.
Posted-In: M&A News Rumors Hedge Funds Movers & Shakers Insider Trades Global After-Hours Center
View Comments and Join the Discussion!