From Cylinder Heads to Shoes, 3-D Printing Goes Mainstream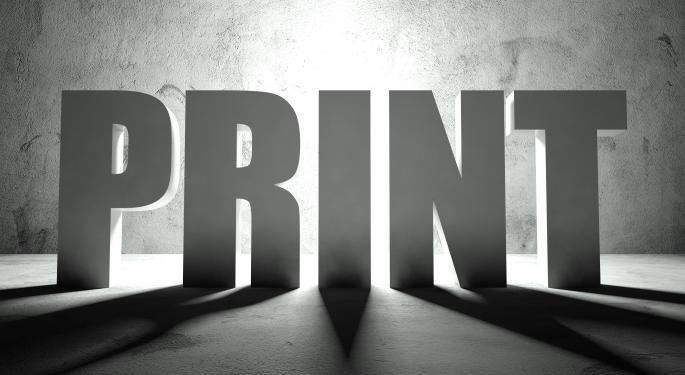 The novelty of 3-D printing is wearing off and being replaced by economic practicality.
The Wall Street Journal said, Wednesday that mainstream companies such as General Electric (NYSE: GE), Ford Motor (NYSE: F), and Mattel (NASDAQ: MAT) are now utilizing 3-D printers to save money and improve efficiency, demonstrating that science fiction is fast becoming fiscal fact.
In a process, also known as additive manufacturing, 3-D printing creates objects a layer at a time, out of plastic, metal, or composite materials. Experts have long theorized about the benefits of improved efficiency, cutting down on wasted materials, and quicker turn-around times in manufacturing.
Ford engineers, for example, at the Beech Daly Technical Center in Dearborn, Michigan, are producing prototypes of cylinder heads, brake rotors, and rear axles with expensive industrial-grade 3-D printers in much less time than traditional methods ever allowed, according to Paul Susalla, section supervisor of rapid manufacturing at Ford.
Susalla said traditional casting could take four to five months. 3-D printing saves an average of one month of production time. The complexity of 3-D prototypes is nothing short of awe-inspiring. A 3-D prototype cylinder head for Ford's EcoBoost family of engines, for example, includes numerous ports, ducts, passages and valves – all part of a complex design engineered to manage fuel and air flow.
Smartplanet also looked at the strides 3-D is making in mainstream manufacturing. Ford, it said, envisions a future in which customers will be able to get instant, on-demand replacement parts for their cars. That, of course, is part of a vision set up by the current practice of making prototype parts on a one-off basis.
General Electric is also using 3-D printing as part of the design process but is also planning to begin using additive manufacturing to produce parts for the new LEAP jet engine, set for installation in new Boeing and Airbus jets starting in 2016.
Some manufacturers, such as Mattel, will continue to use 3-D printing more for design than production for the near future. For toy companies, saving time in prototype development is still the most efficient use of 3-D technology for them.
3-D printing has even become part of the world of fashion. Gizmodo reported that although currently 3-D-printed fashion is more novelty than anything else, the trend is changing.
London-based Earl Stewart uses a combination of traditional and 3-D printed materials to design high fashion shoes.
Gizmag recently touted online shop, i.materialise, which offers fashion designers the opportunity to experiment with flexible materials that have properties akin to rubber.
A recent report from Wohlers Associates, pointed out that it took the 3-D printing industry 20 years to become a $1 billion a year industry, but only five years to add the second billion. Currently the industry is predicted to reach $6 billion by 2017.
As of this writing, Jim Probasco had no position in any mentioned securities.
Posted-In: Ford Motor Co. General ElectricNews Topics Events Tech Media General Best of Benzinga
View Comments and Join the Discussion!