Should Amazon Be Allowed to Buy the .Book Domain?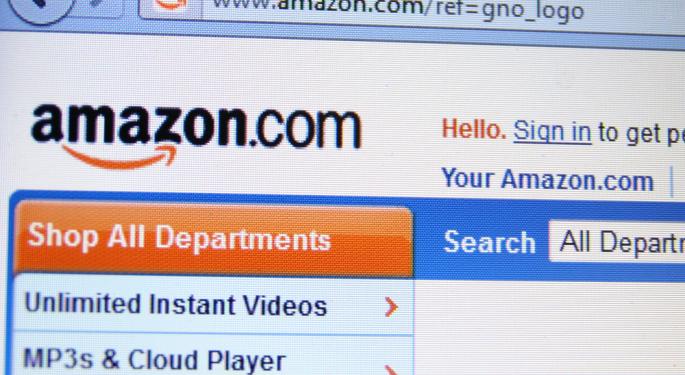 Amazon (NASDAQ: AMZN) decided to wage an unusual war when it announced that it wanted to secure a number of generic top level domains (commonly known as gTLDs).
These are the domains that may end in something like ".books" or ".movies."
Amazon wants several of them, especially .books. However, the company may not be able to control its own name -- .Amazon.
Unlike "Google" (NASDAQ: GOOG) and "Microsoft" (NASDAQ: MSFT), whose companies are comprised of made up names, "Amazon" has more than one meaning.
Consequently, ICANN (Internet Corporation for Assigned Names and Numbers) has reportedly rejected Amazon's request to own the .Amazon domain.
Dan Jaffe, the executive VP of Government Relations at the Association of National Advertisers, is not against the corporate ownership of .Google or .Microsoft. He is very concerned about the generic domains, however.
"This is a very controversial issue, especially for Amazon, which wants to own the .books domain," Jaffe told Benzinga. "Many publishers believe that they should not have control of that site. We have asked that a longer comment period be allowed because it was so controversial and that there be a [long] reply period, something that has almost always been done by ICANN."
Despite the request, ICANN did not extend the comment period. It did not allow for a reply period either.
"I think [they seem to] want to go so quickly that they're trying to shorten the review that people would have on some of these issues," said Jaffe. "We never heard back as to why they have made these decisions. We think there is very real reason for concern."
Jaffe is also troubled by the potential increase of top-level domains, which may rise to more than 1,000 on April 23.
"There is nothing inherently bad in increasing the top-level domain system," he said. "The top-level domain system already exists. There are 22 of them, such as .com, .net, .edu, etc.
"What ICANN is doing is explosively expanding that list. On April 23 they will begin to roll out as many as 1,400 new domains. This is more than a 6,000 percent increase."
Jaffe's concerns stem from many of the problems that already exist, such as cyber squatting and phishing. For example, an individual could buy NBC.movies and sell it to Comcast (NASDAQ: CMCSA) for a hefty sum, or launch a misleading .bank address to trick Bank of America (NYSE: BAC) customers into sharing their personal information.
"The cost that will be imposed on advertisers can be extremely substantial," Jaffe warned. "That is why we proposed something called a Limited Preventative Registration, or LPR, which will allow people to protect their exact trademark names across all secondary domains at a reasonable cost. Right now, what's gonna happen is that each advertiser is going to have to negotiate on a domain by domain basis, which will be extremely demanding and potentially extremely expensive as each domain seller can set their own price."
The ANA is not the only organization concerned by what ICANN is doing.
"On top of all the trademark issues that we raised, VeriSign (NASDAQ: VRSN) -- the group that overseas the .com domain -- has said that there are severe security and stability issues," said Jaffe. "They said the way ICANN is going too fast, they have not set up enough adequate protections."
PayPal, one of eBay's (NASDAQ: EBAY) most profitable divisions, has also expressed concern with ICANN's actions.
Louis Bedigian is the Senior Tech Analyst and Features Writer of Benzinga. You can reach him at 248-636-1322 or louis@benzingapro.com. Follow him @LouisBedigianBZ
View Comments and Join the Discussion!
Posted-In: Amazon Association of National Advertisers Bank of America Comcast Dan Jaffe GoogleNews Tech Best of Benzinga