Benzinga's M&A Chatter for Thursday March 28, 2013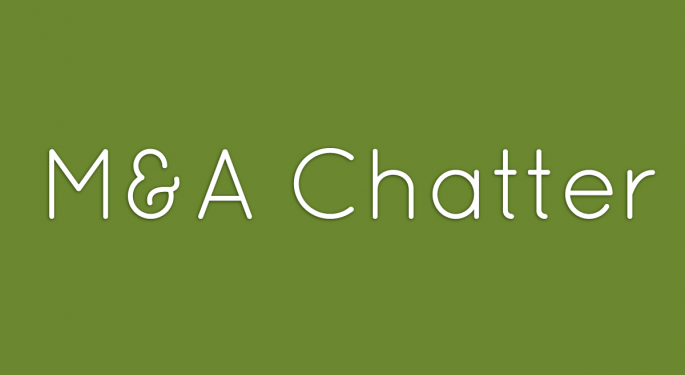 The following are the M&A deals, rumors and chatter circulating on Wall Street for Thursday March 28, 2013:
Amazon.com to Acquire Goodreads
The Deal:
Amazon (NASDAQ: AMZN) announced Thursday that it has reached an agreement to acquire Goodreads, a leading site for readers and book recommendations that helps people find and share books they love.
The deal is expected to close in the second quarter of 2013. Following the acquisition, Goodreads's headquarters will remain in San Francisco, CA.
Amazon closed at $266.49 Thursday, a gain of $1.19 on lower than average volume.
Corvex, Related Lower Bid for CommonWealth REIT to $24.50/Share
The Offer:
Corvex Management and Related Fund Management reaffirmed their offer to acquire the outstanding shares Of CommonWealth REIT (NYSE: CWH) on Thursday, but the bid was lowered from $27 to $24.50. The reason for the reduced offer was explained in a letter to the CommonWealth REIT Board as "due to the mathematical impact of the highly dilutive equity offering you completed earlier this month."
CommonWealth REIT confirmed receipt of the offer from from Corvex and Related.
CommonWealth REIT closed at $22.44 Thursday, a gain of 1% on 1.5 times average volume.
MidOcean Partners Offers to Acquire EDAC Technologies for $18.25/Share
The Offer:
MidOcean Partners, through one of its affiliates, announced Thursday that it has made a proposal to the board of directors of EDAC Technologies Corporation (NASDAQ: EDAC) to acquire all of the outstanding shares of EDAC for $18.25 per share in cash. The proposal is being made jointly with a large North American pension plan investment manager.
The proposed transaction represents a $0.50 per share premium to the price offered by GB Aero Engine LLC, an affiliate of the Greenbriar Equity Group, in a transaction announced on March 18, 2013.
Edac Technologies closed at $18.54 Thursday, a gain of 4.5% on 10 times average volume.
MTS, VimpelCom Prepared to Acquire Tele2 Russia for Up to $4.25B
The Offer:
Mobile TeleSystems (NYSE: MBT) and VimpelCom Ltd (NYSE: VIP) announced Thursday that both companies have submitted a joint letter to the Chairman and the President and CEO of Tele2 AB, expressing their interest in the acquisition of Tele2 Russia, a subsidiary of Tele2 AB.
MTS and VIP indicated that they would be prepared jointly to acquire 100% of Tele 2 Russia for between $4.0 to $4.25 billion, including $1.15 billion of net debt.
Mobile Telesystems closed at $20.74 Thursday, a gain of $0.02 on lower than average volume. VimpelCom closed at $11.89 Thursday, a gain of $0.09 on 1.5 times average volume.
ISS Recommends MetroPCS Shareholders Vote Against Merger with T-Mobile USA
The Recommendation:
Proxy advisory firm ISS, recommended late Wednesday that MetroPCS (NYSE: PCS) shareholders vote against the proposed merger with Deutsche Telekom's (OTC: DTEGY) T-Mobile USA unit, indicating MetroPCS could thrive as an independent company.
MetroPCS responded to the ISS report, saying it "contains material flaws and reaches the wrong conclusion."
MetroPCS closed at $10.90 Thursday, a gain of 3.5% on 3 times average volume.
Posted-In: M\u0026A News Rumors Global After-Hours Center Movers
View Comments and Join the Discussion!