Apple Will Sucker a Ton of New Buyers with American-Made Products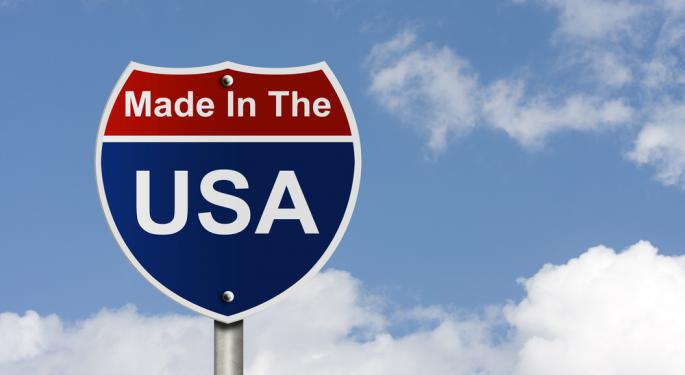 Apple (NASDAQ: AAPL) has not been having a great week -- or a great month, for that matter. That could change if the company follows through with its plans to build new Macs in America.
In an exclusive interview on NBC's Rock Center with Brian Williams, Apple CEO Tim Cook spoke about the transition back to America -- for some Macs, at least.
"We've been working for years on doing more and more in the United States," Cook said during his interview with Williams.
Cook also spoke about his disdain for the current crop of televisions -- all of which are manufactured by Apple competitors, including Samsung and Sony (NYSE: SNE). "When I go into my living room and turn on the TV, I feel like I have gone backwards in time by 20 to 30 years," he said. "It's an area of intense interest. I can't say more than that."
His remarks have gotten a lot of buzz within the tech community. Consumers are eager for any scrape of information regarding Apple's unconfirmed television set.
However, it was not Cook's hint of a new television set that inspired readers to comment. Rather, consumers seem to be most interested in Apple's plans to manufacture some Macs in America.
"If it is made in America...then I would buy a Mac (and I am a PC guy!)," scurran007 wrote in the comments section of the NBC article. "It would be my first Mac!"
Many users concurred with scurran007's assessment.
"I have not gotten anything but an iPhone in part because Apples are more expensive and we try to stay on a budget -- but this would make it worth spending the extra money," sansoucish wrote.
"An American company who decides to manufacture their product on US soil: Fancy that!" added a commenter by the name of ProFreedom-5130956. "What a concept!"
Not everyone is cheering, however. "It's a sad day when building a product made for the American market from an American company using American labor is headline news," another commenter, referred to simply as "east coast," wrote.
"The Mac line used to be totally domestic until Tim Cook, then COO, said it would be cheaper to manufacture overseas," Pragmatic-3918582 remarked. "Many great engineers lost their jobs when this happened. Color me skeptical that this will be a lasting or expanding decision."
Shosyn, another commenter, has a more cynical viewpoint, writing, "Apple doing damage control is all here... Jobs is gone, they are greedy, their image is tarnished after the map debacle and the plethora of APPLE MADE IN CHINA articles. This is called DAMAGE CONTROL and nothing more."
Nonetheless, people seem to be generally excited about the news. "If they make them here I WILL consider making my first Apple computer purchase," dongwork4yuda wrote.
"This is a big deal," Barlow-1919963 added. "We bought our first Mac in the early '80s. WOW!! Maybe this is a start to bring back much of the 'Made in American' products on the world's stage."
"I too would purchase a Mac if made in America..." Terry-Ca wrote. "It's almost impossible to find anything that is totally made in America."
Follow me @LouisBedigianBZ
Posted-In: Apple Apple Television Apple TVNews Management Success Stories Tech Trading Ideas Best of Benzinga
View Comments and Join the Discussion!