iPad Wins 84% of Growing Market
With demand on the rise, the headline should have read, "Get in line now!"
The new iPad is just a few days away from release and we are already seeing unprecedented demand for a product that Apple (NASDAQ: AAPL) has referred to as the next "revolutionary" step forward in tablet design.
ChangeWave Research has released the results of its latest survey this morning, revealing that in addition to the hundreds of thousands of consumers who are sure to line up for the iPad this Friday, more than 20% of business IT buyers plan to buy their employees new tablets in the second quarter. And of those buyers, 84% of them plan to get an iPad. That's a seven-point increase over the previous ChangeWave survey, which was conducted last November.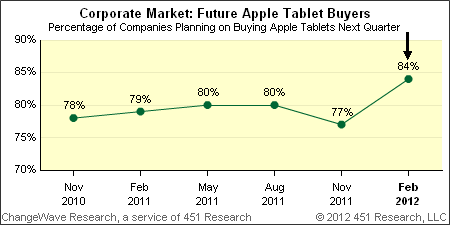 Image Source: ChangeWave Research
The survey, which was conducted in February and included 1,604 business IT buyers, shows that Samsung manufactures the second-most popular tablet (among buyers surveyed, at least). But with only 8% of the market actually interested in Samsung's products – a two-point decline since the November survey – the tech manufacturer doesn't have much to brag about this morning.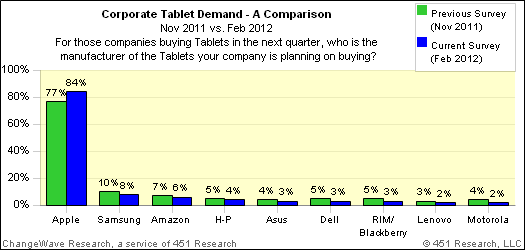 Image Source: ChangeWave Research
Amazon (NASDAQ: AMZN) has also experienced a decline, going from 7% in November – the month its long-awaited Kindle Fire was scheduled for release – to 6% as of last month. Could this be because IT buyers were anticipating the release of the new iPad? Or were they simply not satisfied with the results of the Kindle Fire, which has proven to be more of a toy than a versatile tool for productivity? Whatever the reason for IT buyers' lack of interest in the device, Amazon had better figure it out fast and make the necessary changes for its next Kindle tablet. Otherwise the company might have a hard time competing in November 2012 (the presumed timeframe for the Kindle Fire 2).
Hewlett-Packard (NYSE: HPQ), which abandoned the tablet market after being forced to sell the $500 TouchPad for $99, has dropped one point in ChangeWave's survey as well, shifting from 5% in November to 4% in February. This makes me wonder: who are the IT buyers who still plan to buy HP tablets? Are they aware of some odd TouchPad supply chain that the rest of us can't access? Do they assume that the company will launch a new tablet in the spring? Or were they simply assuming that HP was in the tablet business since it was included in the survey?
Asus, Dell (NASDAQ: DELL), and Research in Motion (NASDAQ: RIMM) are tied with each acquiring just 3% of the market. All three declined from the previous survey. In fact, the only company that enjoyed an increase is Apple.
That means that the last two companies on the survey – Lenovo and Motorola (NYSE: MMI) – also endured declines, with both owning just 2% of the potential market. Granted, this market ownership assumes that the IT buyers are going to follow their own survey choices. They may not. They may choose to go with another tablet manufacturer, buy a different device (such as a laptop or a netbook), or choose not to buy anything at all. In any of these three scenarios, Apple would stand to lose the most.
The reason is because of pricing and perceived quality. When people think of the iPad, they envision the best and most cost-effective tablet on the market. The only tablets that are cheaper are those that flopped or those that do much less than the iPad. This gives Apple an enormous advantage. It is why consumers and IT buyers alike are most interested in the iPad.
However, the same cannot be said for laptops and netbooks. There are millions of consumers who do not see the need to spend $1,200 on a MacBook when you could get a (presumably) comparable Sony (NYSE: SNE) laptop for $800, or a Dell or HP netbook for $300 to $400. Corporate buyers look at these numbers and say, "Look at how much money we could save if we go with this manufacturer instead of Apple!" Depending on their needs, this might not be a bad decision.
But it means that Apple cannot yet win the laptop market, which is one of the reasons why it is so determined to replace laptops with the iPad. Apple knows that it is very unlikely that Google will find a way to destroy the new iPad. The iPhone maker also realizes that while Nokia (NYSE: NOK) may have just unveiled the greatest camera phone of all time, it won't be able to build a better tablet in 2012.
In the world of laptop manufacturing, however, not everyone sees a difference between a MacBook Air and a Dell XPS 13 Ultrabook. But they do see the difference in price.
Follow me @LouisBedigian
Posted-In: ChangeWave Research Dell XPS 13 Ultrabook iPad macbook airNews Success Stories Tech Best of Benzinga
View Comments and Join the Discussion!