3 Beauty Companies Poised To Grow In Today's 'Selfie Generation'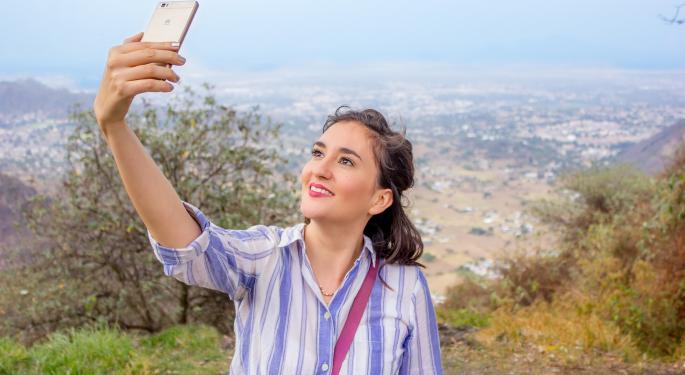 Apple Inc. (NASDAQ: AAPL)'s new iPhone comes equipped with a superior camera — which obviously means people will be taking more selfies and pictures of their friends. This is merely part of the "selfie generation" trend, which has been around for a few years, CNBC's Jim Cramer highlighted during his daily "Mad Money" show Wednesday.
So, what are three cosmetics companies investors should be following in the space? Cramer has the answer.
First is Estee Lauder Companies Inc (NYSE: EL), the single largest independent beauty company with a well diversified portfolio of brands, Cramer explained. In fact, Estee Lauder is a perfect example of a company that is able to hold on to legacy brands but simultaneously nurturing new ones.
From the business point of view, Estee Lauder's recent earnings report showed strong organic growth, an ability to run the business more smoothly, and take advantage of lucrative foreign markets like China.
Second is Coty Inc (NYSE: COTY), the parent company of 77 different beauty brands, 43 of which were acquired last year from Procter & Gamble Co (NYSE: PG) for $12.5 billion. Nearly one year later, Coty controls an impressive 13-percent share of the global color cosmetics company.
Finally, e.l.f. Beauty Inc (NYSE: ELF) is a more affordable beauty products maker with a large online presence and a growing footprint in brick-and-mortar stores.
But with that said, not all three stocks are necessarily a Buy, Cramer cautioned.
Estee Lauder is a "great-looking pretty much all the time," but Coty's hair care and luxury fragrance brands are currently struggling and until this is fixed the stock is "about as toxic as the makeup that never makes it past the testing on the bunny rabbits."
As for e.l.f., the stock has been beaten up amid a weaker outlook and "could be for you" if investors like "beaten-down growth stocks."
Related Links:
Estee Lauder Upgraded After Q4 Report Shows Higher Sales, Lower Costs
E.L.F. Beauty's 'Fast Fashion' Status Earns A New Buy Rating
Posted-In: Beauty Generation Beauty ProductsPsychology Top Stories Tech Media Trading Ideas General Best of Benzinga
View Comments and Join the Discussion!