Cramer Identifies What's Wrong With The 'FANG' Group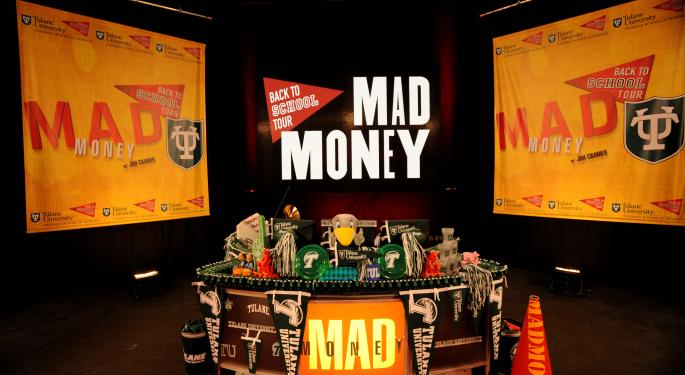 For the past few years, owning the "FANG" stocks — an acronym that groups together some of the hottest tech companies, including Facebook Inc (NASDAQ: FB), Amazon.com, Inc. (NASDAQ: AMZN), Netflix, Inc. (NASDAQ: NFLX) and Google/Alphabet Inc (NASDAQ: GOOG) (NASDAQ: GOOGL) — was a winning strategy.
But moving forward, does the same logic apply that owning all four stocks is a wise move? Not necessarily, according to CNBC's Jim Cramer.
Amazon's stock peaked at $1,083.31 but has since dropped more than $125 per share which suggests the eCommerce giant is the weakest link among the "FANG group," Cramer explained during his daily "Mad Money" show Wednesday. After all, just a few weeks ago the company seemed to be "invincible," but now it is coming under attack from its biggest rival, Wal-Mart Stores Inc (NYSE: WMT).
Walmart's new partnership with Google, which was announced Wednesday, is just a hint of what Walmart has up its sleeve to fight Amazon, Cramer continued. More importantly, Google "may know even more about you than Amazon does."
The combination of Google and Walmart implies that for the first time in many years there is a retailer that is strong enough to take on Amazon. In fact, Amazon has a legitimate reason to "fear and loathe" Walmart.
But, Walmart also has one key advantage over Amazon, and that is its leverage over suppliers who use Amazon's AWS cloud service.
"What happens if Wal-Mart calls all of its suppliers and says, 'Hey, you know what? If you want in on this program with Google, it only works if you're using Google's web services, not Amazon's.'" Cramer said. "What then? Do the suppliers want to lose that business? Do they want to cross the Bentonville colossus? How about if they offer you help to get off of Amazon Web Services? Would you refuse?"
Unfortunately, the Walmart versus Amazon battle also has ramification across the entire stock market, Cramer added. If Walmart does gain momentum at the expense of Amazon then Amazon's stock would likely continue falling and this could "reverberate through this whole market."
Finally, Amazon's status as being the "A" in the FANG group is in jeopardy and could be replaced with Apple, Inc. (NASDAQ: AAPL), Cramer concluded.
Related Links:
How Analyst Ratings Can Help You Pick The Right Stocks
Who Is Paul Meeks, And Why Should You Care That He's Bullish On The FANG Stocks?
______
Image Credit: By Tulane Public Relations (Mad Money Uploaded by AlbertHerring) [CC BY 2.0 (http://creativecommons.org/licenses/by/2.0)], via Wikimedia Commons
Posted-In: Amazon CNBC ecommerceContracts Markets Tech Media Trading Ideas Best of Benzinga
View Comments and Join the Discussion!