How Analyst Ratings Can Help You Pick The Right Stocks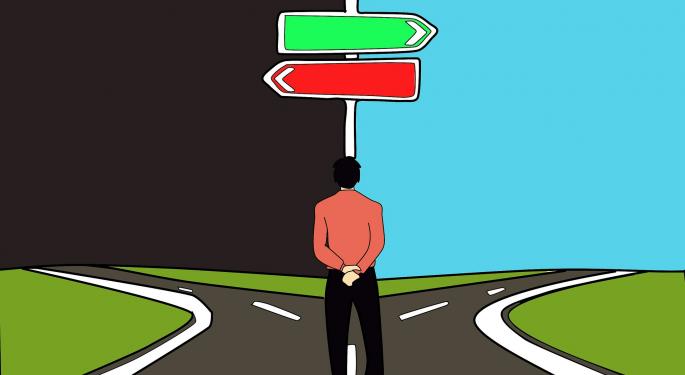 Traders are known to have strong convictions on how any given stock is going to perform. Most traders are also seasoned enough to take these passing opinions on future price action with a grain of salt.
Nonetheless, there are those whose informed opinion might just be worth listening to. Specifically: industry analysts, whose job it is to know how a company's decisions or performance mesh with the wider trends and history of the industry in which they work. Most of these analysts work with Wall Street firms and provide their opinion as to whether investors should buy, hold or sell a particular company's stock in the form of ratings.
Ratings are usually labeled as "buy," "sell" or "hold" (although "overweight," "equal-weight" and "underweight" as well as "outperform," "market perform" and "underperform" are sometimes used) provide traders an expert's opinion on the future performance of a stock. However, it's up to traders to determine whether these ratings are worth listening to.
Seeing as how we're just coming off of a week of earnings reports from the big retailers, let's take a look at how analysts have forecasted the strength of Target Corporation (NYSE: TGT) stock with the help of FinanceBoard's Ratings History widget.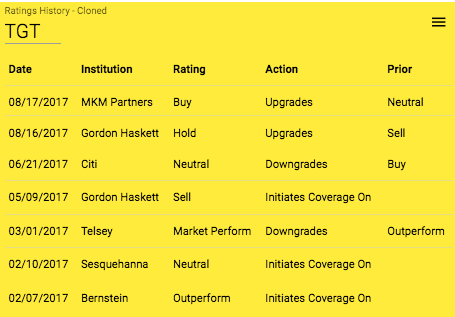 You can see above, since reporting on August 16, there have been a couple of positive ratings changes from analysts with MKM Partners and Gordon Haskett. However, only the former is recommending the stock for investors considering a position in Target while Gordon Haskett is simply modifying its previous recommendation to sell the stock.
This bullishness can likely be chalked up to Target's most recent quarterly performance, which exceeded analyst expectations on both top and bottom lines. This positive performance was likely also viewed in the context of a retail market that has recently been dominated by Amazon.com, Inc (NASDAQ: AMZN).
Beyond the recent ratings, you can see in the FinanceBoards widget that there have only been a few other analyst ratings changes to Target this year. That historical information can also be helpful as it shows whether certain analysts are on point with their research. In this case, Citigroup's Target or retail analyst issued a buy upgrade prior to the company's positive second quarter earnings report. This could make you more receptive to any future retail industry rating changes issued by Citigroup.
Finally, you will occasionally see things like initiations or maintain ratings. Initiations signal when an analyst begins to cover a stock, sometimes with a rating, sometimes without. Maintain ratings mean analyst has simply maintained their conviction. Although reassuring, most traders are more focused on clear upgrades and downgrades than if an analyst is still convinced of his or her earlier rating.
Again, while analysts ratings are presumed to come from expertise, the utility of the ratings will depend on how each trader regards each analyst. This is why it's a good idea to compare analysts to each other, which this platform helps you do. Whether you decide to subscribe to a particular analyst's ratings or you think they're all full of it, paying attention to what they have to say can sometimes tip you off to immediate market moves or a contrarian position.
FinanceBoards is an editorial partner of Benzinga.
Posted-In: analyst ratings FinanceBoards ratings WooTraderEducation Analyst Ratings General Best of Benzinga
View Comments and Join the Discussion!