Barron's Picks And Pans: Foreign Stocks, Analog Devices And More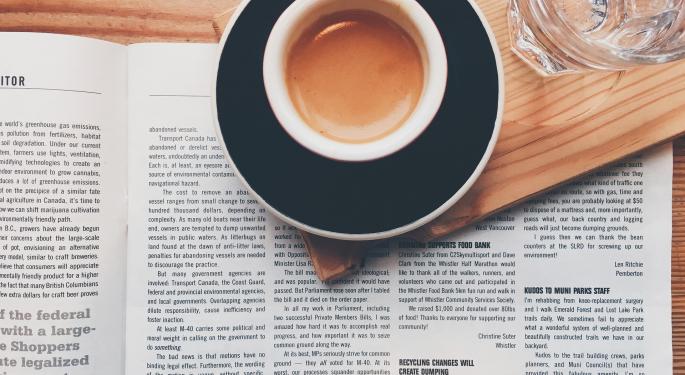 This weekend's Barron's features a special report on investing in international stocks.
Other featured articles offer the prospects for an integrated circuits maker with room to run and a jet leasing company with hidden virtues.
The outlook for a text book publisher and a cosmetics giant are also examined.
"Europe on Sale: Time to Buy Foreign Stocks" by Vito J. Racanelli suggests that not only are overseas markets cheaper than in the United States, but they look ready to outperform. See how the MSCI EAFE index has compared to the S&P 500 since 2009 and why the performance gap may be poised to close. Stock picks include SAP SE (NYSE: SAP) and Unilever plc (NYSE: UL).
In "Time to Buy Emerging Markets Stocks," Daniel Shane takes a look at how some of these stocks promise rapid earnings growth, others deep discounts. Like its companion piece, this article offers a look at how the MSCI Emerging Markets Index has compared to the S&P 500, and it shows why strategists feel confident that these stocks have lots of upside. Stock picks include Infosys Ltd (NYSE: INFY).
Jack Hough's "Analog Devices Could Return 20% in a Year" makes a case that the proliferation of silicon in cars and factories provides integrated circuits maker Analog Devices, Inc. (NASDAQ: ADI) with a lot of room to run. Investors may fear that the company could lose some content in the iPhone, but Barron's thinks there may be far more money to be made in cars and other machines.
Related Link: Mark Cuban Argues Why FANG Stocks Are Still Undervalued
Though it has been buffeted by fears of rising rates, the virtues of Air Lease Corp (NYSE: AL) should propel the stock up more than 30 percent, according to "Why Air Lease Should Soon Be Flying High" by Kopin Tan. Those virtues include a younger, more desirable fleet, less leverage, a robust order book and a more moderate share price than its airplane leasing peers.
In David Englander's "Better Chapter Ahead for Houghton Mifflin," see why Barron's believes that, after a difficult 2016 in which its shares tumbled 50 percent, textbook publisher Houghton Mifflin Harcourt Co (NASDAQ: HMHC) appears to be on the mend. The article also looks at whether cosmetics giant Revlon Inc (NYSE: REV) is ready to make a move as well.
Also In This Week's Barron's
Thoughts from Gundlach, Einhorn and Ackman at the Sohn conference.
Whether the United Kingdom can still exit Brexit.
Trump vs. Nixon economies.
How long the energy stock roller-coaster will continue.
A sneak peek at new investing apps.
If the Microsoft Corporation (NASDAQ: MSFT) cloud business is worth a look.
How to pick a health care ETF.
Whether hopes for the Trump economy are dwindling.
Choosing funds for an economic rebound in Japan.
View Comments and Join the Discussion!
Posted-In: air lease analog devices Barron's Houghton Mifflin infosys MicrosoftMedia Trading Ideas Best of Benzinga