Barron's: The Case for John Kasich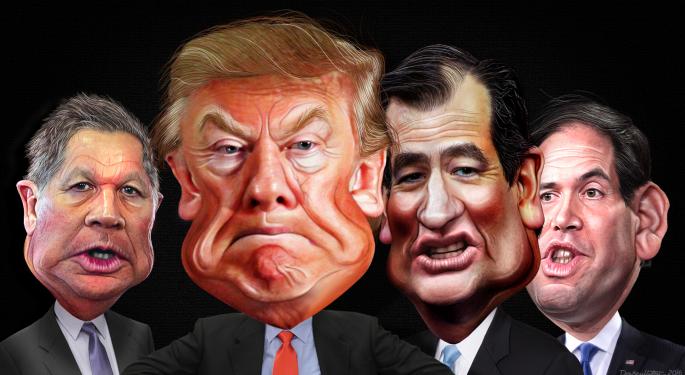 The cover story in this weekend's Barron's posits Governor John Kasich as the best chance for a Republican to take the White House.
See why Barron's thinks Kasich is the best pick not only for the GOP, but for investors, the markets and the U.S. economy.
Other featured articles include the results of the 2016 Barron's Energy Roundtable.
On taxes, spending and trade, Ohio Governor John Kasich's plans are far more sensible than those of Republican rivals Cruz and Trump, according to this week's cover story in Barron's. And Kasich has the best chance of beating Hillary Clinton next November as well.
"Kasich: The Best Pick for Markets and the Economy" by John Kimelman suggests that the experienced and popular Ohio governor is the best hope for investors who want a Republican in the White House. While he has been running at the back of the pack for much of this presidential race, Kasich has outlasted well-funded early favorites such as Scott Walker, Jeb Bush and Marco Rubio. Some leaders in the Republican Party may want him to drop out of the race, but Barron's believes it is a good thing for investors if he sticks it out.
"With John Kasich, you have a candidate who lines up almost perfectly with many investors," said a Washington strategist quoted in the article. "He has a track record as a pragmatist from his time as governor, and he knows the markets from his stint as an investment banker at Lehman Brothers."
"If you wanted to brainstorm and come up with the perfect candidate for president, with the right balance of experience and success, Kasich is it," another expert commented.
The article includes specifics on how Kasich's plans for income taxes, capital gains and trade stack up against those of Trump and Cruz. See how his track record compares with those of his GOP rivals, as well as what the most recent polls suggest about which of them is most likely to succeed over Democrat Hillary Clinton in the general election.
However, the article does not shy away from Kasich's shortcomings. And though he may be a long shot, Barron's does see a possible path for him to the White House.
Related Link: Barron's Picks And Pans: Time Warner, United Technologies And More
Other Feature Stories
Check out the special report on the 2016 Barron's Energy Roundtable. Four experts, including a chief investment officer, a portfolio manager and a research director, provide insight into the turmoil in the energy sector. They also name a dozen stocks and bonds positioned to ride the next boom. See the participants' predictions for oil prices, OPEC production cuts, master limited partnerships and more.
In addition, see what Barron's feels are the prospects for Time Warner Inc (NYSE: TWX) due to the success of "Batman v Superman," United Technologies Corporation (NYSE: UTX) thanks to new elevator contracts in China and a new jet engine, Brookfield Asset Management Inc (NYSE: BAM) on a double-check of its property valuations, and Manitowoc Company Inc (NYSE: MTW) under its new chief executive.
At the time of this writing, the author had no position in the mentioned equities.
Image Credit: By DonkeyHotey - Republican Primary Final Four 2016 - Caricatures, CC BY-SA 2.0, WikiMedia
Posted-In: Barron's Brookfield Asset Management Donald TrumpPolitics Top Stories Economics Media General Best of Benzinga
View Comments and Join the Discussion!