Barron's Recap: Is The Bubble Ready To Burst?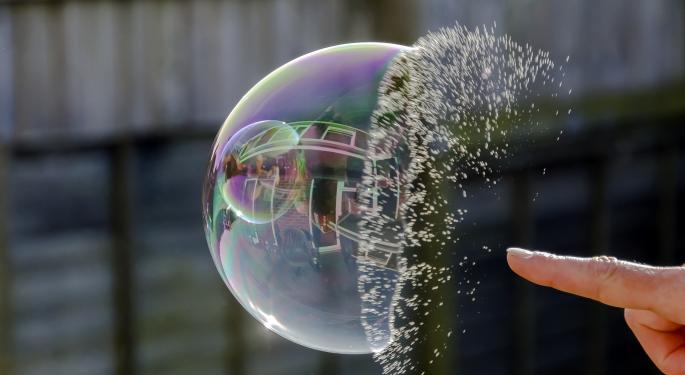 This weekend in Barron's online: 13 bargains in the bull market, picking the best ETFs and the prospects for Blount International, Carlyle Group, Discovery Communications and more.
Cover Story
"Bubble Trouble?" by Andrew Bary.
The major U.S. stock markets are at or near record levels, Barron's points out in this week's cover story. The widespread gains of more than 20 percent have prompted discussion of a possible bubble like the ones seen in 2000 and 2007. While that may be the case among social media and cloud-related stocks, the article says that big blue chips still look attractive.
"We're in a secular bull market that will last at least another three years," says one expert quoted in the article. Another adds: "The fundamentals are good for stocks and terrible for everything else: bonds, commodities, and cash."
The article features 13 stocks that Barron's experts believe look like bargains in the current climate. They include J.P. Morgan (NYSE: JPM) and two other blue chip financial stocks, Apple (NASDAQ: AAPL) and two other tech stocks, and two stocks each in the energy and industrial sectors. Also see which hot initial public offerings of the past year have soared and which ones fizzled.
Check out the article to find out what one of the biggest impending challenges is for stocks, as well as the move longtime bull Warren Buffett made recently after earlier saying that he was "having a hard time finding things to buy." See which sectors have been the laggards this year, as well as why the case for small and mid-cap stocks is harder to make.
See also: Six Ways To Tell If The Market Is About To Crash
Feature Stories
"Picking the Best" by Brendan Conway offers tips from Barron's experts for evaluating exchange traded funds (ETFs), which has become a booming business with so many options that investors may feel overwhelmed.
Bill Alpert's "Ready to Jump the Rails" suggests that oil tank-car makers such as Trinity Industries (NYSE: TRN), American Railcar (NASDAQ: ARII) and Greenbrier (NYSE: GBX) may have overestimated demand. So their shares may be vulnerable to a drop of 20 percent or more.
In "Saw-Tooth Recovery for Blount," David Englander says that Blount International (NYSE: BLT), the world's largest maker of saw chains, faces better days as the business starts to stabilize. See whether a dividend or buyback could be in the offing.
Though the Carlyle Group (NASDAQ: CG) is up a respectable 21 percent this year, the private equity firm trails the huge gains of rivals. See "Carlyle Group Is Set to Harvest Gains" by Jack Hough to discover how it could return 20 percent or more next year.
"Discovery on the Verge of International Stardom" by Robin Goldwyn Blumenthal points out that Discovery Communications (NASDAQ: DISCA) is being rewarded for its early pursuit of overseas markets. See why shares could rise another 20 percent.
In Amy Feldman's "Value Is Where You Find It," Daniel O'Keefe and David Samra, managers of the Artisan Partners funds, are profiled. They share how they scour the world for the most attractive value stocks.
The CEO spotlight is turned on David Crane of NRG Energy (NYSE: NRG) in "Going off the Grid" by Reshma Kapadia. See why this former lawyer and deal maker believes that one day consumers will supply their own power.
Lawrence C. Strauss's "The Best Bets in a Dangerous Global Market" features an interview with a veteran investor who likes high-quality U.S. and emerging-market stocks, along with TIPS. But see why investors should beware international growth stocks and U.S. small caps.
"Make No Little Plans" is an editorial commentary by Thomas G. Donlan in which he wonders whether the government will ever stop digging the hole it is in.
See also: Dividend-Paying Gold Stocks Are Very Alluring After Janet Yellen's Remarks
Columns
Columns in this weekend's Barron's discuss:
J.P. Morgan's Twitter PR disaster
The president's broken promise on health care reform
The markets ignoring the prospects for Fed tapering
Wireless companies' struggle with the surge in broadband-data traffic
Tips to pick the best stocks for a quick uptick
The Miele Cat and Dog vacuum cleaner
Two attractive closed-end bond funds
How health care controversy will figure in the 2014 elections
Last week's dividend hikes
Keep up with all the latest breaking news and trading ideas by following us on Twitter.
View Comments and Join the Discussion!
Posted-In: American Railcar Apple Barron's Blount International Carlyle Group discovery communications greenbrierMedia Best of Benzinga