World's Biggest Beer Companies Get Some Help From Europe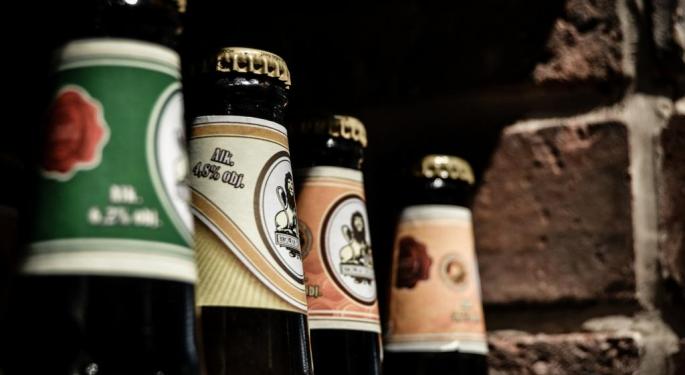 Beer is the undisputed champion of alcoholic beverages.
Forbes reported back in 2015 that "big beer" is struggling to remain relevant against craft beer companies, but recent earnings report from major beer companies suggest a change in trend.
According to a Bloomberg report, "big beer is back" as industry titans like Anheuser Busch Inbev NV (ADR) (NYSE: BUD) and Carlsberg A/S (ADR) (OTC: CABGY) are seeing strong demand across Europe.
For example, while AB InBev's Bud Light is losing market share in the U.S., the brand is growing in western Europe. Carlsberg's Nordic brand is also seeing a boost in sales in Scandinavia.
"Europe is definitely picking up for all the beverage alcohol companies as consumer spending is starting to rise in most of the region," Trevor Stirling, an analyst at Bernstein told Bloomberg.
As a whole, AB InBev, Carlsberg and Heineken NV all surprised investors with their respective earnings report that came in better than expected.
In fact, AB InBev's CFO Felipe Dutra said the U.S. beer market is "progressing towards a better place" in 2017 although North American growth fell short of company's expectations. Brazil, another key market for beer companies, is also expected to grow this year.
Here is a look at how some of the major beer stocks have performed over the past year.
Constellation Brands, Inc. (NYSE: STZ) +11.55 percent.
Diageo plc (ADR) (NYSE: DEO): +9.66 percent.
Carlsberg: +8.21 percent.
AB InBev: -4.15 percent.
Molson Coors Brewing Co (NYSE: TAP): -5.69 percent.
Boston Beer Company Inc (NYSE: SAM): -5.11 percent.
See Also:
Even Beer Companies Use AI And Machine Learning Technologies
Happy Hours For Liquor Stocks As Newest 'Mad Men' Lift Vintage Beverages
View Comments and Join the Discussion!
Posted-In: Beer Beer Companies beer stocks Bloomberg ForbesEmerging Markets Markets Media Best of Benzinga