EDM DJ 3LAU Launches A Blockchain Music Festival: 'Live Music Is A Collective Experience'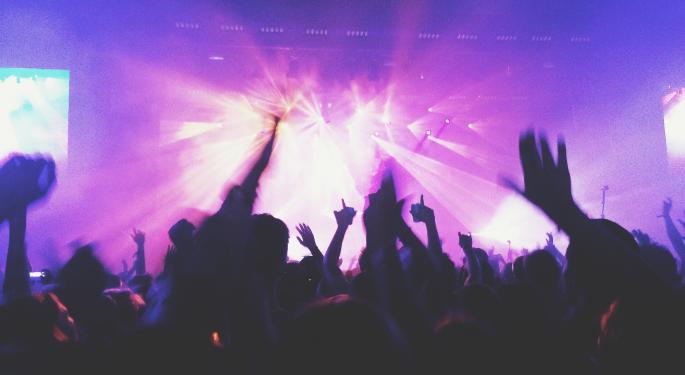 Of any music genre, one could argue that none has been influenced more by technology than electronic dance music.
If this is true, then it makes sense that electronic DJs might be some of the first in the music business to embrace blockchain technology.
Music producer and DJ Justin Blau, known professionally as 3LAU, is launching a blockchain-based platform for festival concert goers: Our Music Festival.
The ecosystem of concertgoers looks to reward users with tokens after they attend concerts and refer friends. Benzinga spoke with Blau about the Our Music Festival platform. The interview has been edited for clarity and length.
Benzinga: Why is blockchain a valuable tool for live events?
3LAU: At the current moment, the different micro transfers between parties at festivals are not monetized or capturable. They are too expensive to capture on traditional payment experiences. What makes blockchain so fascinating is that you can capitalize on all these different micro transfers of value.
Our goal was to find out what behavior users exhibit, and what of that set of behaviors is creating a lot of value that isn't being captured? The first thing on that list is referrals. If you were compensated for bringing other friends to a music festival, how much more often would you do it?
BZ: What's so compelling about a referral system for music festivals?
3LAU: Traditionally, when you attend a concert, you buy a ticket, attend the show and then relish in the experience. With OMF, the experience does not end with the last performance.
Live music is a collective experience. When you can incite this domino effect of friends telling friends something — usually you don't like to go alone. You like to tell a friend. If you can utilize the tech to capitalize on a large scale, you can change how live events operate.
BZ: What makes decentralized data valuable for live event operators?
3LAU: Tons of data is collected at a music festival that is very valuable and sold to marketing companies. What if the public owned that data — like tracking which artist was the most-attended and which artist fans liked the most? That is extremely valuable in future price discovery and artist fees.
When you scale that across all music festivals, which is our goal, it's a new way to capture value in a way that was not possible before blockchain.
BZ: How is OMF different than other blockchain and crypto projects?
3LAU: OMF will be the first festival to accept crypto payments, but it is all about creating awareness about the movement. We will not sell the tokens for at least another year as we continue to work with regulating agencies.
We are in the infancy of a new era: the behavior of consumers will shape where the technology goes and where it applies, and we wanted to start somewhere where we knew we can execute. If it succeeds, we have an incredible future in changing a lot of different industries.
Our Music Festival is headlined by Zedd and is scheduled for Oct. 20 at Civic Center Plaza in San Francisco.
Related Links:
What Is A Blockchain And What Does It Do?
Movement: A Photo Gallery From Detroit's Electronic Music Festival
Photo from Pixabay.
Posted-In: 3LAUCryptocurrency Travel Top Stories Exclusives Markets Interview General Best of Benzinga
View Comments and Join the Discussion!