Benzinga Market Primer: Tuesday, September 10: US Military Strike In Syria Put On Pause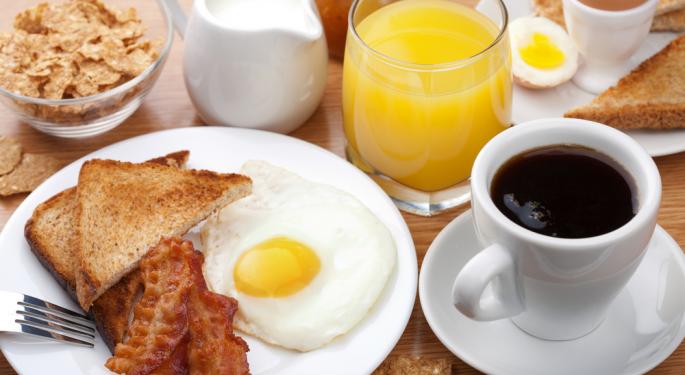 The suggestion that Syrian President Bashar al-Assad could avoid military intervention by giving up his chemical weapons to international regulators has quickly grown into a possible non-violent resolution to the crisis in Syria.
The proposal, backed by Russia, has been named a possible breakthrough by President Obama, who will spend the day discussing the matter with US lawmakers before addressing the American public on Tuesday night.
In other news around the markets:
In Japan, Prime Minister Shinzo Abe has asked the country's Economic and Finance Ministers to put together a stimulus package by the end of September that would help the economy cope with the planned sales tax hike. Although the Japanese government has not yet decided whether or not to move forward with plans to raise the sales tax, recent economic indicators have suggested that the economy could withstand a tax increase.
On September 23rd, the Securities and Exchange Commission will lift a ban that prevents privately held businesses from asking for funding or investments via advertisements. The SEC ban has been in place for 80 years, and the change has some regulators worried that loosening the rules could pave the way for scams and fraud.
On Wednesday, Verizon communications is set to have the largest ever debt sale at which it is expected to raise at least $20 billion. The debt being sold is expected to range in maturity from three to 30 years and the funds raised will help pay for the company's $130 billion buyout of Vodafone, the company's US wireless joint venture partner.
In a speech on Monday, the UK's Chancellor of the Exchequer George Osborne claimed the UK's economy was "turning a corner" after data from the second quarter showed signs of considerable economic growth. Osborne defended his government's austerity program and highlighted the importance of continuing with spending cuts and tax hikes in order to close the nation's budget gap.
Asian markets rallied as tension between the West and Syria eased. The Japanese Nikkei was up 1.54 percent, the Shanghai composite was up 1.15 percent and the Shenzhen composite gained 0.77 percent. Indonesia's JSX composite gained 3.19 percent and the Hang Seng index was up 0.84 percent.
European Markets
European markets were up across the board on Tuesday morning, the UK's FTSE gained 0.77 percent and the eurozone's STOXX 600 was up 0.97 percent. The German DAX had the largest gains, up 1.37 percent and the Spanish IBEX was up 1.22 percent.
Energy futures tumbled as tension in the Middle East eased. Brent futures lost 0.40 percent and traded at $113.27 per barrel and WTI futures were down 0.71 percent. Metals were down across the board as well, gold lost 0.66 percent and sliver was down 1.51 percent.
The euro gained against the dollar and traded at $1.3249, but the yen lost 0.45 against the green back and traded at 100 yen to a dollar. The pound gained 0.04 percent against the dollar and the rupee gained 1.49 percent against the dollar.
Earnings Reported Yesterday
Notable companies that reported earnings on Monday included:
Stocks moving in the pre-market included:
NRG Energy (NYSE: NRG) lost 5.09 percent in pre-market trade after ending 1.3 percent higher on Monday.
Citigroup (NYSE: C) gained 0.20 percent in pre-market trade after reports that the FDIC is selling $2.4 billion in bonds issued by the bank in the 2008 financial crisis.
Bank of America (NYSE: BAC) gained 0.14 percent in pre-market trade despite reports that the company is planning to cut 2,100 jobs and close 16 mortgage offices as higher interest rates weaken the demand for loans.
Notable companies expected to report earnings on Tuesday include:
Pep Boys- Manny, Moe & Jack (NYSE: PBY) is expected to report EPS of $0.19 on revenue of $539.35 million, compared to last year's EPS of $0.13 on revenue of $525.67 million.
Christopher & Banks Corporation (NYSE: CBK) is expected to report a second quarter loss of $0.02 per share on revenue of $106.70 million, compared to last year's loss of $0.06 per share on revenue of $103.44 million.
Unilife Corporation (NASDAQ: UNIS) is expected to report a loss of $0.10 on revenue of $6.30 million, compared to last year's loss of $0.16 on revenue of $692.00 thousand.
Economics
On Tuesday's economic calendar, we saw Chinese retail sales and industrial production data as well as Australian consumer sentiment data. Still to come is French industrial production, Italian GDP, Canadian housing starts, and Norwegian CPI and core inflation.
Happy trading and good luck!
For a recap of Monday's market action, click here.
Tune into Benzinga's pre-market info show with Dennis Dick and Joel Elconin here.
Posted-In: Earnings News Futures Commodities Forex Global Econ #s Economics Best of Benzinga
View Comments and Join the Discussion!