Benzinga Market Primer: Wednesday, August 21: FOMC Minutes Continue To Drive Markets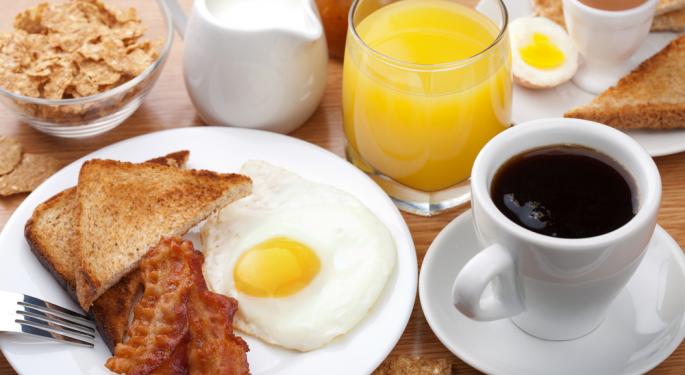 The FOMC minutes' release continues to be the main driver in the markets. The minutes, to be released at 18:00 GMT, will hopefully provide some guidance about when the Fed will begin to taper its bond buying stimulus.
In other news around the markets:
The euro/dollar exchange rate finally reached above $1.34 as investors pulled their money out of emerging markets and piled them into safer currencies.
The Japanese nuclear watchdog will raise its warning about a toxic water leak from a level one "anomaly" to a level three "serious incident". This will be the most serious warning since the plant was rocked in 2011 by an earthquake and tsunami.
The UK posted its first July deficit in three years
The Japanese government may revise plans to increase the nation's sales tax to 8 percent from 5 percent in April. Instead, Prime Minister Shinzo Abe is considering raising the tax rate by 1 percentage point per year. However, BOJ Governor Haruhiko Kuroda has backed the 3 percent increase in April, saying the Japanese economy is strong enough to support the originally planned tax hike.
In an effort to coordinate financial supervision, Chinese authorities are setting up a new agency that will help the nation's current supervisors set up cross-asset financial products and streamline information sharing and accounting across financial sectors.
On the campaign trail this week, German Finance Minister Wolfgang Schauble said Greece will need more money to stay afloat than previously estimated in the nation's bailout agreement. Greece's financing gap has been swept under the rug by eurozone policymakers, and the IMF has already threatened to discontinue its financial support for the country if the EU doesn't address the issue.
Asian markets were positioning on the chance that the FOMC minutes will reveal that the Fed will begin its tapering plan at the next meeting. Japan's NIKKEI index spent the night swinging between highs and lows but ended with a 0.21 percent increase. China's Shanghai composite was flat at the end of trade with just a 0.02 percent gain. Hong Kong's Hang Seng Index ended 0.69 percent down and South Korea's KOSPI fell even more by 1.08 percent.
European Markets
European markets were mostly lower in anticipation of the FOMC minutes. Only France's CAC 40 Index had squeaked out a modest gain of 0.08 percent as of 8:35 GMT. The eurozone's overall STOXX600 index was down 0.11 percent while the London's FTSE 100 Index shed 0.45 percent.
Wall Street is backing off commodities as the end of easy stimulus money draws nearer and commodities prices across the board dropped. Brent futures for October fell 0.67 percent bringing the commodity's price below $110. WTI futures also sunk 0.53 percent. Metals suffered losses as well with gold dropping 0.75 percent to $1,362.30 per ounce and silver slipping 1.07 percent to $22.87 per ounce.
Currency markets were relatively quiet ahead of the Fed minutes. The euro/dollar rate pushed above $1.34 overnight but dipped back to $1.3389 by 8:50 GMT. The Yen gained early after news of Hiroshima's radiation leak but steadied at ¥97.49 to the dollar. The pound/dollar exchange rate was little changed with the pound gaining just 0.05 percent against the dollar. Emerging market currencies like the Indian rupee and the Malaysian ringgit continued to tumble.
Earnings Reported Yesterday
Notable companies that reported earnings on Tuesday included:
Stocks moving in the pre-market included:
Proctor & Gamble (NYSE: PG) rose 0.21 percent in pre-market trade as the company lobbied in Brussels to ease limits on the company's teeth whitening products sold in the EU.
Hewlett-Packard Co (NYSE: HPQ) slipped 0.31 percent in pre-market trade, which some worry could be the end of an impressive rebound.
General Motors Co (NYSE: GM) fell 0.43 percent in pre-market trade as rumors that new smog rules which could affect car sales in China could spell disaster for the company.
Notable companies expected to report earnings on Wednesday include:
Economics
The main event on today's economic calendar is the release of the US Federal Reserve's policy meeting minutes. The US is also set to release another pool of data including crude oil and gasoline inventories and existing home sales data. China will release HSBC manufacturing PMI data and Australia will put out its CB leading index.
Good luck with your mid-week trades!
For a recap of Tuesday's market action, click here
Tune into Benzinga's pre-market info show with Dennis Dick and Joel Elconin here
Posted-In: Earnings News Bonds Guidance Dividends Emerging Markets Eurozone Futures Best of Benzinga
View Comments and Join the Discussion!