Benzinga Market Primer, Wednesday October 10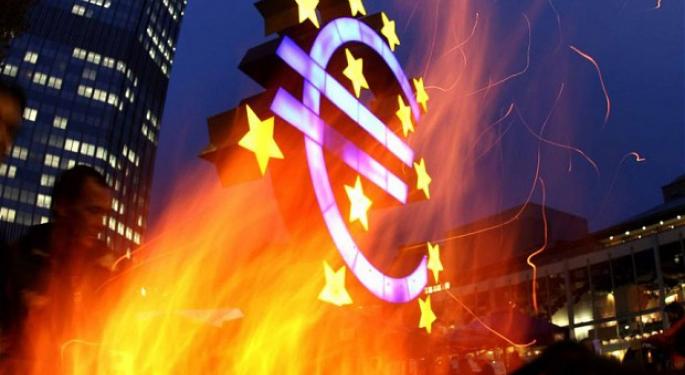 U.S. equity futures fell in early Wednesday trading as the International Monetary Fund issued a stark warning on Europe's troubled banking sector. In a revised estimate, the group's economists believe that European banks need to sell approximately $4.5 trillion of assets, 18 percent higher than previous estimates of necessary asset sales.
Top News
In other news around the markets:


Fed Vice-Chairman Janet Yellen spoke overnight, saying that QE3 was a necessary policy step to help reflate the economy and will benefit not just U.S. but global growth as a whole.

The ECB's Noyer spoke overnight, stating that rate cuts in the near future were unlikely as the ECB needs to address the breakdown in the transmission of monetary policy before cutting rates. The OMT program is designed to repair the broken transmission mechanism by stabilizing interest rates in crisis-prone nations.

Italy auctioned 3- and 6-month bills with yields rising slightly from the last auction but remaining well below levels seen earlier this year.

S&P 500 futures fell 3.1 points to 1,432.80.

The EUR/USD was lower at 1.2856.

Spanish 10-year government bond yields rose to 5.837 percent.

Italian 10-year government bond yields rose to 5.108 percent.

Gold rose 0.05 percent to $1,765.80 per ounce.
Asian Markets
Asian shares generally fell overnight except for shares in China. China's Shanghai Composite Index rose 0.22 percent despite weakness in the rest of the region. The Japanese Nikkei fell 1.98 percent and the Hang Seng Index fell 0.08 percent on global growth fears. The Korean Kospi fell 1.56 percent and Australian shares also fell 0.32 percent.
European Markets
European shares were broadly weak in early Wednesday trade following the warning by the IMF on the region's troubled banking sector. The Spanish Ibex fell 0.71 percent and Italy's MIB Index fell 0.45 percent while Greek shares fell 0.34 percent. Germany's DAX, France's CAC 40 and the U.K. FTSE 100 Indexes were all lower in early trading as well.
Commodities
Commodities were mixed in early trade following Tuesday's rise in oil prices. WTI Crude futures fell 0.58 percent to $91.85 per barrel and Brent Crude futures fell 0.23 percent to $114.24 per barrel. However, Natural Gas futures rose 0.49 percent $3.484 per million BTUs. Copper futures traded lower in the overnight session, falling 0.38 percent to $$370.40 per pound. Gold was higher and silver futures fell 0.29 percent to $33.885.
Currencies
Currency markets continued to see broad euro weakness and Aussie dollar strength for a third consecutive day. The EUR/USD was lower and the dollar fell against the yen. Overall, the Dollar Index rose 0.17 percent to 80.08, rising back above the 80 level for the first time since the Fed launched QE3. The euro fell against most major pairs in overnight trading and the Aussie dollar continued to rally following the rate cut last week by the Royal Bank of Australia, which sent the currency broadly lower. The EUR/AUD fell 0.42 percent to 1.2566, continuing its move lower from near 1.28 late last week.
Pre-Market Movers
Stocks moving in the pre-market included Yum Brands (NYSE: YUM), which reported stronger than expected earnings Tuesday and shares rose more than four percent pre-market. Apple (NASDAQ: AAPL) shares rose 0.38 percent ore-market, snapping the days of declines in the stock price seen recently following the bad reviews of Apple's Maps application. Lastly, shares of Alcoa (NYSE: AA) fell nearly one percent pre-market following a weaker than expected earnings report after the close Tuesday.
Earnings
Notable companies reporting earnings Friday include:


Charles Schwab (NYSE: SCHW) is expected to report third quarter EPS of $0.17 vs. $0.18 a year ago..

Ruby Tuesday (NYSE: RT) is expected to report quarterly EPS of $0.06 vs. $0.05 a year ago.
Economics
On the economic calendar, investors will get new data on wholesale trade as well as the Fed's Beige Book and the Treasury's Budget report. Also, the Fed's Narayana Kocherlakota and Richard Fisher are set to speak.
Good luck and good trading.
Posted-In: Earnings News Bonds Guidance Futures Commodities Previews Forex Best of Benzinga
View Comments and Join the Discussion!