CES Exclusive: Interview with Shibani Joshi from Fox Business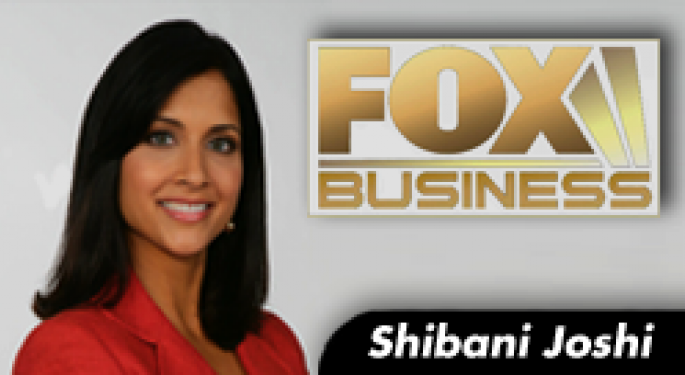 Welcome to Zing Talk, where Benzinga brings you the biggest names and brightest minds from Silicon Valley to New York City.
Today our guest is Shibani Joshi from the Fox Business Network, who is covering this year's Consumer Electronics Show.
Shibani Joshi: We come here every year to scope out the newest hopefuls, the big scenes, and the ideas that will guide technology possibly for decades to come. And then we look at gadgets that may end up under our Christmas tree for 2011, and we're seeing all of that happen at CES 2011. There are about three or four trends that I am noticing this year. Certainly there are a lots of themes, but most of the gadgets fall within one of the [four] categories.
First is the connected living room. We know this has long been a promise of content creators, Internet companies, cable service providers and hardware makers, and everybody sort of in the content-making pipeline, to integrate into one sort of happy family, and easy presence with easy hardware in a non-expensive way. And what we're seeing here is this category is getting some real presence, some real traction, and a lot of deal-making going on here.
Reed Hastings, the chairman and CEO of Netflix (NASDAQ: NFLX), is one of the keynotes here, and that is really reflective of the importance of the seam of the digital connected home. When you have a big content distributor like Netflix kicking things off here, it really sets the tone for what's important.
There are number of entrants into this field that I think are getting a lot of traction and a lot of attention. Everybody's talking about apple TV Apple TV (NASDAQ: AAPL). Google TV (NASDAQ: GOOG) has a big presence here teaming up with Sony (NYSE: SNE). Intel (NASDAQ: INTC), Logitech (NASDAQ: LOGI), they have big booths here. I've been to see all of their products, and they're really putting their best foot forward because the belief is – they want to have the first winner in the sense that the product that gets adopted first ends up winning at the end of the day and they're all sort of scouring to be the winning technology there.
Roku, another great contender to Apple TV. I had a chance to interview the company's CEO, [Anthony Wood], and really [it's] a great value proposition [with] access to tons and tons of content.
The next one is smartphones. We have tons of smartphones out this year. This happens every year, but what makes this different this year is that the sea of them are boasting souped-up computing abilities. They have faster processors. They're able to more seamlessly download applications. They have bigger application storage. They have 4G capabilities, and we know that all these big carriers are unveiling their 4G networks. So the phones need to keep up with the switching system, and at this year's CES we saw a bunch of phones that were unveiled take advantage of that new technology.
On the operating system front, everybody is paying attention to which operating system gets adopted onto the new phones, whether it's the Microsoft Windows Phone 7 (NASDAQ: MSFT) or Google Android. So everyone's sort of keeping tally as far as that goes.
The last [two] things I want to mention: TVs, obviously, a big hit – a hit every single year here. 3D was a big push last year. It's another big push again this year. But 3D was really the thing last year, and it's not the thing in TVs this year because it didn't really translate into sales during the 2010 calendar year. So what you're seeing is, the big TV makers – Samsung, Panasonic, Sharp – boasting about 3D capabilities, but [really focusing] on TVs that can do all sorts of things: HD capability, very thin, very big, and can also do 3D.
Lastly, we have tablets everywhere here. iPad really put tablets on the map. People have been scooping them up since they came out last April. Everyone's trying to compete and put out the new and the next iPad-killer. Almost every major computer company has unveiled some sort of tablet. I've seen 20 of them myself.
One of them that I really like that's going to be – it's not yet on sale – is the one from Research in Motion (NASDAQ: RIMM), which is the maker of the BlackBerry, and it's called the PlayBook. I had a chance to play with it at CES and was really impressed. It competes head-on with the iPad with features the iPad is missing. It's got a front and a rear-facing camera. It can take video and still images. It can run flash cards.
And it has this unique synching ability, so basically everything you have on your BlackBerry gets wirelessly synched up to the PlayBook so that you have everything that you have on your BlackBerry on your tablet, and vice versa. That connectivity, that seamlessness, is something that's going to be a growing trend and BlackBerry is picking up on that right now.
Can you give me your general impression of how this conference compares to last year? The level of energy, the amount of vendors present, the amount of people there, the interest?
Shibani Joshi: I'm about the interview the head of the CEA [Consumer Electronics Association], the president there, and get exact stats from him.
But from what we know ahead of this year's show, just based upon the number of registrants, there are 120,000 people who have registered for the conference this year. And that is up from something like 108,000 last year, but off of the peak of something like 140,000 back in 2008. So we are seeing an upswing in the number of entrants. The number of people here are coming from 130 countries from all over the world.
As far as what I'm reading from the literature that's been put out, 20,000 gadgets are being unveiled here. Now, whether or not they see the light of day on store shelves or not is a separate question. Often a lot of products come here, make a big debut, and they get little traction, little interest, and basically die out from here. Others, however, get lots of interest and then they find their way onto store shelves, often within two to six months of debuting here.
Is there anything our readers should be looking for the rest of today?
Shibani Joshi: Yesterday was a big day for a lot of announcements. We know that there were some announcements made with chips being put into certain tablets versus not, and that being a negative factor for Intel. Microsoft was impacted as well.
As we see these product unveilings, what the market and investors tend to do, they look at who's providing the components for a lot of these gadgets. Is it NVIDIA (NASDAQ: NVDA)? Is it Intel? Is it somebody else? Who's operating system is on this gadget? Is it Android? Is it Microsoft?
So we continue to see that sort of dissection of what components get picked in these new gadgets to determine the Microsofts of the world are getting traction in the newest gadgets that will certainly drive technology in the future. So continue to hear from that. Everyday, the big manufacturers are unveiling things. So I would watch those stocks.
As far as other things to be announced there, off the top of my head I can't tell you anything that I'm particularly keeping my eyes and ears out for. It happens all day and every minute of the day, so I'm sure there will be plenty of news coming.
LED, LCD, plasma – are you seeing anything on that front? What's gonna be the victor at the end of the day?
Shibani Joshi: I've actually seen them playing in all three formats that you mentioned. I think what we saw last year, and the last couple of years, was trying to see some sort of leading contender amongst all of those that would be the format winner, but we're not really seeing that yet because there's so much technology that's coming and still evolving, particularly on the 3D front, that my perception of what the big manufacturers are doing this year is trying to make the most robust and comprehensive products available and coming out with a smaller number of things that have select functions.
What they're trying to do is put everything that you could ever need in an LCD model: 3D, HD, Internet-connected. And then they have that for an LED. And then they have that for a plasma. Those format wars are not being played out here; it really is about kind of getting all the features into as many television sets as possible.
What about the portable TVs? I know RCA has one. Talk about the ones you've seen.
Shibani Joshi: I actually haven't seen a lot of portable televisions. We've been focusing on a lot of the computing devices – the tablets, the phones, the cameras. To be honest, I haven't heard a lot about the portable TVs, because a lot of times these smart devices end up streaming content. So many people are [skipping] portable TVs because they're so simplified in what they're doing and what they're offering.
Posted-In: Apple Apple TV Benzinga Podcast Blackberry CES CES 2011Movers & Shakers General
View Comments and Join the Discussion!