Mike Pompeo: What Investors Need To Know About Trump's Secretary Of State Pick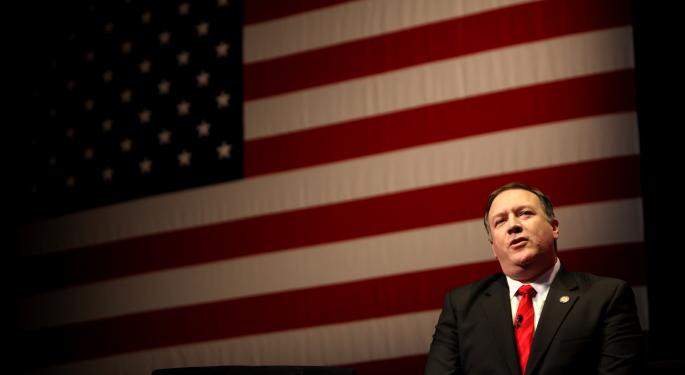 President Donald Trump has picked former CIA Director Mike Pompeo to replace Secretary of State Rex Tillerson. The nation's prospective top diplomat may not be a household name for most investors, so here's a rundown of his background.
Pompeo's Business Career
Pompeo is a California native with a degree from Harvard Law and a ranking of captain in the U.S. Army. In 1998, Pompeo and three of his West Point classmates acquired three aircraft parts makers and combined them to form Thayer Aerospace. In 2006, Pompeo sold his stake in Thayer to Highland Capital Management.
Thayer's client list reportedly included Lockheed Martin Corporation (NYSE: LMT), General Dynamics Corporation (NYSE: GD), Boeing Co (NYSE: BA) and Raytheon Company (NYSE: RTN).
Pompeo was elected to the U.S. House of Representatives to represent Kansas in 2010. Pompeo was a member of the right-wing tea party and has been criticized for expressing anti-Muslim sentiment during his time in office.
Pompeo also co-sponsored the Muslim Brotherhood Terrorist Designation Act, which would designate the Muslim Brotherhood as a "foreign terrorist organization."
Foreign Policy Experience
Pompeo has limited direct foreign policy experience.
During his time in the service, Pompeo served in Europe prior to the fall of the Berlin Wall. He also served in the Gulf War. While in Congress, Pompeo served on several committees and subcommittees, including the United States House Permanent Select Committee on Intelligence, United States House Committee on Energy and Commerce, United States House Intelligence Subcommittee on the CIA and the United States House Select Committee on Benghazi.
In November 2016, Trump named Pompeo as the new head of the CIA. Pompeo has since traveled to Turkey and Saudi Arabia on policy missions. In August 2017, Pompeo took over command of the Counterintelligence Mission Center, which raised eyebrows among numerous CIA officials. The Counterintelligence Mission Center helped launch the investigation into links between the Trump campaign and Russia, and CIA members expressed concerns that Pompeo would squash the investigation due to his political ties to Trump.
Political Beliefs
Throughout his career, Pompeo has weighed in on a number of issues that could be important to investors.
Pompeo supports the National Security Agency and has said "legal and bureaucratic impediments to surveillance should be removed."
In 2017, Pompeo argued for a regime change in North Korea, saying the most dangerous part of the North Korea situation is "the character who holds the control over them today."
Pompeo repeatedly criticized the Obama administration's Iran nuclear deal and called Iran "the world's largest state sponsor of terrorism."
In November 2015, Pompeo said the U.S. "must stand with our ally Israel and put a stop to terrorism" and that "ongoing attacks by the Palestinians serve only to distance the prospect of peace."
Pompeo has called Obama administration climate change policies "damaging" and "radical."
Pompeo is also an opponent of the Affordable Care Act and a lifelong member of the National Rifle Association.
Markets React
Investors seem to be mostly indifferent to the revolving door of White House personnel as of late. Since Gary Cohn announced he was leaving as Trump's top economic adviser on March 6, the SPDR S&P 500 ETF Trust (NYSE: SPY) is up 0.9 percent.
Related Links:
After Trump's Announcement Of Steel, Aluminum Tariffs, The Sell-Side Reacts
Elon Musk's Thoughts About China, Tariffs And Import Duties: 'Like Competing In Olympic Race Wearing Lead Shoes'
Photo by Gage Skidmore/Wikimedia.
View Comments and Join the Discussion!
Posted-In: Mike PompeoGovernment Education Futures Politics Top Stories Markets General Best of Benzinga