Elon Musk's Thoughts About China, Tariffs And Import Duties: 'Like Competing In Olympic Race Wearing Lead Shoes'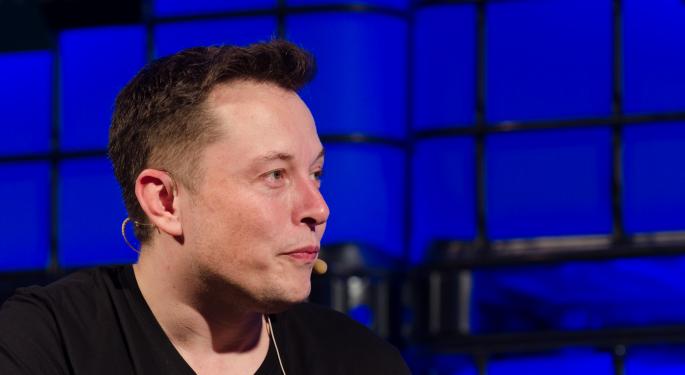 Tesla Inc (NASDAQ: TSLA) CEO Elon Musk took to Twitter Thursday to weigh in on the new tariffs on steel and aluminum that President Donald Trump announced last week. Musk asked President Trump to help out U.S. auto companies by making similar adjustments to regulations related to auto imports and exports to and from China.
Musk Asks For Help
In a series of tweets, Musk pointed out that American cars exported to China are charged a 25 import duty, whereas a Chinese car coming to America only pays a 2.5 percent duty. In addition, Musk pointed out that U.S. companies aren't allowed to hold majority ownership interest in factories operated in China, but Chinese companies are allowed 100 percent ownership of factories located in the U.S.
Do you think the US & China should have equal & fair rules for cars? Meaning, same import duties, ownership constraints & other factors.

— Elon Musk (@elonmusk) March 8, 2018
For example, an American car going to China pays 25% import duty, but a Chinese car coming to the US only pays 2.5%, a tenfold difference

— Elon Musk (@elonmusk) March 8, 2018
Also, no US auto company is allowed to own even 50% of their own factory in China, but there are five 100% China-owned EV auto companies in the US

— Elon Musk (@elonmusk) March 8, 2018
I am against import duties in general, but the current rules make things very difficult. It's like competing in an Olympic race wearing lead shoes.

— Elon Musk (@elonmusk) March 8, 2018
We raised this with the prior administration and nothing happened. Just want a fair outcome, ideally where tariffs/rules are equally moderate. Nothing more. Hope this does not seem unreasonable.

— Elon Musk (@elonmusk) March 8, 2018
Possible Trade War
Trump is expected to reveal the details of his new tariffs this week. Trump said last week the U.S. will implement a 25 percent tariff on steel imports and a 10 percent tariff on aluminum imports, but didn't specify whether the tariffs will be applied to all imports or just imports from specific countries. The new metal tariffs are on the high end of what some analysts expected after the U.S. Commerce Department recommended a 24-percent tariff earlier this month.
Back in January, Trump imposed a 30 percent tariff on imported panels, most of which are coming from Asia. China, which is the largest international U.S. trade partner, is a major importer of both steel and solar panels.
Politicians in both the EU and China have already threatened to retaliate against the U.S. if Trump implements import tariffs. The EU has said it's prepared to act "swiftly and appropriately" to restrictive U.S. trade measures by potentially implementing its own restrictions on U.S. exports such as bourbon, cheese, orange juice tomatoes and potatoes. China is also reportedly already prepping for a trade war, investigating the possibility of restricting U.S. grain imports.
Auto Tariffs Coming?
Earlier this week, Trump threatened to impose a 25 percent tariff on automobiles imported from Europe.
"They make it almost impossible to do business with them, and yet they send their cars and everything else back into the United States," Trump said.
Apparently Musk is hoping Trump will take a similar approach to the Chinese auto industry as well. Tesla's stock traded lower by 1.2 percent on Thursday.
Related Links:
The Protectionists Are Coming: Assessing The Fallout From Gary Cohn's Resignation
Analysis: Negative Reaction To Trump's Tariffs Could Make Him More Likely To Act
Image credit: Web Summit, Flickr
View Comments and Join the Discussion!
Posted-In: Donald Trump Elon MuskGovernment Regulations Politics General Best of Benzinga