5 Auto Stories Analysts Are Watching In 2015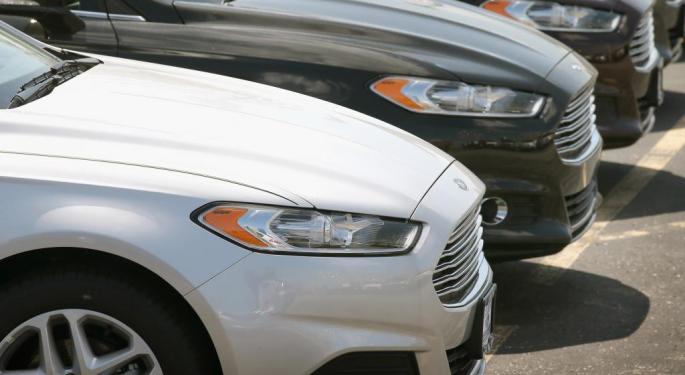 Automakers saw another great year for new-car sales in 2014. Full-year sales are expected to come in around 16.5 million vehicles, taking the market back up to pre-recession levels.
But now it's time to look forward to the coming year for the auto sector.
On a conference call Monday morning, Kelley Blue Book Senior Analyst Alec Gutierrez and AutoTrader.com Senior Analyst Michelle Krebs outlined a few of the stories auto investors should be watching this year:
1. Certified Pre-Owned Cars
While auto sales have been good, Gutierrez said that within the U.S., the industry could be heading toward slowing growth.
"Quite frankly, we already saw it this year," he said. "We'll see sales close the year up at 5.5 percent, which is a little bit slower than we saw the year before that and the year before that."
Related Link: Morgan Stanley Predicts Death Of Auto Industry; Analysts Respond
With declining growth of new-car sales, Krebs explained that the market could see a surge in used cars, specifically, certified pre-owned vehicles.
"Some of the things that I'm going to be watching carefully is who does a good job of either moving people who are buying used cars into new cars, and who is going to keep people in their fold of certified pre-owned cars," she said.
2. Detroit's Big Three
Fiat Chrysler Automobiles NV (NYSE: FCAU) was the big story of 2014, according to Gutierrez.
Not only did the automaker close the year up about 16 percent, which was its best full-year sales number since 2006, but December was its 57th month of consecutive sales gains.
Gutierrez explained that the story with Chrysler is driven by Jeep, with sales closing the year up 41 percent.
"What'll be interesting to see is with the introduction of the Renegade, will Jeep be able to maintain that momentum?" he asked.
General Motors Company (NYSE: GM), meanwhile, had a great end to the year, with a better-than-expected 19.3 percent sales increase. This was at least partially due to the company's trucks and relatively new sport utility vehicles, Krebs said.
With the exception of Cadillac, she explained that GM brands experienced strength across the board.
Ford Motor Company (NYSE: F) didn't do as well as its Detroit counterparts, with only a 1.2 percent increase in sales for December. Krebs said the fact that the new F150 isn't on the market yet appears to be one reason for the low number.
3. Trucks
Ford's F150 is something most auto industry-watchers will be looking out for this year, Krebs said. In particular, she's been asked quite a few questions about Ford's switch to an aluminum body:
"How is that going to do? Are they going to launch it successfully? And are consumers going to accept it?"
Related Link: The Big Problem With Oil No One Is Talking About
Aside from Ford, Krebs also said sales of pickup trucks have been on the rise for the past couple of years due to a better economy, and the combination of stronger housing and construction markets. There's pent-up demand for trucks -- the average truck is still around 11 years old, she explained.
"For the whole truck market, we saw a big surge in December," she said. "That bodes well going into 2015 that it will be a good truck year."
4. Leasing
One of the key drivers of auto industry sales in 2014 was leasing, Gutierrez said. This was across the board: "Utilities, small cars, luxury cars, you name it."
Over the past several months, the market has been trending closer to a 29-30 percent lease penetration rate, Gutierrez explained, which is made possible by the combination of low interest rates and a high used car market.
Although the economy has been looking at the possibility of increased interest rates this year, there's a chance this possibility is already baked into consumers' expectations, he added.
5. Small Crossover Utilities
Gutierrez, lastly, added that he'll be watching how well the subcompact crossover utility segment performs.
There isn't a lot of activity at the moment, he explained, but one model he highlighted was the Buick Encore. The car closed the year with close to 50,000 in sales. That could be an indication of demand in subcompact crossovers, he said.
The First Trust Exchange-Traded Fund II (NASDAQ: CARZ), an automotive ETF, traded down more than 2 percent in Monday's session.
View Comments and Join the Discussion!
Posted-In: Alec Gutierrez autoTravel Exclusives Analyst Ratings Trading Ideas Interview General Best of Benzinga