'Doing Well By Doing Good': How LeagueSide Is Impacting Communities, Youth Sports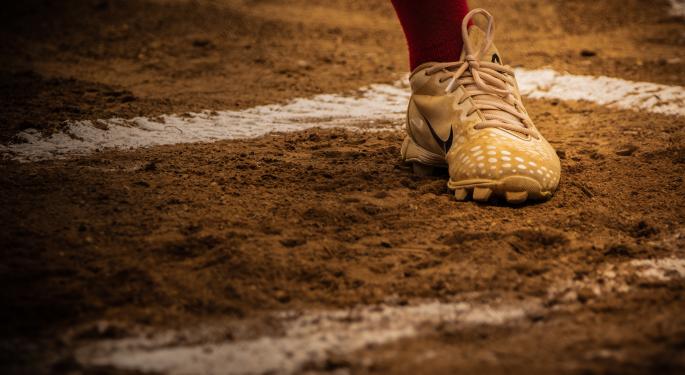 "A very viable way to lift communities, bridge people, together, and support communities, is helping kids play sports." - Evan Brandoff, co-founder, LeagueSide
The COVID-19 coronavirus dealt a heavy blow, putting up to 50% of youth sports organizations at risk of going out of business.
In an effort to prevent 20 million-plus kids from being sidelined, LeagueSide, a youth sports sponsorship platform, is helping connect sponsors to those communities interested in helping their kids play sports.
As part of the company's five-year anniversary, LeagueSide co-founder Evan Brandoff spoke with Benzinga about his firm's vision to bridge people together and support communities by getting kids to play sports.
Editor's note: Brandoff worked with Benzinga's business development team from 2013-2015.
What Is LeagueSide?
LeagueSide allows sponsors the opportunity to reach communities while fulfilling their impact and marketing goals.
The idea behind LeagueSide was brought into existence as Brandoff reminisced on his youth sports experiences.
"Back in my youth sports playing days, Mike's Pizza was the sponsor of my baseball team, my soccer team, and my favorite memories were going to Mike's Pizza with my teammates, friends, and family," Brandoff said. "I thought - what if we could solve the fragmentation of youth sports, making it easier for national companies to effectively sponsor youth sports leagues at scale."
Since its inception, LeagueSide has developed a network of over 10,000 community sports leagues and sponsors including Comcast Corporation (NASDAQ: CMCSA), Verizon Communications Inc (NYSE: VZ), Unilever NV (NYSE: UN), Chipotle Mexican Grill Inc (NYSE: CMG), McDonald's Corp (NYSE: MCD), as well as Lyft Inc (NASDAQ: LYFT) and Uber Inc (NYSE: UBER).
"All those organizations use our platform in order to reach communities, do community youth sponsorships at scale, that are measurable, to achieve their community impact and marketing goals," he said.
How Does It Work?
If a sports organization was interested in soliciting sponsorships, they would upload details regarding their organization and would wait until LeagueSide pairs them with a sponsor.
"Let's say Chipolte wants to reach families within just a couple miles of all of their stores in New Jersey," the co-founder said. "We can match them with leagues within a mile of their Chipolte store locations. It's just as easy to sponsor sports leagues as it is to set up a Facebook ad campaign."
For an initiative to qualify as a sponsorship, physical, digital, and activation elements must be present.
"Physical being logos on jerseys or signage at the field," he said. "Digital is typically dedicated e-mail content coming from the commissioner or coaches to parents or social content on the league's page. And then, different activations like the opportunity to go on-site, sampling, and coupon distribution."
Sponsors can also monitor, through dashboards available on the LeagueSide platform, data from their campaign.
"It's taking something that was historically goodwill and just a donation, and turning it into scalable and measurable sponsorship campaigns," he added.
How Effective Is It?
Despite the pandemic putting a pause on youth sports, 100% of LeagueSide's accounts were retained — a clear indication LeagueSide's value.
"We have a 120% net revenue retention because of the success that our brands see working with," Brandoff said. "It's an effective marketing channel and more than half the dollars we make go back to these community sports leagues in order to lower the costs for kids to play sports."
According to Brandoff, from a health perspective, it's extremely important to get kids back to playing sports after the pandemic. Additionally, youth sports allow sponsors the opportunity to commit to and support social causes.
"There's so much talk about the BLM movement and companies have committed billions of dollars to support underserved communities and communities that are predominantly people of color," Branoff said. "But, there hasn't really been an action plan. We have a solution. We have data to support kids that play sports do better in school, stay out of trouble, and have a higher likelihood of going to college."
"95% of fortune 500 CEOs were youth sports athletes, so it's evident that a very viable way to lift communities, bridge people together, and support communities is helping more kids play sports, and we have the means to do that at scale, while also helping brands achieve their marketing goals."
To learn more about making youth sports more accessible, click here.
View Comments and Join the Discussion!
Posted-In: Chipotle Comcast Evan BrandoffSports Success Stories Exclusives Interview General Best of Benzinga