Why Hasn't Jim Harbaugh Revealed Michigan's Starting QB?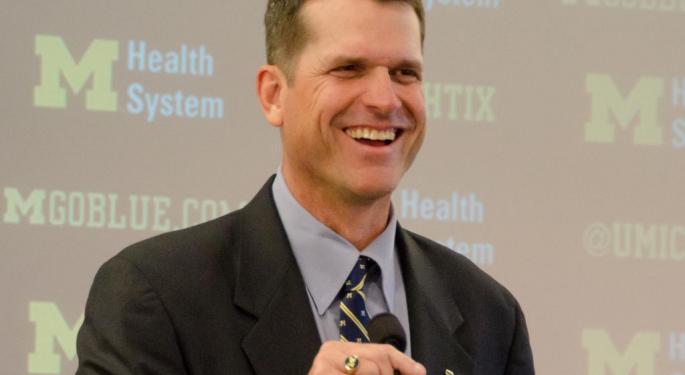 Because he doesn't have to.
While mainstream sports journalists construe this as a sign of indecision or deception, it's actually just another one of Harbaugh's brilliant tactical moves, on and off the field, during his short tenure as head football coach at the University of Michigan.
While the hordes of non-Michigan football fans are sick and tired of hearing about Jim Harbaugh, the media continues to focus on his every move or non-move in this instance. An offseason in which Harbaugh took the NCAA to task for attempting to disallow summer camps, a few spats with opposing coaches and even a tussle with Jim Rome, Harbaugh is preparing his troops for the long battle ahead.
The 2016 Season
His coyness about his starting quarterback and offensive scheme will continue even after the first game against Hawaii. First of all, the front-end of the schedule is fairly easy and Michigan should be able to win those games with a plain-vanilla offense or modified version of his new "Gunner" scheme.
However, the back-end of the schedule is grueling. In three of the last five weeks of the season, Michigan must play on the road against Michigan State (October 29), Iowa (November 12) and Ohio State (November 26). Those three games facing hostile crowds will decide if indeed Harbaugh has brought the Wolverines back to their former glory.
Simply stated, Harbaugh is going to have a few tricks up his sleeve to pull off even a few victories against the powerful trio, whom all three finished ranked in the top 10 in 2015. At this time, all three hold top 20 preseason rankings.
Also, fresh in Harbaugh's mind is the beatdown his team suffered against its biggest rival, Ohio State, at home in the final game of the regular season. Although the defensive line had been ravaged by injuries, the team was tired from two tough tussles on the road, the overall disparity in talent and the lack of offensive ingenuity resulted in the lopsided victory for Buckeyes.
Tricks Up The Sleeve
For those who want a preview of the tricks he has up his sleeve, look no further than the film from Michigan's spring game. Especially the play in which Shane Morris was lined up at wide receiver, caught the ball and threw a touchdown strike to a wide-open receiver. Morris will see ample playing time this season and it might not necessarily be at the quarterback position.
As Wilton Speight and Morris provide the aerial assault for the Wolverines, Harbaugh will surely make use of the talented senior transfer John O'Korn to bolster what should be an already potent running game.
Clearly, Harbaugh has built extremely high expectations for the Wolverines in only his second season as head coach at Michigan. However, after shoring up the defense in his first year, Harbaugh has spent the offseason designing an offensive juggernaut that will keep opposing teams and coaches searching for a defensive scheme that can handle in his new multi-dimensional offense.
Only time will tell if it will be enough to bring Michigan its first Big 10 title since 2004, let alone bring the Wolverines their first national championship since 1997.
Joel Elconin is the co-host of Benzinga's #PreMarket Prep, a daily trading idea radio show. He is also a 1985 graduate of the University of Michigan and a multi-generational season-ticket holder.
Image credit: Brad Muckenthaler, Flickr
Posted-In: Jim Harbaugh michigan Michigan football NCAASports Opinion General Best of Benzinga
View Comments and Join the Discussion!