Zima Is Coming Back: Here Are 7 Other Retro Foods We Want To Try Again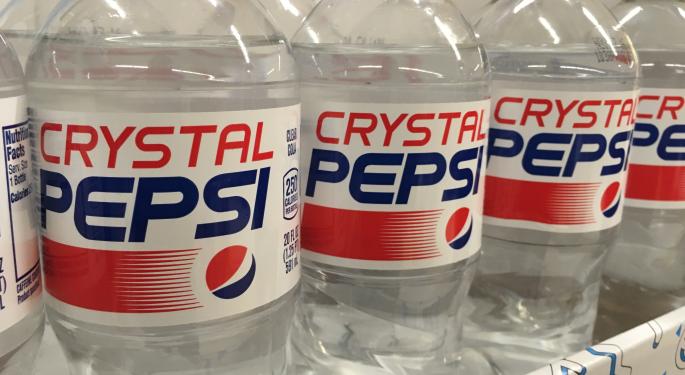 MillerCoors is bringing back the iconic Zima clear malt beverage, although for a limited time.
Here's a look at seven other retro foods we want to come back, even if for just a taste. Our apologies if this makes you hungry (and here's a list of seven of the best fast foods not available in the US).
1. McDonald's Pizza
McDonald's Corporation (NYSE: MCD) tried to offer consumers pizza, but the concept failed to gain traction. The fast food chain spent years working on a quick-cook oven, but it came at the expense of valuable space in the kitchen and ultimately took too long to prepare.
Most of our readers likely never got to try a McDonald's pizza, as testing was limited to 24 restaurants in Indiana and Kentucky in 1989. By the early 1990s, the fast food chain scrapped the pizza concept.
2. Crystal Pepsi
PepsiCo, Inc. (NYSE: PEP) sold "Crystal Pepsi" in the U.S. and Canada from 1992 to 1993. The beverage was accompanied by a marketing campaign that claimed it was a "clear alternative" to its competitive peers.
Despite a Super Bowl ad in 1993, the beverage disappeared almost as quickly as it appeared.
3. Gatorade Gum
Gatorade sold a line of gum products in the 1970s and early 1980s called Gatorgum. The chewing gum, as expected, tasted exactly like its beverage.
A 1981 ad for Gatorgum read: "From the little Leagues to the Major Leagues, active people are discovering Gatorgum. The gum that helps quench thirst."
4. Ninja Turtle-Themed Foods
No childhood experience was complete without the "Teenage Mutant Ninja Turtles" franchise.
Lovers of the cartoon likely indulged in Ninja Turtles cereal. While the cereal is unlikely to come back, those looking to relive their childhood could head over to Yum! Brands, Inc. (NYSE: YUM)'s Pizza Hut chain, which runs promotions associated with the latest Ninja Turtles movie.
Related Link: Deutsche Bank's Recipe For Food Stock Investing In 2017
5. McRib
No list of retro foods is complete without McDonald's iconic "McRib" sandwich.
First introduced in 1981, the sandwich was discontinued in 1985. It was reintroduced in 1989 and stayed on the menu until 2005, but has come back on a limited basis several times in recent years.
6. Oreo O's
A second cereal makes our list — Oreo O's. The combination of Oreos and milk is one of the great food pairings, making an Oreo-flavored cereal was as delicious as it sounds for those who were lucky enough to eat it.
The cereal was launched in 1997, but was discontinued 10 years later in the US. It's still being sold in South Korea. Please bring us back a box or two if you are visiting the country — preferably the version with marshmallow bits, although we aren't that picky.
7. Dunk-a-Roos
'90s kids found nothing more joyful then opening their lunch box and finding a package of Dunk-a-Roos. For those that aren't familiar, Dunk-a-Roos consisted of bite-size cookies that could be dunked into the accompanying icing.
The product was discontinued by 2012, but is still being sold north of the border. In fact, General Mills, Inc. (NYSE: GIS) took advantage of this and created a campaign called "Smugglaroos" to make Americans aware of this fact.
Image: Mike Mozart, Flickr
View Comments and Join the Discussion!
Posted-In: Fast Food Gatorade McDonald's OreosRestaurants Opinion Media General Best of Benzinga