7 Best Fast Foods Not Available In The US: Fried Chicken Pizza, Fried Brussel Sprout Patty And More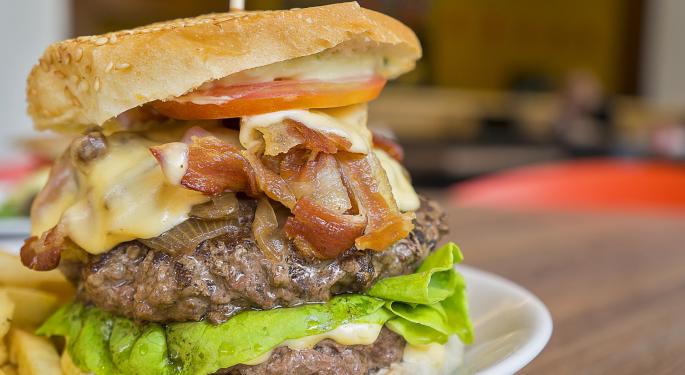 It shouldn't be a surprise global fast food chains offer different menu items in different countries to cater to local preferences.
Here's a list of some of the menu items found in other countries that American fast food lovers might love to eat at home.
Singapore: KFC's Fried Chicken-Pizza
Yum! Brands, Inc. (NYSE: YUM)'s KFC Chizza is sold in Singapore and consists of a flattened piece of fried chicken as a pizza crust along with the familiar pizza toppings of sauce and cheese.
Japan: Pizza Hut's Double Roll Pizza
Yum's Pizza Hut chain has certainly outdone itself in Japan with its "Double Roll" pizza.
Back in 2007, the chain sold a pizza with bacon wrapped sausages doubling as the crust. Toppings include mini hamburger patties, mushrooms, soy beans, corn, paprika, garlic chips, green peppers and pepperoni along with three kinds of cheese.
At 646 calories per slice, it's likely one very tasty pizza.
Related Link: This Burger King Is Giving Away Sex Toys With 'Adult's Meal' For Valentine's Day
China: Pineapple Chicken And Shrimp Burgers
Consumers in China can visit their local McDonald's Corporation (NYSE: MCD) and feast on a chicken breast sandwich with a large ring of pineapple and a sweet barbecue sauce.
A shrimp burger consists of three fried pieces of shrimp and a shrimp patty along with a Big Mac-like special sauce.
South Korea: Cold Pint With Your McDonald's Burger
McDonald's has been selling alcohol across several European countries for some time, but began selling alcohol in Asia just last year.
McDonald's stores in South Korea now serve an ice-cold beer with the purchase of an extra value meal Angus beef burger and fries.
Canada: Combination Of Two Staples
What's more Canadian than hockey and poutine?
McDonald's locations in the province of Quebec sell burgers based on NHL stars that play for the Montreal Canadians.
The "Alex Galchenyuk" burger consists of an Angus beef patty with garlic aioli, Swiss cheese, bacon pieces and pickles on an artisan-style roll. The "Brendan Gallagher" burger also contains an Angus beef patty with sriracha sauce, cheddar, caramelized onions and bacon strips.
Not in the mood for one of those? How about a Big Mac with bacon. That's still a Big Mac, right? Check out the YouTube debate.
And don't forget to upgrade the side of fries to a poutine.
England: Brussel Sprouts With Your Whopper?
Restaurant Brands International Inc (NYSE: QSR)'s Burger King chain in the United Kingdom served a burger called the "Sprout Surprise Whopper."
Needless to say, a fried brussel sprout patty doesn't sound very appetizing. Maybe this was one of those food items that sounds so unappetizing that consumers must try it?
Egypt: Pizza And The Pyramids
The only unusual aspect of one particular Pizza Hut location in Egypt is the location itself.
Posted-In: KFC Pizza Pizza Hut Restaurant stocks restaurantsRestaurants Opinion General Best of Benzinga
View Comments and Join the Discussion!