5 Famous Fast Food Resurrections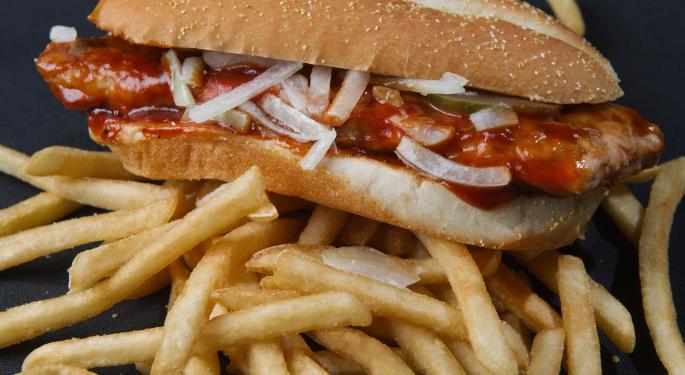 Despite what many people think, fast food restaurant chains do pay attention to customer requests to bring back old favorites. When they comply, sometimes it's only for a short while, or in limited locations, or in a "reinvented" form that barely resembles the original.
Here are five of the more well-known fast food "favorite" resurrections.
Burger King - Chicken Fries
The latest item to make it back on the menu of a major fast food player comes from Burger King (NYSE: BKW). The chain announced Tuesday that it planned temporarily to relaunch its once popular Chicken Fries following a social media campaign designed to put pressure on the company.
Chicken Fries -- actually small chicken strips cut to look like french fries -- were a big success when first introduced nine years ago. Burger King, however, discontinued the snack in 2012 as part of a major overhaul of the menu.
Related Link: Fast Food Shares Down On China Chicken Supplier Scare
Wendy's – Pretzel Bun
In June, Wendy's (NASDAQ: WEN) said its wildly popular pretzel bun, which had been on a six-month hiatus, was back -– possibly for good. True to its word, the bun in the form of both a Pretzel Bacon Cheeseburger and Pretzel Pub Chicken Sandwich came back in time for the Independence Day weekend this summer.
In a phone interview with USA Today, Wendy's CEO Emil Brolick called the pretzel bun relaunch a "seminal event in our innovation history." Brolick refused to say whether it was a limited-time offering or a permanent addition to the menu.
McDonald's – McRib Sandwich
McDonald's (NYSE: MCD) is almost as famous for bringing back its McRib sandwich on an annual basis as it is for its signature spokesclown. According to LAWeekly, the annual McRib revival is all part of a long-term plan.
According to the blog site, McDonald's retired the sandwich in 1985 because of lackluster sales and then re-introduced it on a seasonal basis as part of various promotions. By keeping the sandwich off the regular menu, customer demand -- and sales -- actually goes up whenever it is brought back.
Meanwhile, McDonald's is now under attack for taking its Hot Mustard Sauce off the menu. If public pressure from a Facebook page or Change.org petition have anything to do with it, however, Hot Mustard Sauce may be back before customers can say, "Hold the mayo on my McRib."
Taco Bell – Bacon Soft Taco
Back in 1995, Yum! (NYSE: YUM) owned Taco Bell introduced the BLT Taco. It consisted of bacon, lettuce, tomato, sauce and cheddar cheese inside a soft taco. Unfortunately, the fast food bacon craze had not yet happened, and the item was quickly dropped.
Now, it's back - sort of. Brand Eating reported in January that a version of the BLT Taco (no tomato this time) had shown up in the Philippines. For fans in the United States, Consumerist noted that sometimes in fast food, limited time or re-tooled offerings show up internationally before appearing stateside.
Related Link: McDonald's Comes Out Swinging, To Counter Taco Bell Breakfast Offerings
KFC – Chicken Little Sandwich
In July 1987, Yum-subsidiary KFC introduced the Chicken Little, KFC's version of a "chicken slider." Chicken Little was a small square sandwich designed to cater to lunchtime diners. It disappeared from the menu for more than 20 years until resurrected in 2012 in a form not much like the original at all.
The new Little is not square and is more like the recently shelved Snacker in appearance, with pickles replacing the Snacker's lettuce and a regular bun instead of the sesame seed bun that came with the Snacker.
At the time of this writing, Jim Probasco had no position in any mentioned securities.
Posted-In: Burger King Emil Brolick Facebook KFC McDonald'sRestaurants Media General Best of Benzinga
View Comments and Join the Discussion!